MT Media Temple Hosting Review
Media Temple Review: MT

Media Temple has quickly become one of the more popular web hosts on the market, competing highly with sites like Go Daddy, Host Gator, and Blue Host. Rather than being a traditional web host, Media Temple sets out to be a unique web host, with MT specific control panels, interfaces, and hosting management. However, are all of these features worth it? A visit to the Media Temple homepage will quickly prove that MT's prices are a bit higher than the industry average for web hosts. Learn more about Media Temple with the complete, unbiased, Media Temple hosting review.
Media Temple Hosting (2 out of 5)
Media Temple offers several hosting plans that are slightly higher priced than traditional web hosts. For example:
Unlimited Plan ($6.99/month)
150GB Space
1500GB Transfer
1000 Email Accounts
Grid Service Basic ($20.00/month)
100GB Space
1TB Transfer
1000 Email Accounts
From the above comparison, it's quite clear that Go Daddy is much cheaper than Media Temple; not that $13.00 extra a month is a lot to pay, but still, Go Daddy's plan offers more space and more transfer for less than half the price of MT.
Like Go Daddy, MT uses a unique hosting software, rather then the traditional Cpanel interface that most hosts use. This can be an advantage for some, and a disadvantage for others. Cpanel is the most popular web hosting user-end software for good reason. It puts all hosting management tools in one intuitive spot.
Media Temple's unique interface takes some getting used to, but does prove to be effective once learned. Many may prefer MT's smooth navigation over Go Daddy as MT is a bit simpler.
As far as a web host, Media Temple does offer a significant amount of unique features that you won't find anywhere else. They have their own marketing methods, which represent MT as being a premium web hosting company. Some notable features are: Django, MySQL GridContainer, and Ruby on Rails GridContainer.
Media Temple gets a below average rating only because of their high prices. Some may believe that MT is worth the extra money for a quality service, but remember, MT has received it fair share of negative reviews, just like any other web host.
Media Temple Coupons, Promos, and Discounts (4 out of 5)
As far as Media Temple discounts, you can occassionally find coupons and promos to get MT hosting at a cheaper rate. In some cases, the MT coupons and promos offer a significant discount, narrowing the price gap between Media Temple and other hosting sites like Go Daddy and Hostgator. Media Temple coupons can normally save you up to 20% off, which is a considerable amount.
Media Temple Tech Support and Marketing (4 out of 5)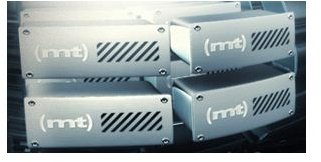 Media Temple tech support is fairly good. Things like phone wait times are still common, but every web host has support hold time. Media Temple's support staff is a bit above Go Daddy, and comparable to Hostgator. As far as knowledge, Media Temple support is able to advise you and help you out the majority of the time. As far as marketing, Media Temple is also better at not bugging you or emailing as many offers and marketing bulk letters as Go Daddy.
Media Temple is known for their web response team as well. If you post any problems that you may have with Media Temple on a forum or web hosting site, often times an MT representative will post a reply that may be beneficial. MT support can be bad at times and can be good at times, just like any other web host; but for the most part, MT takes extra care when monitoring their customers satisfaction.
Media Temple Scalability (4 out of 5)
MT prides themselves on being a scalable web host. In that aspect, they do a great job at flexing to the demands of a website. If the traffic to your website overpowers your current hosting plan, your site will temporarily scale to a higher level hosting plan. If this becomes a trend, and your website grows to higher traffic rates, Media Temple will offer to upgrade your account to a plan with better options.
One thing to note, other web hosts offer plan upgrades as well. Media Temple simply takes a unique approach on website traffic scalability, allowing you to upgrade the minute your website may require higher hosting. All it takes is one phone call to support to upgrade to a higher plan.
Media Temple Review Conclusion (3 out of 5)
Media Temple (MT) is a quality web host. Their prices are higher, but they make up for that in customer support. There are some other web hosts, such as Hostgator, that provide equal quality tech support to MT and offer more affordable hosting solutions. Upon reviewing several forums and web hosting sites such as Hostjury, the mass customer satisfaction for MT is hot and cold. Being a more expensive, premium web host, MT's customer satisfaction rate could be better. Because MT has such a focused web watch team, you may want to also look out for planted positive reviews.
The recommendation is to go with MT for business sites that get a significant amount of traffic. For basic web hosting and WordPress blogs, MT is not the best solution, as you can get all of the features you need from a more affordable web host. In addition, if you are running a high scale website, you may need to go with an even more expensive plan than the basic $20/month grid service. MT is an above average web host with some unique features, but that doesn't necessarily make it better than a traditional Cpanel web host, in most people's cases.