SocialGo Review. If You Have 2 Minutes You Can Have Your Own Social Network
Overall (4 out of 5)
Setting up your own URL on SocialGo such as yoursite.socialgo.com is a simple process that take about 2 minutes to complete. Simply enter in what you want your website to be called and then type in the url you want to use, this is signified by a blank space followed by ".socialgo.com" Then simply click on "Create My Network"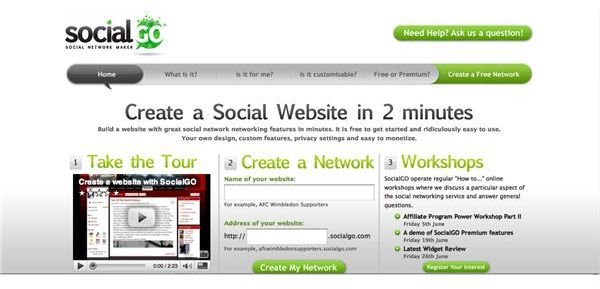 After hitting the "Create My Network" icon the program will then ask you what type of plan you'd like to use. The free plan is a great way to test the application and offers the basic page building sections of the site with SocialGo sponsored ads. Users with the free plan can get a feel for the program but they can not add their own ads, use the widget store, or convert the URL from yoursite.socialgo.com to their own url among other restrictions. Here's a look at the different package options and what they offer.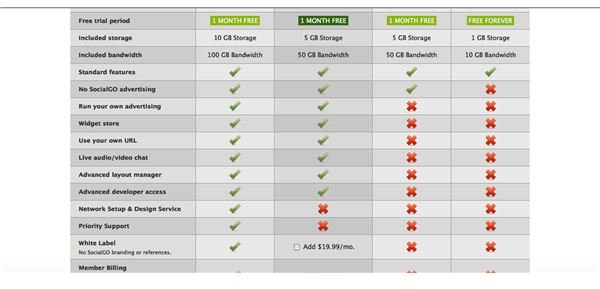 I suggest started with the "free" package since you can convert to a paid package at any time, making it a great "beta" option for new users.
After choosing the plan I wanted to use I was then presented with the "Network Design" section. This part of the program makes it extremely simple to choose a template for your network from one of the avialable templates, to setup the header of the network and to choose all of the body colors available for each section. I just chose a random template in this case to show off one of the selections.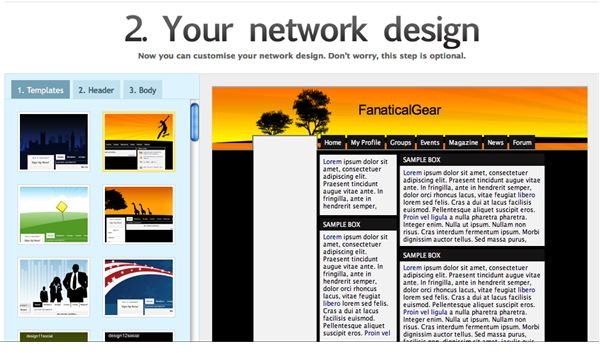 Once you've finished the last few standard questions you'll be taken to your new SocialGo network. The site is setup to show your admin profile right off the bat with a 'getting started' video. You'll then see a list of options at the top of the page.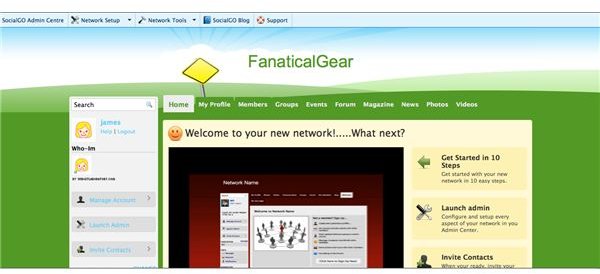 My favorite tab on this page isn't my profile tab or the members tab, it's the "Network Setup" option, hovering over this section provided me with plenty of social network options, including the ability to access the "network designer" tools to change my template, header and body information again, along with members lists, blogging setup and other options. Click on the screenshot below to see all of the avialable options found on the Network Setup dropdown box.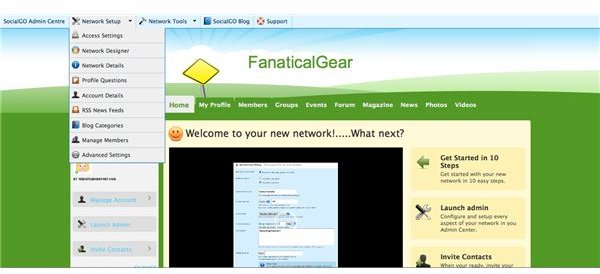 The next option is the "Social Admin Centre" by clicking on this link I was brought to the sites options all listed on one non-dropdown page, from here I could access the options shown in the drop down box, plus I could access the ability to change my plan to a paid option at any time, along with access to the "widget store" for added functionality purphases and a "theme store" to find enhanced themes.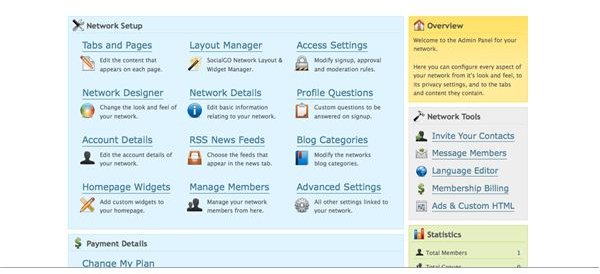 The Widget store is still lacking in many applications, basically there's a few arcade game add-ons and a widget to be used for dating social networks and a few other additions, however more apps would greatly increase the functionality of the site. Unfortunately each widget must be purchased for a one-time fee which adds to the cost of the site. The Themes store is also lacking in the number of themes, however the web 2.0 looking options for only $19.99 may be worth it if you want something a little more "user friendly" looking. You'll also need to be on at least the Premium package in order to buy Widgets and new themes.
If you're a developer and you want more functionality SocialGo has you covered as well, simply purchase either the Premium or Concierge packages and you can use your own domain URL by simply pointing your Nameserver from your registrar to your SocialGo account and you'll also gain access to an advanced layout manager, live audio/video chats, developer API's to add new functionality to your site and at the Concierge site even a white label offering with no SocialGo branding, plus other advanced options.
Conclusion
I tried out Ning at one point and found the site to be a great option, however support was typically horrendous and the admin interface was rather cluttered and difficult to optimized. SocialGO on the other hand is simple to setup, offers a very intuitive interface and includes open API's which can come in handy if you're a programmer or you're willing to hire a programmer to add functionality to your site that you typically won't find on the program. It's a great way to create a social networking website.
Overall SocialGo is an excellent option which I highly recommend to users looking for a simple social network building site with the potential to grow with their own specifications.