FlashPeak SlimBrowser Loading and Surfing Speed (4 out of 5)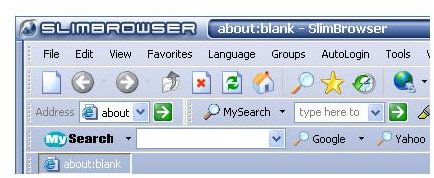 SlimBrowser is a very fast loading browser. When you click to open the browser, it opens right up and loads your settings. Surfing is also fairly quick. This browser is about as fast as Firefox. I would say it is running neck and neck with the Opera web browser.
FlashPeak SlimBrowser Tools (4 out of 5)
There are a wide variety of tools offered with the SlimBrowser browser. Some of the tools include tools which allow you to check your email from the sidebar. There are a few different email clients available with these tools. You can also have your weather displayed right in your sidebar. Some of the other tools you will find in this browser include local maps, auto form filling, proxy tools, and shortcut tools. The shortcut tools are really great. Right from your browser, you can go to any of the main folders on your computer.
FlashPeak SlimBrowser Skins (4 out of 5)
SlimBrowser provides about 10 default skins for you to use. These are the skins that come with the browser when you download and install it. If you do not see a skin you want to use, you can open the SlimBrowser skin page and download and install more skins. The skins in this browser are easy to change. You simply click the skin you want to apply to the browser and it will automatically apply that skin. You do not have to restart your browser for the skin to be applied. That is a plus with this browser. Most browsers require that you close your browser to apply the skin, SlimBrowser does not.
FlashPeak SlimBrowser Widgets (2 out of 5)
Unfortunately, there are no widgets available with this browser. However, all of your basic things that widgets normally do can be found in your tools panel, like the weather tools and email tools.
FlashPeak SlimBrowser Toolbars (4 out of 5)
The SlimBrowser toolbars are all customizable. You choose which toolbars you want displayed in your browser and which ones you do not. This browser has a lot of toolbars to choose from. Some of the toolbars include Menu Bar, System Bar, Logo Bar, Address Bar, Links Bar, and Utilities Bar. There are many, many more toolbars. You can view these toolbars by clicking View > Toolbars. From there you can view all of your toolbars.
Overall Rating of FlashPeak SlimBrowser (3 out of 5)
Overall, SlimBrowser is pretty good. Surfing is pretty fast, there are many tools available, and adding skins and installing skins is easy. If you want a change in your web browser, check out the FlashPeak SlimBrowser.