Review - Opera Web Browser
What is Opera Web Browser? (5 out of 5)

The Opera Web Browser was designed by Opera Software. It is advertised to speed up your surfing. The Opera browser is suppose to be faster than any other browser available when it comes to surfing the internet. It is a lot faster than Internet Explorer, but is running a close race with Firefox. The speeds of Firefox and Opera seem to be about the same.
Opera has a lot to offer when it comes to things like Skins, Tools, Widgets, and Add Ons. However, Opera does not support third party extensions. Only the extensions created for Opera can be used on this browser. As for the widgets available for this browser, you will find that there are tons of them to choose from.
Opera Web Browser Skins (5 out of 5)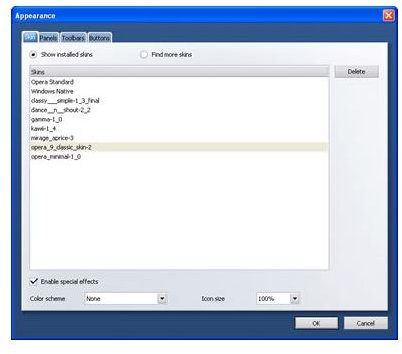 Opera has a built in feature in the menu that allows you to quickly browse and install skins. All you have to do is open the Skins box, select the Find More Skins option, and you will have hundreds of skins right at your finger tips. The skins can be viewed by category. To install a skin, all you do is click the download button beside the thumbnail of that skin. In a few seconds, the skin will be installed and your Opera browser will be transformed. All of the skins will be stored in the Skins menu. You can change the skins at any time by opening that menu and selecting the skin you want to use. The great thing about the skins in Opera, you don't have to restart your browser in order to see the changes. In most browsers, you will have to close the browser and restart it to see your new theme. Opera skins take an affect as time as you install them.
Opera Web Browser Widgets (5 out of 5)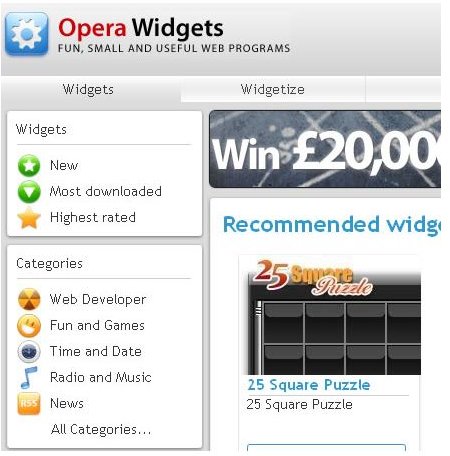 Another great thing about Opera Web Browser is all of the widgets that are available. You can open the Widgets page from the menu in Opera. On the Widgets page, you can browse the different widgets by category. There are tons of widgets available for Opera and they are very easy to install. Just like with the skins, you do not have to restart your browser for the widget to be installed. As time as you install the widget, it will be active. Some of the widgets you will find include the following.
Weather Widgets
Bible Widgets
Calendar Widgets
Note Widgets
News Widgets
Games Widgets
Opera Web Browser Tools (5 out of 5)

Opera has built in tools that will help with your daily browsing. These tools control your browsing history, cookies, links, mail clients, and chat clients. One of the best tools available is the Notes Tool. This tool allows you to store notes in your Opera browser. You simply open the Notes window and enter your note. It will be saved in the notes folder and you can open it and view it at any time.
Overall (5 out of 5)
Overall, Opera Web Browser deserves 5 stars. There doesn't appear to be any downsides to the browser. It offers great widgets, skins, useful tools, and does appear to be a lot faster than Internet Explorer when it comes to surfing the web and loading. This is a great browser to use and it is free to use.