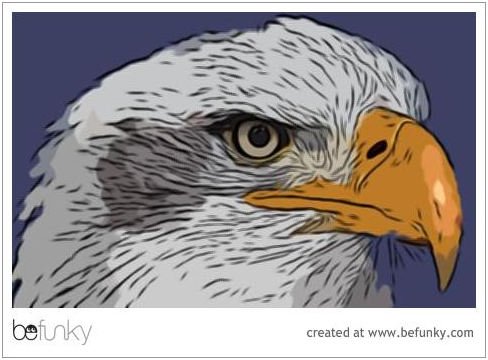 Finding free images to use on a web site can be difficult. Fortunately there are a number of great sites out there that allow you to search for free images that can then be used for commercial or personal purposes. Some of the best sites are Flickr, Morgue File, and Open Photo. What is more difficult is finding hand drawn or cartoon images. That is where BeFunky.com is extremely useful. It is possible to quickly upload images, for free, and then turn them into a work of art. The image to the left was created from a photograph of an eagle that I had.
Artistic Creativity (5 out of 5)
The scope of artistic creativity possible on BeFunky.com is truly astonishing. There are nine main categories to choose from and then three to six subcategories under each main option. The main options include cartoonizer, warholizer, charcoal, patriotic, inkify, line artopia, stenciler, and sunburst, and scribbler. The option used for the artwork at the beginning of this article was under cartoonizer. I've spent hours, yes really, playing with the effects on BeFunky.com. They are incredibly addictive. From creating cartoons to sketches the sky is truly the limit.
Ease of Use (5 out of 5)
BeFunky.com is the easiest photo editing software/website I have ever used. No log in is necessary, all you do is upload the photo you want to edit and in under thirty seconds you can be creating your very own cartoon. Downloading the image you want to use is equally pain free and takes about the same amount of time. The image even has attribution on it so you don't have to worry about adding it to your website or blog.
Possibly the most amazing thing about BeFunky.com is that is free. Completely free. You can play for as long as you like and then save the images and use them as you please. With the many options and easy interface I was totally shocked to realize the cost for me was nothing. I highly recommend this website for fun but also to help new designers create unique, and let's not forget free, images to add aesthetic value to their online creations.