Review of Microsoft Web PI (Platform Installer)
Localize Your PHP Web Development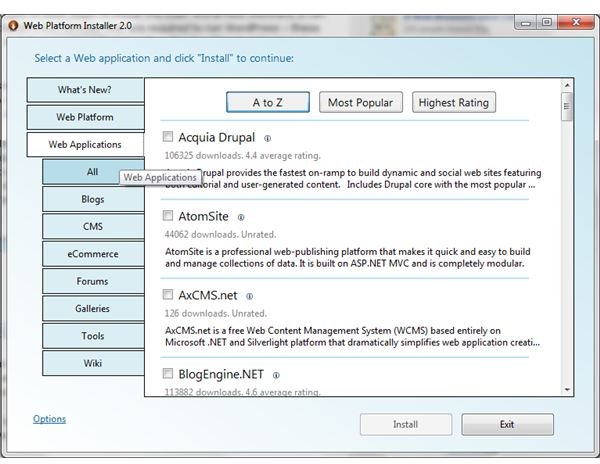 When developing websites or plugins for popular blogging, CMS and forum website software, web developers often have to work on remote or local servers that are appropriately configured. This might involve having a small Linux PC on your desk as well as your Windows PC or Mac, with the Linux box acting as a web server with PHP, MySQL and a version of WordPress installed.
Similarly it might involve using a dedicated server somewhere in your organization or if you're freelance, you might employ some low-cost hosting for your development purposes.
For Windows users this is no longer necessary as Microsoft Web PI (Microsoft Web Platform Installer) makes it possible to install and configure these applications on a Windows PC in minutes.
System Requirements
Getting started with Microsoft Web PI requires that you have a minimum of a Windows 7, Windows Vista SP1, Windows XP XP3 desktop operating system or Windows Server 2008 R2, Windows Server 2008 or Windows Server 2003 SP2. The utility will run on 32-bit or 64-bit systems and requires administrator privileges for installation of the various components that might comprise of your favoured web application.
Your copy of Microsoft Web Platform Installer 2.0 can be downloaded from www.microsoft.com/web/Downloads/platform.aspx via the Download It Now link. A file called wpilauncher.exe will be downloaded which will allow you to select your favoured web application.
Note that you will need wpilauncher.exe for any subsequent downloads so you might opt to save this somewhere memorable rather than in a temporary download location.
Which Web Applications Can I Install with Microsoft Web PI?
There is a considerable list of web applications that you can install on your PC using Microsoft Web PI.
Blogs:
BlogEngine.NET
Subtext
Acquia Drupal
Mayando
AtomSite
DasBlog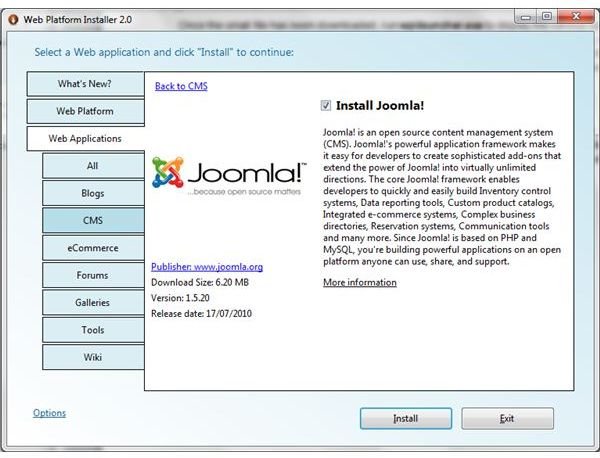 CMS:
Joomla!
Sitefinity Community Edition
Moodle
Kentico CMS for ASP.NET
DotNetNuke Community Edition
KooBoo CMS
Impress CMS
MODx CMS
AxCMS.net
MonoX
My Web Pages Starter Kit
AtomSite
TangoCMS
SugarCRM
eCommerce:
nopCommerce
mojoPortal
Kartris
Forums:
YetAnotherForum.NET
phpBB
Galleries:
Gallery Server Pro
Gallery
Mayando
Tools:
Dropthings
nService
Piwik
ResourceBlender.NET
Wiki:
ScrewTurn Wiki 3.0
Tiki Wiki CMS Groupware
The presence of such a vast selection of applications clearly makes Microsoft Web PI a top choice for local Windows development.
In addition there are also various tools, frameworks and database products such as ASP.NET, SQL Server, Silverlight, JavaScript and more.
Ease of Use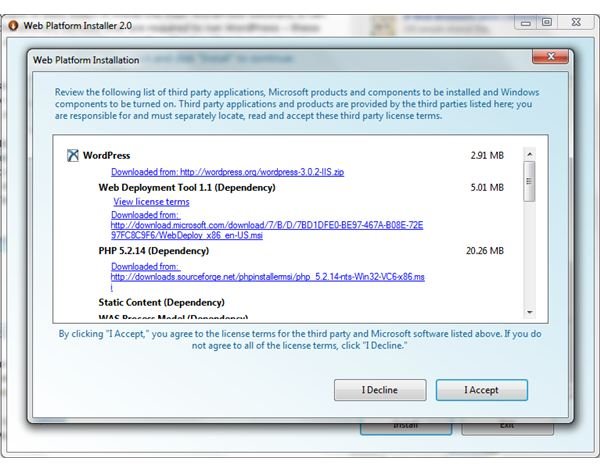 What Microsoft Web PI offers is a way to install PHP software on a Windows PC – an environment natively suited to ASP based applications. While there are ASP applications available with this utility they could be relatively easily setup without too much trouble. Using Microsoft Web PI to locally install PHP software such as WordPress removes the hassle of manually installing MySQL and PHP environments to run the web application.
With the simple user interface and the requirement to complete forms only when user input is required for the application you are installing, Microsoft Web PI pretty much automates the process much as Fantastico might automate installation of a web application on a web server.
Superb - and Free! (5 out of 5)
Microsoft Web PI is an excellent web applications automated installer system for Windows which makes worrying about installing the right SQL software version or configuring IIS a thing of the past.
From a personal point of view I have run into problems in the past where test sites get listed in Google thanks to an outgoing link or two. While there are ways of preventing this, installing a web application locally is a much easier solution and basically allows you to work fast rather than constantly uploading improvements to layout, tweaks to code or new versions of plugins.
Best of all, Microsoft Web PI is free and features a superb collection of the best web applications, tools and utilities that are available, and as such it comes highly recommended.