5 Free Sitemap Generator Tools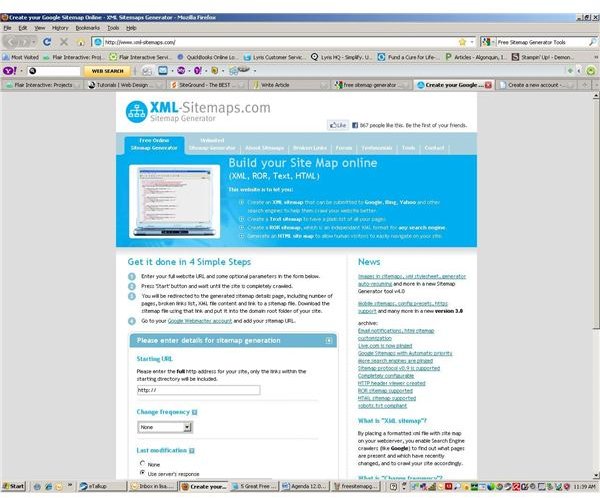 SitemapXML
SitemapXML (https://sitemapxml.net) is a Web-based tool made by Hiox India that allows users to quickly and easily generate a sitemap without downloading any software. You'll need to enter the URL for your site, the last date it was modified, the frequency at which it changes and an email address if you want to receive the sitemap via email. SitemapXML generates Entensible Markup Language (XML), Resources of a Resource (ROR) and text sitemaps that can be used by a number of different search engines.
Free Sitemap Generator
Free Sitemap Generator (https://www.freesitemapgenerator.com) is also a web-based tool, but you must create an account in order to generate a sitemap. You can use Free Sitemap Generator to create sitemaps for websites that contain up to 5,000 pages. You'll be notified via email when your sitemap has been generated – which is good because the service can sometimes be a little bit slow. One nice feature of Free Sitemap Generator is that there is a server monitoring area on the company's homepage that shows if the server is experiencing heavy usage, which could result in longer sitemap generation times. Another added feature is that you can specify if your sitemap is high priority or "premium-high" priority. Higher-priority jobs will be completed more quickly than normal-priority jobs. Premium accounts are available if you're interested in extra features, such as autogeneration of a new sitemap every three weeks.
Images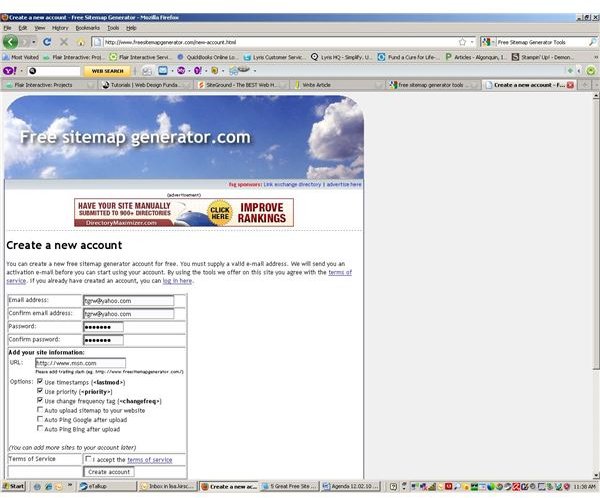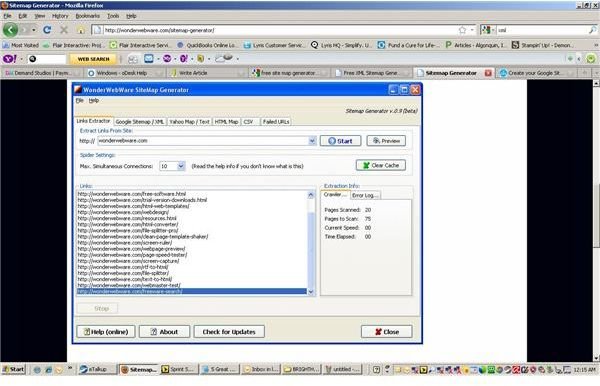 XML-Sitemaps.com
XML-Sitemaps (https://www.xml-sitemaps.com) is similar to the above tools, since it's 100 percent web-based and relatively easy to use. You can enter information about your site, including URL, change frequency and last modified date, on the site's homepage, then wait for a sitemap to appear directly on the screen. Your report will include the number of pages in the site, a list of broken links and a link to download the XML sitemap file. XML-Sitemaps generates XML, ROR or text files.
WonderWebware SiteMap Generator
WonderWebWare (https://wonderwebware.com/sitemap-generator) offers a downloadable sitemap generator tool that creates XML, text, HTML and CSV sitemap files. After you download the software and input your URL, the software generates the sitemap and you can then save the file to your hard drive or copy its contents to your clipboard for use in other programs. It offers clear and simple instructions, as well as a fairly good user interface. Sitemaps for larger sites may take several hours to generate, as is the case with the other sitemap tools on this list.
VIGOS Gsitemap
VIGOS AG, a German Internet technology firm, offers Gsitemap for Windows-based sites. Gsitemap is a downloadable sitemap generator tool that is free for all users. It creates XML sitemaps and offers automatic notification to Google when your sitemap is complete. You'll need to download the file and run the report, which may take some time if your site is large.