Migrate Your Blog Posts from Blogger to WordPress

Migrating is Easy
Switching from one blog platform to another is never easy. You have to get used to a new user interface, the possibility of some regular readers not coming with you and of course the possibility that you will lose your old posts.
This need not be a problem with moving from Blogger to WordPress, however, as there is a tool at both ends that will allow you to migrate your posts from one to the other.
Before proceeding, however, you will need to decide which method you are going to use for migrating your posts to WordPress. The built-in method should give you the best results, but there is a possibility it may not work. As such you might consider the google-blog-converters-appengine tool from Google.
Automatic Method
We'll take a look at the automatic method which can be used to quickly import many posts from your Blogger blog into a WordPress blog.
In your WordPress dashboard, go to Tools > Import then choose Blogger. (You will notice there are several other blog platforms listed here, and the converters for each all work in roughly the same way.)
The next step is to let WordPress Authorize your Blogger account. You should then see the screen on the right. You will have the chance to Grant or Deny Access – choose the first option to proceed to the next step, where you will be presented with a list of your available blogs. You can then select the Import button next to the appropriate blog in order to complete the process!
Imported posts will be assigned to the default category in your blog, so be aware you might need to spend some time reassigning these. If you have WordPress 2.9.2 or later, you should be able to quickly change categories using the Quick Edit function on the Edit screen, which allows you to change category, author, published status and tags without opening the full post for editing.
If this method fails, you may need to upgrade your WordPress version.
Manual Method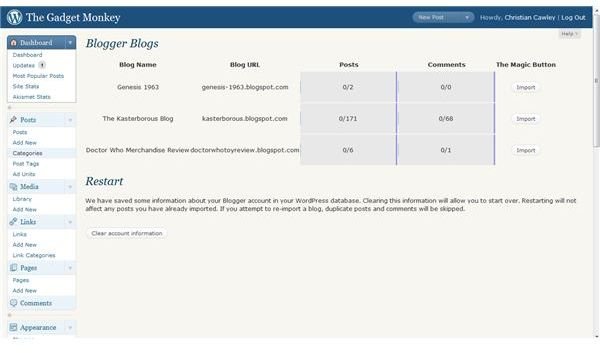 There is a possibility that the blog will not migrate using the automatic method – as such you might wish to manually export your Blogger blog.
To this by going to your Blogger Dashboard, and go to Settings > Basic > Export and then Download Blog; save this to your computer, and then switch back to your WordPress Dashboard.
Go to Tools > Import and Browse for the file you previously downloaded. The files from this will then be added to your WordPress blog, into the default category, so you may need to make some changes to these; other than that, the import process is complete – well done!