Five Stylish and Sophisticated Feminine Joomla Templates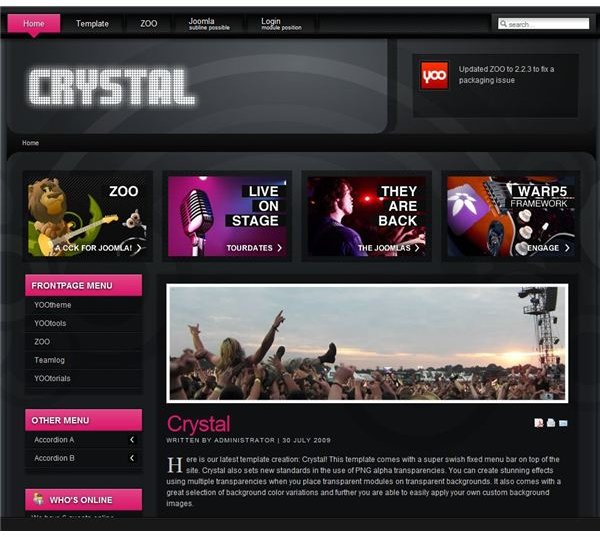 Kick the notion that feminine means anything less than smart, stylish, and sophisticated to the curb! This article is going to showcase five of the best Joomla templates with a feminine touch to them. We've got everything from minimalistic to feature-packed in this template spotlight, perfect for businesses, bands, bloggers, and more.
Not sure how to install Joomla templates? Check out How To Find and Install Joomla Themes
Now that you've got the perfect template, don't you need learn How To Find and Install Joomla Plugins?
Crystal
Going for tough-but-tender? Crystal by YOOtheme is a fantastic feminine Joomla template that manages to still keep a bit of a tough edge. If you're not looking for something that is all flowers and hearts, this Joomla template is exactly what you're looking for. A cool gray background with charcoal elements and hot pink highlights drive home a rocker-esque feel. This template has fantastic rollover effects, is search engine optimized, and is great for everything from a band website, to a blog, to
Crystaline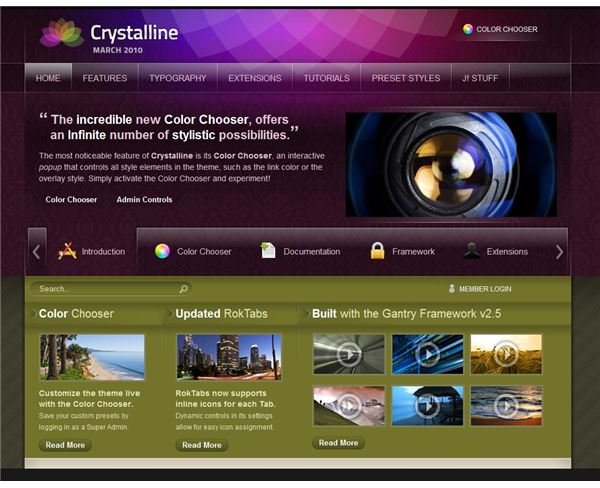 Why let someone else define what a feminine Joomla template is, when you can define (or redefine) it yourself? Crystalline by RocketTheme is a completely customizable template that you can plug your own backgrounds into with little effort, and then go on to change the color of everything - yes, everything - to suit your needs. This is fantastic for those of you, like me, who love to change their mind on a regular basis. After all, isn't changing your mind a woman's prerogative?
Noble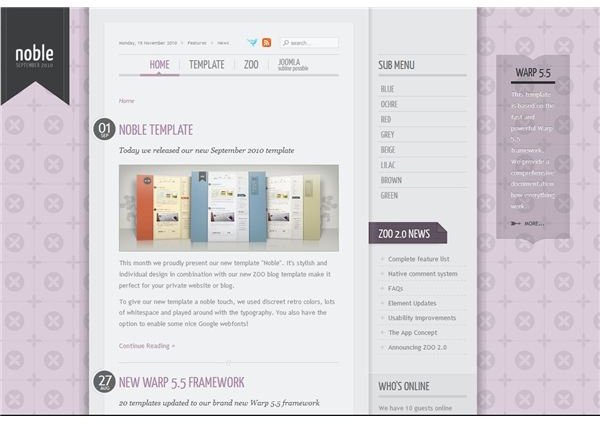 YOOtheme provides a beautiful template called Noble that offers a very sophisticated feeling. This is a very feminine Joomla template that doesn't feel too "young" or inexperienced, which lends itself to more mature content matter. After all, you can be feminine and professional, right? With such colors as lilac (shown to left), ocher, sky blue, and rust red, you're sure to find the feel that is perfect for you. This is an extremely clean template, offering up a minimalistic layout that is great for blogging as well as informational posting.
Infuse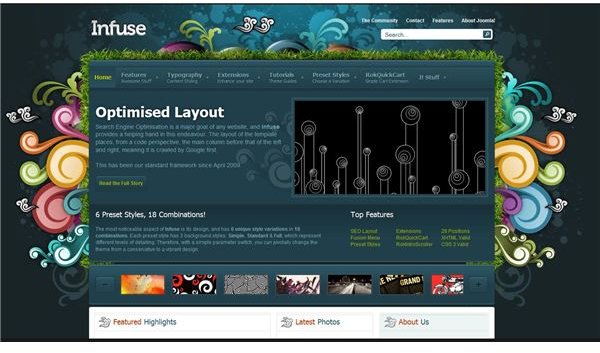 If you're looking for something whimsical, playful, and just girly enough, check out Infuse by RocketTheme! This playful theme is one of my all time favorite Joomla themes, as Infuse features cute vector shapes that peak out from behind the steel blue layout. Guaranteed to work right out of the box and optimized for search engines, you're sure to love it! Not into the Whimsical feeling? There are five other presets available, and you can customize text and background colors with a simple click of your mouse.
Amix02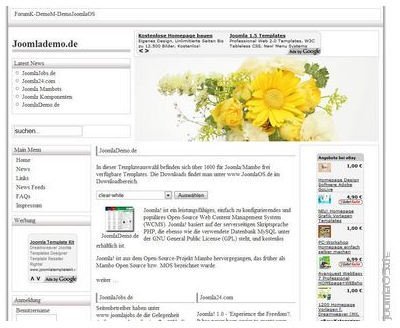 Amix02 is a beautiful, clean white template by Joomla24. With a beautiful yellow daisy header graphic at the top, this website has a feminine touch without being too delicate. Not into daises? Don't worry about it! Simply change your header image to something else by editing the HTML of the template! This is a great template for those who love minimalistic layouts but still require quite a bit of customization.