How to Create Panels for Expression Web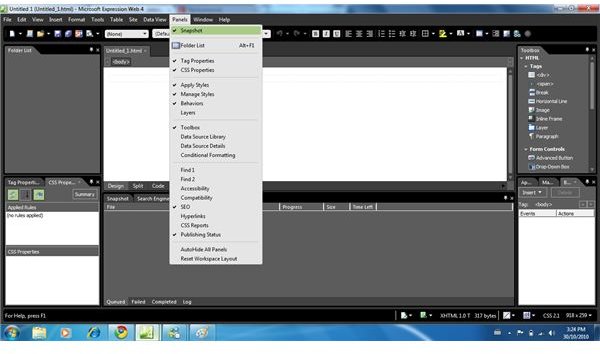 What Are Panels Anyway?
It's actually quite easy to figure out how to create panels for Expression Web. Panels are used to display information that allow for easy editing and website maintenance. Creating, or showing them, is also a pretty simple job to complete.
All you need to do is open Expression Web and wait for the program to load. Once everything has loaded, you need to find the "Panels" section in the top menu. It should be to your far right. Once there, hover over it and several different options will appear.
Available Panels
The panels that show up are all the ones you can create. Don't worry though, you shouldn't need any other ones than those listed below. Each one has its own job, and it will be difficult for you to not find what you need. Below is what each one does:
Tag Properties: Displays all attributes of certain tags. It's useful if you need to make quick changes to the attributes, or create new ones.
CSS Properties: A really convenient panel that you should have open all the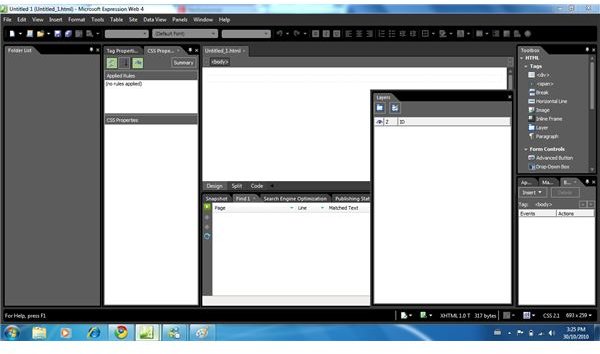 time! It shows the CSS you are using, but more usefully, allows you to make quick changes from that panel.
Apply Styles: Used to create and attach new styles. Styles often refers to a CSS file.
Manage Styles: This is similar to the CSS Properties panel. It offers quick and easy customization to the global layout of your website.
Behaviors: Allows you to create, customize, and delete behaviors and scripts on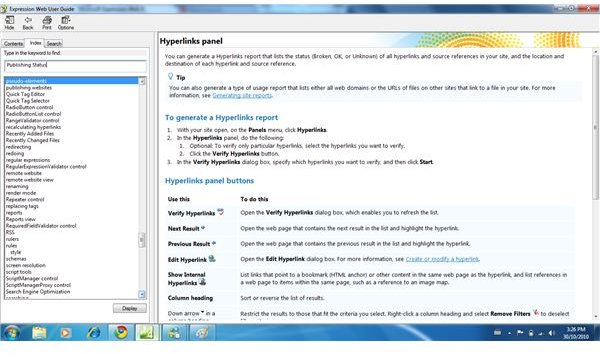 various elements on your website.
Layers: Displays the layers within your website and lets you reorganize them to have certain objects over others.
Toolbox: This should always be open. It gives you a lot of easy flexibility to add content to your website such as text, images, breaks, inline frames, and layers.
Data Source Library: Lets you add or delete XML connections easily from the main interface.
Data Source Details: This panel will show you the XML connections that you have in an ordered manner.
Conditional Formatting: This lets you set certain visual characteristics or formatting on certain HTML elements that are conditional upon something. So, for instance, if you wanted a part of the website to display differently when an individual visits the website in a certain browser, you can use this tool.
Find Panels: Both of these let you search for webpages on your site at the same time.
Accessibility: Lets you quickly create accessibility reports.
Compatibility: When you check to ensure your website is compatible, the information and errors will be displayed in this panel for easy corrections.
SEO: When you run the SEO Checker, this panel will display information about search engine optimization errors. This is an extremely important panel: SEO is crucial online.
Hyperlinks: Sort of the same as the above ones, this will display hyperlinks - both working and broken - after you have constructed a Hyperlinks Report.
CSS Reports: Lists any flaws within your CSS that should be corrected.
Publishing Status: What stage your website is at in terms of publishing to the worldwide web.
Final Tips
So, as you can see, it is certainly easy to create panels in Expression Web; quite simply because it only takes clicking the one you want shown. Remember that you can hide all of the panels listed or reset your workspace if you have multiple panels open that you don't want. You can also move the panels around your workspace by dragging them.
This post is part of the series: Expression Web 4 Reviews & Tutorials
Expression Web 4 is certainly an effective program. It may just be better than Dreamweaver. If you're looking for an alternative with lots of functionality and easy previewing capabilities, Expression Web may be for you. Reviews, tutorials, and tips will help!