Top 10 Free HTML Newsletter Templates: Something for Everyone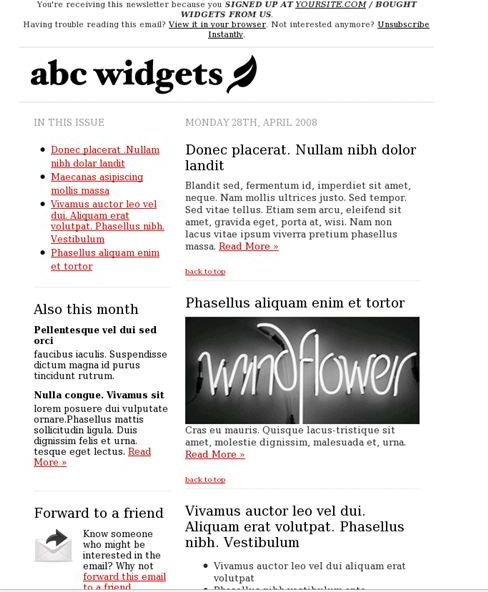 A good HTML newsletter template must be pretty and functional. Beauty is always great but when the template you have picked lacks sections you need, or it doesn't display properly in half of your target HTML email clients, then such a template is useless to you.
The places where you can find free HTML newsletter templates are numerous. Many of the popular template sites have sections with newsletter templates. It is true that browsing through hundreds and thousands of templates can be very time consuming and if you still can't find what you are looking for, this could be really disheartening.
In some cases the fastest way to get a useful HTML newsletter template is to use your site template and adapt it for a newsletter. However, this isn't always feasible and if you lack the skills, it becomes almost impossible. For such cases you do need a publicly available free HTML newsletter template.
10 Picks of Free HTML Newsletter Templates
When browsing the Net, I found many HTML newsletter templates I liked. Here are some of them:
1. A Simple Left Sidebar Template. This simple two-column template is stylish because it lacks unnecessary fluffs. It can be used for any type of HTML newsletter where simplicity is key.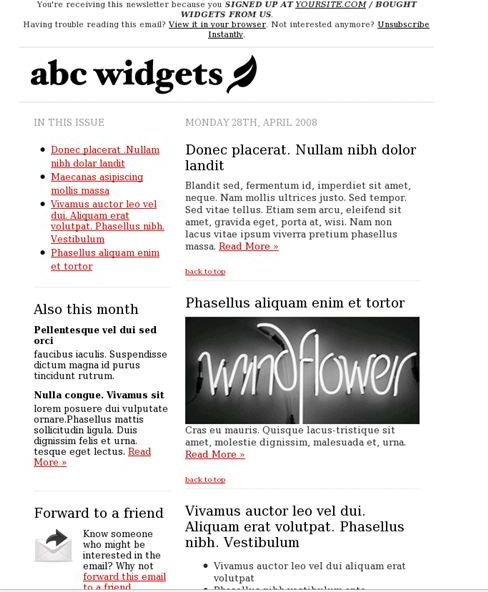 2. A one column template. If you don't need the sidebar in the previous template, then my next choice is exactly for you. This template is the same as previous but it has no sidebar.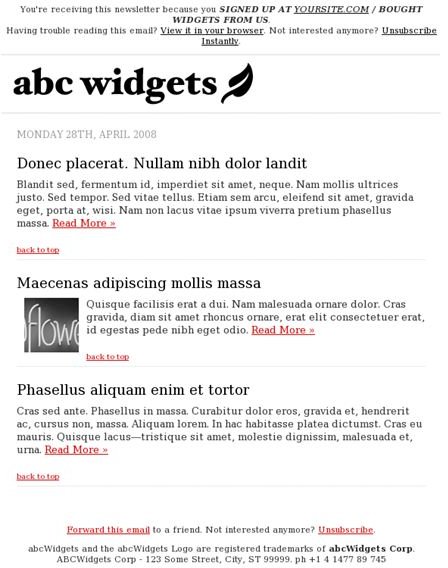 3. A simple template with some color. If the first two templates are two colorless for you, here is a version with some color: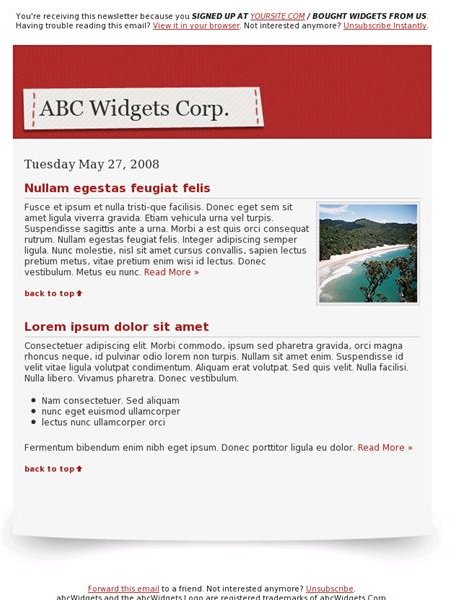 4. A free template with colors and many boxes. If you are looking for a free HTML template with more colors (but still not with tens of them), this one might be your winner. In addition to color backgrounds, the template has many boxes, so if your newsletter has a lot of sections, you will be able to fit them in.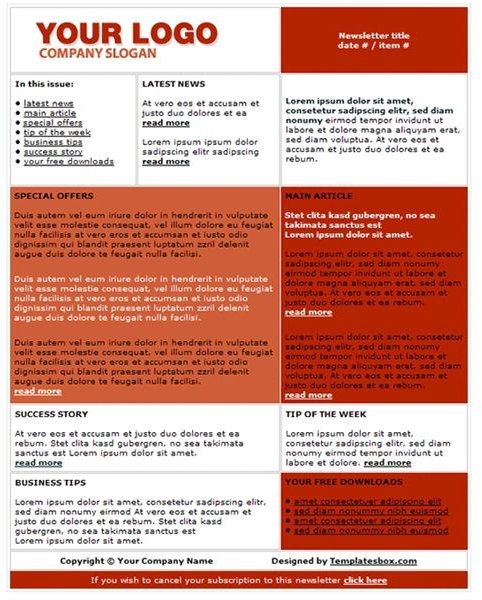 5. Another simple free HTML newsletter template. TemplatesBox offers many templates, or more precisely multiple variations of the same template but I personally like their simplest templates most. For instance this template doesn't lack colors but they are not the center of the design: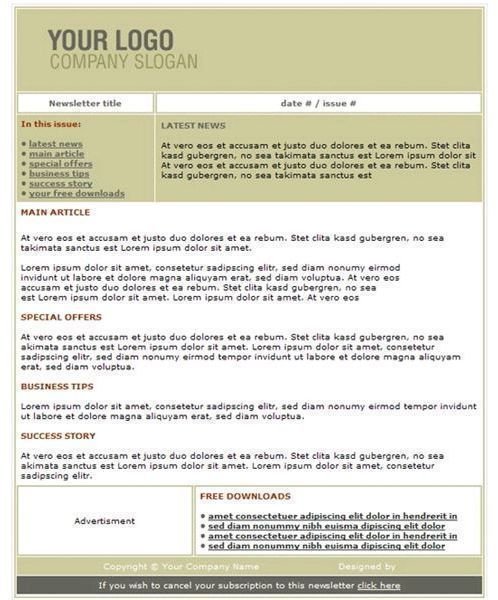 6. Colorful newsletter templates from DeliverySuccesss. One of the templates collections I really liked is the one at DeliverySuccess. Compared to the other collections, it is a very modest one but all the templates there are masterpieces. If you want to download a template, you need to register but the templates are worth the hassle. For instance, this template is really cute: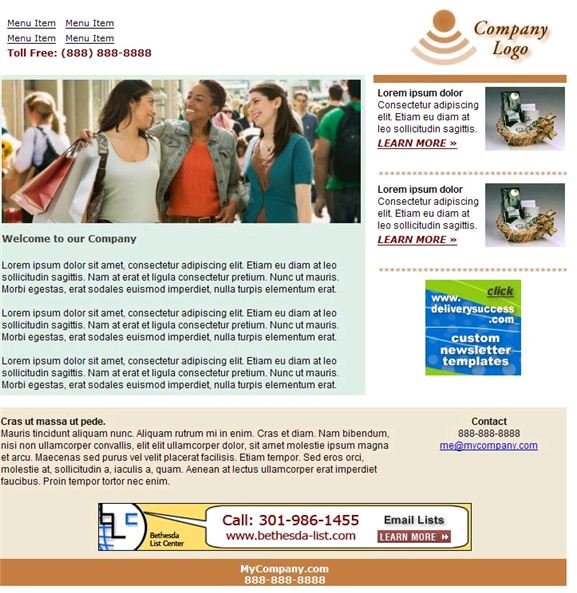 7. Another colorful newsletter template from DeliverySuccess. Another template I liked there is this one: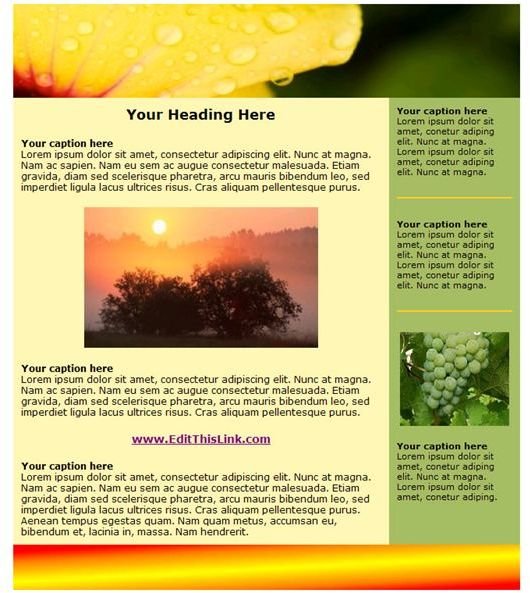 8. Simple templates from Bench Mark Email. Bench Mark Email offers three variations of a simple, yet stylish newsletter template you can use for free. The versions are left sidebar, single column, and right sidebar.
9. Colorful Templates from BuyTemplates.net. Another site where you can find many HTML newsletter templates (most of which are free) is BuyTemplates.net. You can download the templates for free but the sites requires registration. The templates are cool and really colorful, which isn't necessarily great, if you are looking for simple newsletter templates.
10. MailChimp's collection of template barebones. If you are a bit of a designer and you already have an idea what to include in your HTML newsletter template, then the collection of template barebones by MailChimp might be your top choice. You can use these newsletter skeletons and build your template around them. The collection has skeletons for a basic single column newsletter, a postcard newsletter template, a 2 column newsletter template with a left sidebar and a 2 column newsletter template with a right sidebar.