Top 10 Useful Twitter Widgets for Just About Anyone!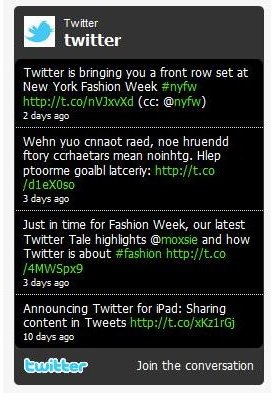 Twitter's Twitter Widgets
One of the great things about Twitter is that they actually have a widget on their website for you to plug into just about any place you may want to. The Official Twitter Widget works with social networking sites like Myspace and even CMSs like Joomla! Basically, if you can input a script into it, it can run this twidget. With the option to customize your colors and fonts, you can easily match it to your page, so go ahead and give it a try. And for all you Facebook users feeling left out, don't fret. Twitter has even developed the Oficial Facebook Twitter Widget for you all to use.
Twitter WidgetBox from WidgetBox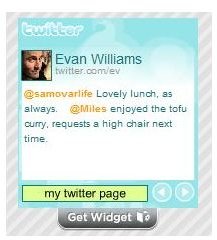 WidgetBox has provided us with pretty awesome widgets for a while now, and now they've got a twidget just for you. Twitter WidgetBox is a cute, Twitter-themed widget that will display your most recent tweets to your users. Not enough? It's got a back button so they can view older tweets, and a link straight to your Twitter page.
TwitStamp
If you're looking for the absolute basic in twitter widgets, check out TwitStamp. It's super stylish, super compact, and is image-based. What does that mean? TwitStamp is more widely accepted in most places, including forums, blogs, free-hosting sites, and more.

Retweet Button

While it's technically not showing your status or altering your Twitter status, the Retweet Button allows you to install a small widget on the side of your blog, website, inside your RSS feed, or even embed them in email. When users click the button, it will update their Twitter account with a link to your content.
SayTweet

SayTweet is a fun little Twitter-based feature that allows you to upload and tag a photo with Twitter users - and it will update with a speech bubble that updates in real time with the users tweets in speech bubbles! It's the new way to host and tag images.
WishAFriend.com's Flash Twitter Widget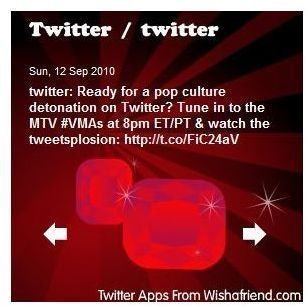 If you're looking for a themed Twitter widget, there's no better place to look than WishAFriend.com's Flash Twitter Widget. With dozens of Flash widgets to choose from, you'll be sure to find one you like. As a bonus, these twidgets are easily hosted on most websites, blogs, and social networking sites like Myspace.
Joomla based Twitter Widgets

If you're rocking Joomla, my two favorite Twitter widgets have got to be RokTwittie by the folks at RocketTheme and YOOtweet by the YOOtheme crew. RokTwittie is definitely the more customizable of the two, and absolutely looks stunning against any page design. With the ability to show your tweets to the side of the page, as well as people who recently follow you, or people who you've recently followed.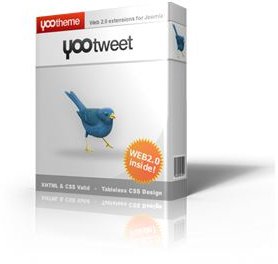 YOOtweet, however, is an exercise in simplicity. It has the options to show your tweets, tweets from another profile, tweets based on hashtags, your @replies… Dozens of settings to make the most out of your widget. Not to mention, it's slick, streamlined, and comes in the ever classy color combinations of white and black.
Looking for more Joomla-based Twidgets? Check out the Twidgets for Joomla article.
WordPress based Twitter Widgets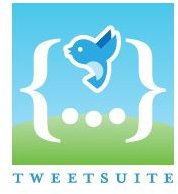 TweetSuite is an absolutely fantastic Twidget for all you WordPress users. Not only does this twidget display your tweets and your favorited tweets, it will update your Twitter every time you post to your WordPress blog. This great widget also includes a server-side TweetBack feature, for those of you who want to see who is tweeting about your blog.
Twitt-Twoo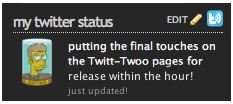 Twitt-Two is another great blog that allows you not only to display your last weet as well as when you last updated it, but it allows you to update Twitter straight from the sidebar of your blog. Looking for more? Twitt-Two also showcases a small button that links straight to your Twitter RSS feed, so your followers never have to be without your updates. AJAX powered, so no page reloading is required.
Image Credits
All screen shots were taken by Amber Neely, and all logos are copyright their respective owners. Images are used purely as demonstrative models.