Finding a Great Football Website Theme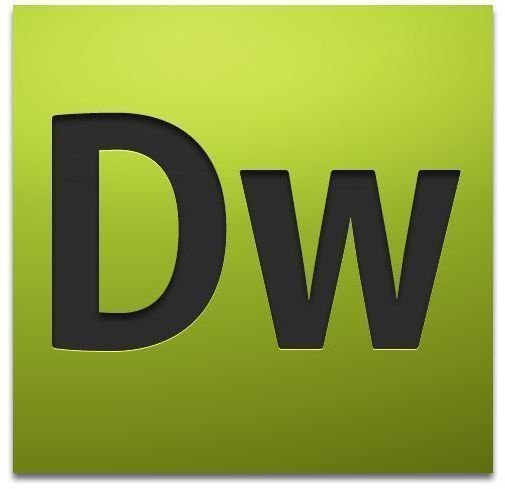 Dreamweaver Football Webite Themes
Have you ever wanted to have a website with an American football theme. Maybe you're going to start up a fantasy football league with your friends through the football season, and you want a place for your friends to make their plays publicly. Or maybe you're going to start up a sports blog that concentrates specifically on football, or you just think you'd enjoy a football based theme for it. Or maybe you're running a local football league and you're looking for a place to post your schedule so everyone knows when and where your practices and games are being held. Whatever your reason is, if you're looking for a football website theme, this article has you covered.
These are basic HTML/PHP/CSS templates that will be easy to edit by hand, or even easier to edit with Adobe Dreamweaver.
i3d Themes - Landmark (Football)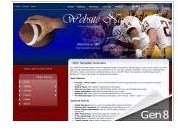 i3d Themes has long been hailed as one of the better website template designers, especially for those that are fully compatible and customizable with Dreamweaver. Landmark is an awesome theme, not only because it comes in a striking blue and red theme with an included flash MP3 player, but because it includes a ton of awesome features. Dynamic web templates, several menu positions, a flash landing page gallery that you can easily customize with all your favorite shots, and fully customizable CSS.
FreeWebsiteTemplates - Football Theme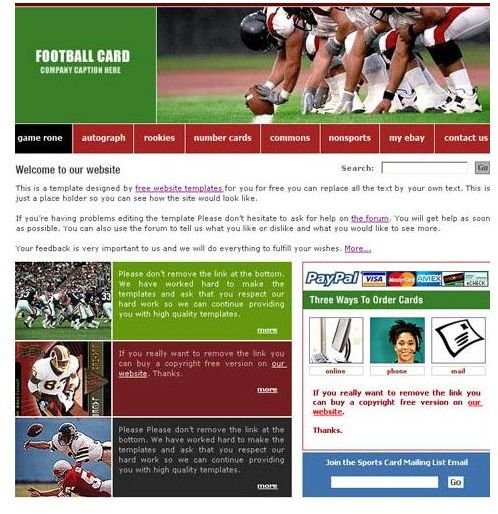 FreeWebsiteTemplates provides an attractive, albeit basic football website theme. This would be great for the beginner designer, or someone who wants a fast-loading and simple to navigate website with a single column layout. An attractive top navigation bar and built-in search function helps users find their way around your content, and because compatibility is important to everyone, this website works well with all modern browsers.
i3d Themes - Titan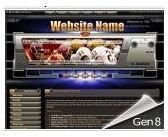 i3d Themes offers a very futuristic and somewhat tech-grunge template called Titan. Titan comes in three color themes, black and gold, red and black, and blue and orange - all equally stunning to look at. With a wealth of blank template pages, this template is extremely easy to edit in Dreamweaver and includes a ton of themed images to help showcase your love of football.
Also included is a SPRY photo gallery page with multiple albums that allow for an unlimited number of photos. So go ahead, take your camera to the big game, and this time, bring the big SD card.
Entheos - Template 2601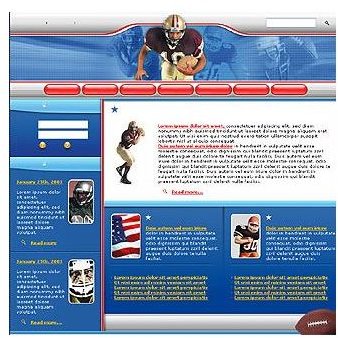 Template 2601 by Entheos is an attractive template, boasting a red, white, and blue theme. It also showcases a great two-column layout and an included Flash header that you can edit with ease. It includes Flash (SWF and FLA), PSD, and HTML source files and is easily editable with Adobe Dreamweaver. And don't worry about creating your own template pages, because this one has a blank content page to make it all the easier on you.
i3d Themes - Alliance Green (Football)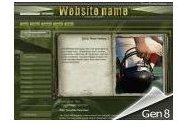 Alliance by i3d Themes is a layout that feels as though it is geared more toward the blogger. Fully customizable library pages are included in the package. And don't worry about looking like just another face in the crowd, as there are as are several alternative layouts, allowing you to get the most out of your template.
W3 Valid XHTML coding and fully editable source files that can be edited from Fireworks CS3 and Flash CS3 (or higher) give you a very professional edge, even if you're a newbie to the game. And don't worry about your viewers not being able to reach you, a pre-designed contact form comes right out of the box.