A Choice Of Free Bowling WordPress Themes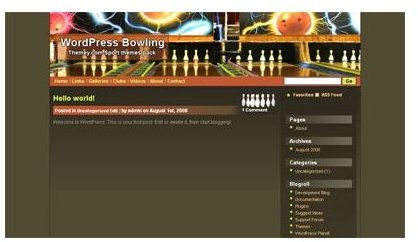 Themes for Any Purpose
The flexibility of WordPress is incredible, from the addition of plugins to the customization of templates and themes. This is the reason why the platform has proved so successful over the past few years, with private users taking advantage of the software available free from WordPress.org, or the hosting available from Wordpress.com.
Many styles of blog have been developed, from massive multiuser applications using WordPress MU to the typical one-man-blog that started the whole trend off.
Thanks to this flexibility, you can find blogs on almost any subject, and suitable themes for them. For instance, if you have a blog about soccer, you'll be able to find a suitable theme, either free or premium. Similarly, if you have a blog about bowling, free WordPress themes will be available to download from somewhere on the web.
Review of Free Bowling WordPress Themes
Unusually for a sports-based theme, however, there doesn't seem to be that many free bowling WordPress themes available online.
We've found two, however:
Bowling 10 1.1 – this is a basic, two column WordPress theme with a suitable banner image to appropriately define the topic of the blog, and a couple of slightly bland tones of brown.
Obviously, with your own customization – plugins, sidebar enhancements, etc – Bowling 10 1.1 could be used with some success. Download this theme from www.wpthemes4free.com – meanwhile, you can try a demo version at theukmap.com.
Sports Balls Equipment Free WordPress Theme – the link with bowling becomes quite tenuous with this theme, which is concerned with all sorts of sports balls, bowling balls included.
This is a three column theme whose link to bowling derives entirely by the low-quality header graphic. Again, with customization, this theme could prove to be very impressive.
See a preview of this theme at www.leadcamp.com/preview - alternatively, download from www.themes2wp.com.
Pay for Themes?
If you're desperate for a bowling theme, you might instead opt to pay for one. Green Bowling is a premium theme available from www.i3dthemes.com. Compared to the two free themes above, Green Bowling is much more dynamic, and has more to offer as a finished product – but as a result there is little to recommend in terms of potential development with user-targeted plugins such as those displaying popular and recent posts.
You can check a free demo of the theme (which is available to purchase for $59), which you can try out here - this is a great way to "try before you buy"!
Look Elsewhere
Evidently, the number of free WordPress themes suitable for bowling blogs isn't huge. As such, I would recommend using either of the free options above and making the most of WordPress' flexibility to develop a truly individual and functional blog.
Failing that however, and if you're particularly adept at converting an image into CSS and understand how to customize WordPress templates, this free theme from www.freetemplatesonline.com would make a great WordPress bowling theme.
If you are new to WordPress or have never built your own theme, the article Create a WordPress Theme from Scratch should give you an idea of what is involved.