Get a WordPress Pregnancy/Nutrition Theme: The Top 6 Reviewed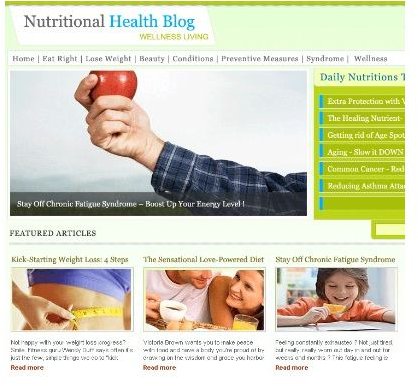 WordPress Theme Options
In the blogging world you need to stand out, and an attractive, user-friendly theme is the best way to make a good first impression. Whether you're an expectant mom casually blogging about her pregnancy, or a doctor or nutritionist or other professional talking about news or issues, a WordPress pregnancy/nutrition theme is an excellent solution.
Five of these six WordPress templates are completely free. They present pregnancy, food, and nutrition in a healthy, positive way and offer a great platform to spread the word about pregnancy or nutrition.
Nutrition
https://newwpthemes.net/nutrition-health-wordpress-theme/
The excitingly-named Nutrition theme has a modern magazine-style feel. It's designed in bright, inviting colors like apple green and sky blue, and has three columns. It's widget ready and features a large, eye-catching splash page.
Pregnancy WordPress Theme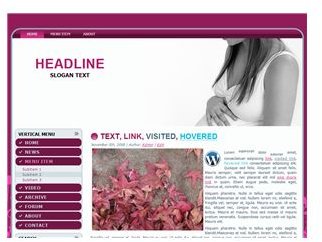 https://affiliatethis.com/pregnancy-wordpress-theme/
This simple, free WordPress theme is pregnancy-related and designed with a clean white background and purple magenta accent colors.
Baby Brown 3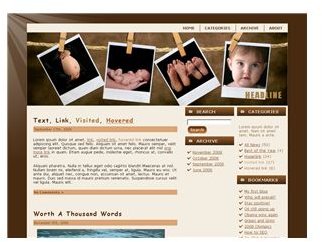 https://naturaltransition.com/ThemeSite/index.php?loadpage=./includes/viewtheme.php&themeid=3
Baby Brown 3 is a warm and inviting WordPress theme designed in welcoming brown tones. It features an utterly adorable header graphic of Polaroids of pregnancy and baby images tacked to a clothesline. It's 3 columns with tabbed naviation at the top.
La Delicious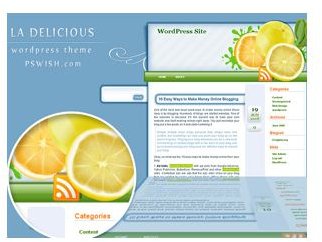 https://www.wordpressthemes2.com/la-delicious/
Like other WordPress themes, La Delicious uses bright colors and thoughtfully-chosen fonts to grab your attention. With its eye-catching header design and blue and green palette, the theme works well for nutrition-oriented blogs.
La Delicious is a two-column theme with integrated RSS design.
Pregnancy Blog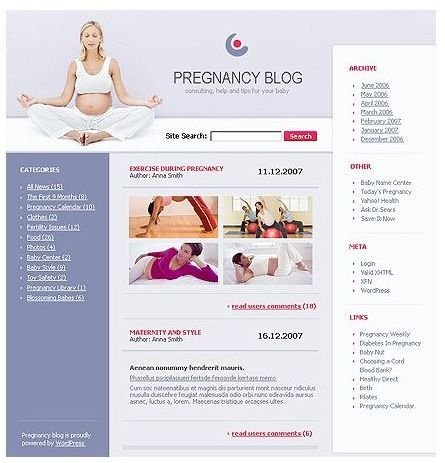 https://www.nice-layouts.com/preview.php?p=14690
Our only pay theme featured in this pregnancy and nutrition roundup, "Pregnancy Blog" includes full Photoshop source files in PSD format. In addition, it's completely widgetized, with a featured posts area prominent on the home page and a three column layout. This pregnancy WordPress theme is designed in attractive pastel shades of plum, violet, and magenta.
Pregnancy WordPress Theme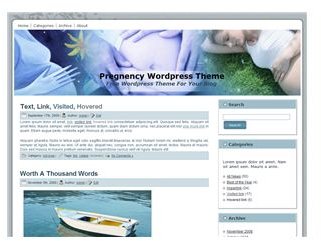 https://www.morewordpress.com/themes/pregnancy-wordpress-theme-2-column/551/
The free "Pregnancy WordPress Theme" continues free theme designers' proud tradition of completely dropping the ball when it comes to naming their designs. However, it's a nice-looking theme, with a dreamy header in blues and violets, and a clean and simple design.
As for specs, the template is two columns, fixed width. The code has been tested and passes an XHTML validity test. It's widgetized and compatible with all browsers.
In this article we've presented some short reviews of blog templates for people looking for a WordPress pregnancy/nutrition theme. Five of the themes are free while one is not, and there is one thing for the blogger to be aware of when shopping through free themes. Often these free themes contain outgoing links in the footer back to the theme's designer. Most of the time these are innocuous, but sometimes they aren't, so we recommend examining the footers of the free WordPress themes you download. Good luck trying these themes!