5 Free WordPress Political Themes for Your Campaign, Political Fundraising, PAC or Political Organization Website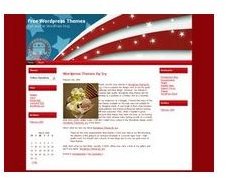 Lots of Great Options
In the political world, it pays to stand out. Want to make a good first impression? Use a smart, modern blog theme. Who needs one of these free WordPress political themes?
political gossip blogs
pundits
PACs
political organizations
candidates for public office
political activist groups
political news sites
By using WordPress as your content management system (CMS), you save yourself a lot of the hassle involved in developing your own website. WordPress themes are customizable yet give a framework to build on.
All of these political themes I've picked are up-to-date, support features like gravatars, threaded comments, and widgets, and most come with built-in Twitter, Flickr and/or social bookmarking support to keep in touch with your readers. On to the political themes!
Politico
https://www.squidoo.com/free-wordpress-themes-by-icy
Not to be confused with the website Politico, Politico is a political WordPress theme for pundits, candidates, and organizations. It comes in both Democrat and Republican versions and features red, white, and blue (of course!), three column layout, and a big header. Politico is widget ready as well.
Political Blue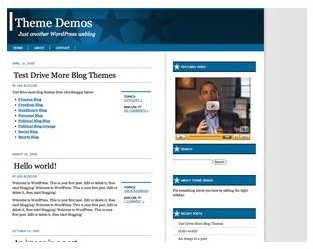 https://www.1800blogger.com/free-wordpress-themes/ (scroll down)
Political Blue is a two column, sober blue WordPress theme. It's widgetized, with YouTube support built in. Perfect for customization or for making a serious impression.
Star Spangled Banner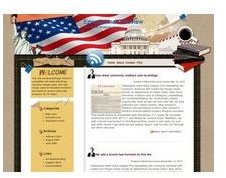 https://freewpthemes.name/star-spangled-banner-free-wordpress-theme/
One of several politics-themed templates on the site above, Star Spangled Banner has two columns and makes a slight break from the stereotypical red, white and blue by using brown to add warmth and gravitas. It's widget ready, comes with a search box, RSS button, and social bookmark buttons.
Conservative American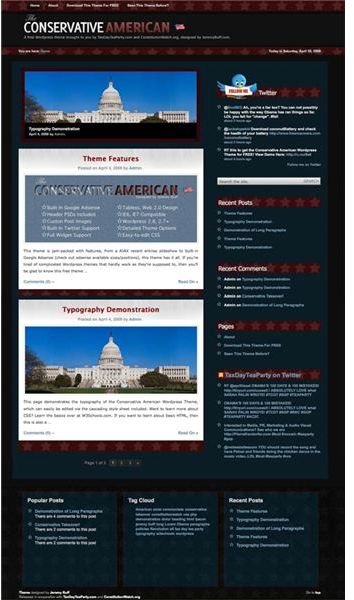 https://jeremybuff.com/posts/the-conservative-american/
There's no reason to limit Conservative American to one side of the political aisle. Well-designed in dark shades of red and blue, this WordPress political theme has two columns and features Google AdSense built in, built in Twitter support, loads of theme options, and it's fully widgetized. Photoshop images (PSDs) for the header are included.
Probama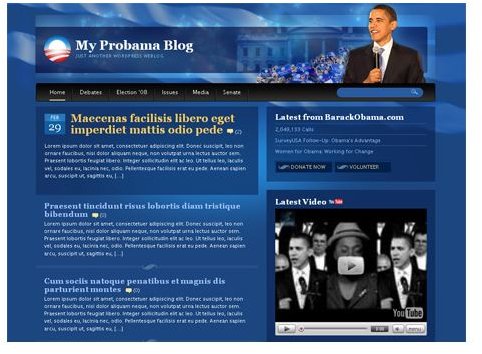 Likewise, there's no reason to limit Probama to one side of the political aisle either! The medium blues of this theme are suitable for any sort of politics use. Some features of the Probama WordPress theme include gravatars, author highlighting in comments (useful for readers to see when the post writer comments), subcategory dropdowns, and extra CSS stylesheets.
Probama also includes support for YouTube and Flickr.
In the world of free WordPress political themes, there's lots of variety to choose from. While themes will tend to run towards the "red, white and blue" look, the way the themes' designers choose to implement the color schemes and layouts makes them unique from one another. Since they're geared toward time-sensitive efforts such as political campaigns and political activism, these politic themes tend to stay updated and incorporate the latest WordPress features. We hope this list is useful to you!