6 Free WordPress Alternative Energy Themes For Your Energy, Renewables, or Recycling Blog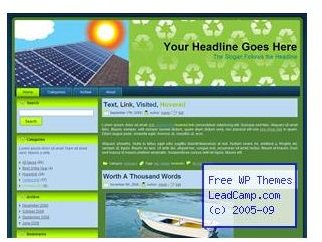 It pays to stand out in the blogging world, and an attractive theme is the surest route to making a good impression. The WordPress community creates several free, good-looking, user-friendly WordPress alternative energy themes.
Often the designers of these free themes put a link back to their own site in the footer, and ask us users to leave it there. My thought is, if I like a theme enough to use it, then the designer's earned a little something, so I'm usually happy to leave the link there.
If your WordPress blog is about alternative energy, renewable energy, or even just eco-conscious, then check out these six themes.
Solar Energy Cell Panels
https://www.themes2wp.com/download-wordpress-themes/alternative-energy
And we kick it off with this excitingly named entry. Solar Energy Cell Panels features a two column layout with left sidebar and a colorful blue and green color scheme. As you might expect, it features stylized solar panels in the header image.
Modern Energy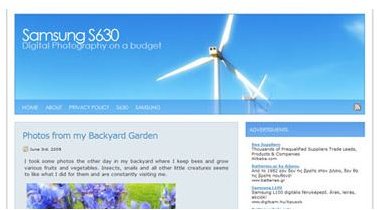 https://wptemplates.org/?p=7057
The Modern Energy WordPress theme has pretty glowy windmills, and not the kind you tilt at. It's also got two columns, with a right sidebar and is fully widgetized. I'm particularly fond of the dreamy blue-and-white palette—it's forward-looking yet still has a professional edge.
Green Energy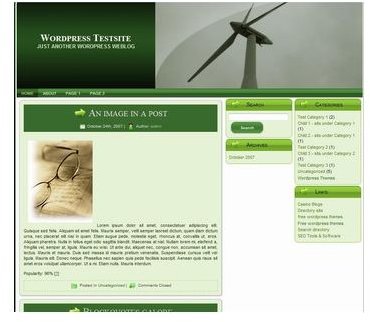 https://www.templates-free.com/wordpress-themes/green-energy-v10/1547/
For a more subdued wind power look, try the Green Energy theme. It's three columns with the sidebars on the right, widget ready, and very, very green.
Solar Power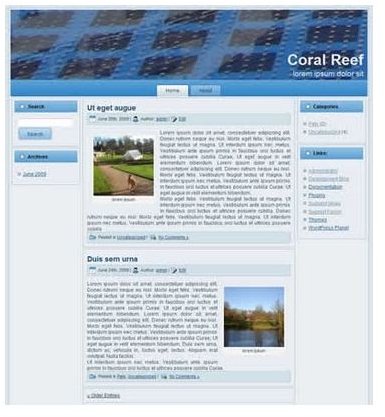 https://wordpressthemes247.blogspot.com/2009/08/wordpress-theme-solar-power.html
For more solar power, check out the inventively named Solar Power WordPress theme. More businesslike than many of the themes featured here, it has three columns with content in the middle and a classy blue look.
Greenday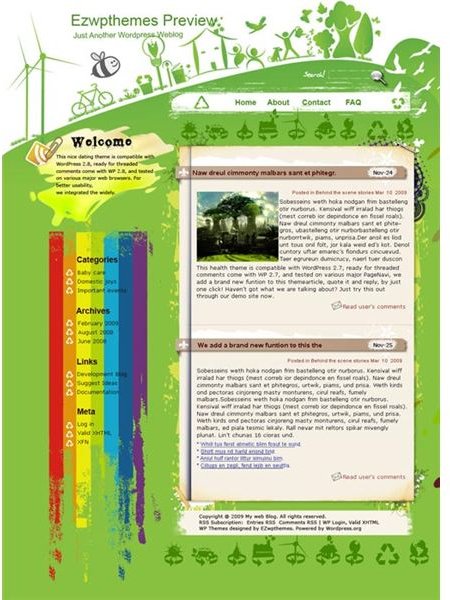 https://www.ezwpthemes.com/templates/greenday.html
Greenday, the colorful alternative energy theme from colorful free WordPress theme designers Ezwpthemes, has their typical two column layout, whimsical art and iconography. It's compatible with all major web browsers, features little extras like threaded comments, and you can even download the Photoshop (PSD) file for the header image to make it easier to edit yourself if you want to customize it.
FreshCycle Magazine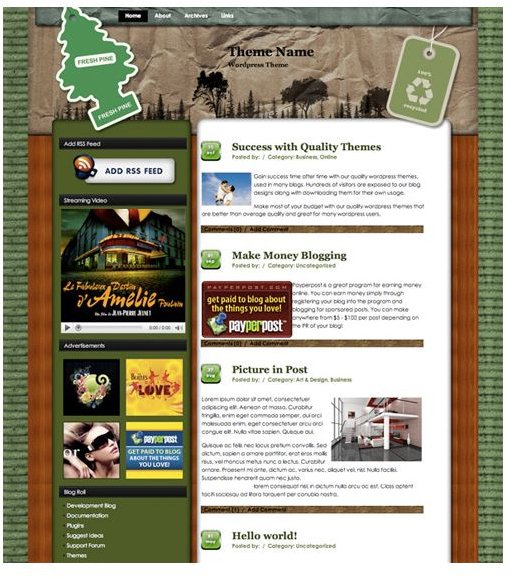 https://www.qualitywordpress.com/?p=270
Colorful like the Greenday theme but in more subdued fashion, FreshCycle Magazine is in fact pretty darn fresh looking. A two column fixed-width layout, it's widget ready and tested on major browsers.
If you're blogging about energy, renewables, or even recycling, you might want to give one of these WordPress alternative energy themes a try. It's certainly easier to use an established CMS like WordPress rather than code and maintain a site yourself, and you can concentrate on the content and message you want to deliver instead of the back end!