How to Publish WordPress Feed Updates to Facebook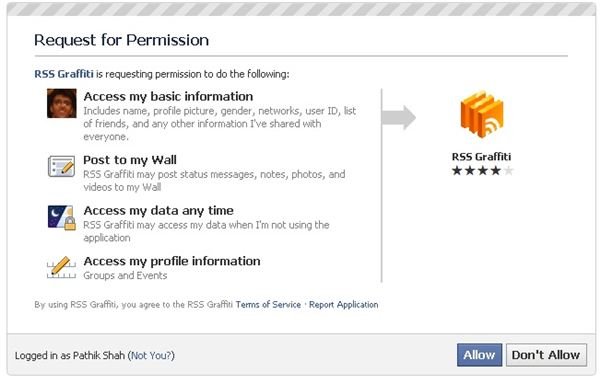 How to Publish Wordpress Feed Updates to Facebook
Facebook is the largest social networking platform in the world. It has nearly 500 million users and it is a great way to promote your blog and get more traffic to it. You can also use Facebook fan pages and profiles to engage your blog readers on Facebook.
If you have a Facebook account and a WordPress blog, you could try publishing all your WordPress posts automatically to your Facebook Wall to let your friends know about your blog updates and also gain extra traffic. If you have a Facebook Fan Page, you could also update that with your blog's posts. In this tutorial, I will show you how to update Facebook with your WordPress RSS feed.
How to Update Facebook Wall or Fan Page with Your Blog's RSS Feed
To do this, you need
1. The URL of the RSS feed of your blog (or any blog which you want to publish on your Facebook Wall).
2. A Facebook account.
3. Any service which allows you to post RSS Feed updates directly to Facebook.
In this tutorial, I will use the RSS Graffiti Facebook application.
Just log in to your Facebook account and visit this URL: https://apps.facebook.com/rssgraffiti/
Allow the RSS Graffiti application to access your profile to pull all the information it needs and grant it all of the permissions by clicking on the "Click Here to Grant Required Permissions" button.
You should grant it the following permissions: constant authorization, publishing, wall posting and access your data and profile by clicking on the Allow Button.
After all the permissions have been granted, you can see the pages you can add the RSS feeds to: your profile's Facebook wall and the Fan Pages created by your Profile.
Select where you want to publish your blog updates in the left section and click on the Add Feed Button. Then, enter the URL of the RSS Feed you want to publish. Give the feed a name and select the style of the updates.
Also select the messaging and the scheduling options to determine how frequently the Feeds should be checked. If you don't understand any option, just leave it with the default value.
After you are done, just click the Save button on the top. Your feeds should now automatically be published to your Facebook Wall.
If you have a bit.ly account and an API key, you can also enter those into the app to track all the URLs that are posted on your Wall by the feed.
If you want to remove the feed, go to the RSS Graffiti application and click on the Delete button.
If you want to withdraw all permissions from RSS Graffiti, go to Account > Application Settings and click on the Cross next to the RSS Graffiti app to remove it from your profile.