Dreamweaver vs. Expression Web: A Head-on Comparison Between Two Top Web Design Software Applications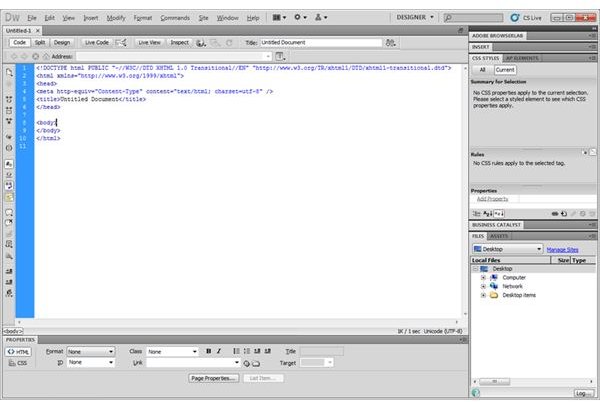 Editor's Note: This article was originally written in 2010. Since that time Microsoft is phasing Expression out of production and it is now available as a free download.
WYSIWYG (or What You See Is What You Get) make life easier for web developers by providing various tools and features like auto complete, tag inspectors, templates, etc. Developers can design web pages just by dragging and dropping elements on the pages and edit the pages by providing appropriate code and design windows. Here we'll take a look at the two of the most widely used WYSIWYG HTML editors: Adobe Dreamweaver and Microsoft Expression Web.
A Peek at Adobe Dreamweaver
Mention "WYSIWYG editor" and the first name that pops in mind is Adobe Dreamweaver. At the time of writing, the latest stable version is the Adobe Dreamweaver CS5. As many professionals in the web developing community use a Mac, they go for Adobe Dreamweaver as the software works seamlessly on a Mac and runs the same way on PC machines, offering flexibility by allowing the developer to customize the IDE and integrate with files from Photoshop, Fireworks and Flash (also by Adobe).
Because it offers support for both PCs and Macs, Dreamweaver has dominated the market and is the choice of professionals. Its ease of use in developing web applications with Web 2.0 standards makes it an editor of choice, not to mention the plethora of templates the software includes in various scripting languages like PHP, JSP, and so forth.
A Peek at Microsoft Expression Web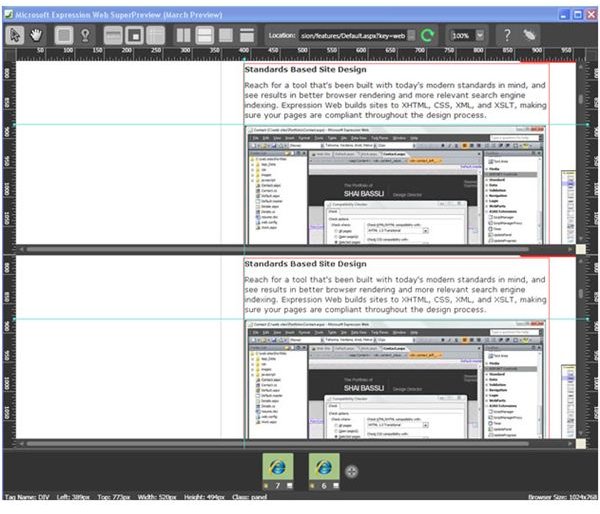 After being one of the first entrants in the field of WYSIWYG HTML editors with Microsoft FrontPage, Microsoft has entered the market once more with the Expression Web. Even though Frontpage had a very easy learning curve and was a favorite among amateurs, it failed miserably to make a mark with professionals who were designing websites with advanced complexities.
With the advent of Web 2.0 technologies, FrontPage fell far behind and had to be a silent witness as Dreamweaver conquered the hearts of developers as the favorite HTML editor. With Expression Web, Microsoft has made its presence felt again in the web development community. With a clean interface and offering new features that support the latest technologies and standards, the software is all set to give Adobe Dreamweaver tough competition and a run for money.
Expression Web vs. Dreamweaver
Now that we know a bit about both editors, let us look at the pros and cons of each one to come to a conclusion as to which one to opt for based on our needs.
Latest Version:
Adobe Dreamweaver CS5 – To download the latest trial version of Dreamweaver click here.
Microsoft Expression Web 4 – To download the latest trial version of Expression Web click here.
User Interface and Ease of Use:
Adobe Dreamweaver allows the user to dock controls and windows as per his/her convenience. The user interface looks cluttered due to the availability of various controls, and it may take some time for the developer to become familiar with the controls and menus.
Lots of templates are available which the developer can use to his advantage.
Microsoft Expression Web has a clean interface, as one would expect from the maker of FrontPage. It also provides access to complex controls while still maintaining a less cluttered interface than Dreamweaver. Not many templates are available but excellent support for CSS is provided.
Features:
Adobe Dreamweaver has features like auto complete, tag inspector, different views (code view, design view, split view), CMS support, etc. Dreamweaver allows Photoshop and Fireworks elements to be integrated easily to offer better graphics and visual appeal.
Microsoft Expression Web, in its latest version, includes an important feature called Super Preview which allows the developer to see how the designed web page looks in other browsers like IE6, IE7, IE8 and Firefox (if it is installed).
Pricing:
Expression Web beats Dreamweaver in this domain. The latest version of Expression Web costs $149 when compared to Dreamweaver which costs $399 and upgrades cost $199.
Support and Compatibility:
Dreamweaver still has support for older versions of HTML and JavaScript. It supports coding in PHP, JSP, Coldfusion, ASP and ASP.NET. Secure uploads using FTP is better in Dreamweaver. Expression Web supports modern standards, especially Web 2.0 standards and offers better support for HTML 5 and CSS 3.
What's New in the Latest Version?
Adobe Dreamweaver CS5:
Integration with Browser Lab - View live snapshots of the web pages and how they look in various browsers.
CMS Support - Web pages can be designed for various Content Management Systems and the dynamic pages can be viewed right from Dreamweaver.
Site Specific Code Completion - When Dreamweaver is used to code for other sites like WordPress, it helps in the auto completion of functions from WordPress.
Integration with Business Catalyst - This is a service offered to build powerful websites with minimal knowledge in coding. Support for setting up of online stores is also provided.
Microsoft Expression Web 4
Super Preview - A feature that allows the developer to see how the web page designed looks in IE6, IE7, IE8 and Firefox (if installed). As of now, there is no support for Chrome, Opera and Safari.
Weaknesses:
Dreamweaver is costly and may not be in the budget range of the casual user. Its user interface is cluttered and unless the developer is familiar with the software, it will be a hectic task to move around looking for certain features.
Expression Web is highly recommended for those who code in ASP.NET. Limited support is provided for PHP, and Photoshop and Fireworks elements cannot be integrated as easily as with Dreamweaver. Since there is no support for using Expression Web on a Mac, it still has to go a long way. There is no support for older versions of HTML and JavaScript, therefore legacy tags are not supported by the built-in features like auto complete.
Conclusion:
Microsoft Expression Web is meant for professionals who specialize in ASP.NET and use Visual Studio. It is also cheaper than Adobe's Dreamweaver and offers upgrades for a lesser price. Professionals who use Adobe's technologies such as Photoshop, Flash, Fireworks, etc., and those who can afford more money may want to go for Adobe Dreamweaver instead. Expression Web still has a long way to go in supporting open source technologies like PHP, and the software is still in its infancy when compared to Dreamweaver.
This article has been placed in our archives.