What's the Best Twitter Extension for Joomla? A Look at 5 Top Picks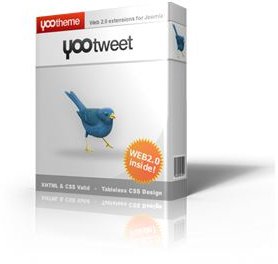 Bring in the Tweets!
Twitter is a social network and a microblog that allows you to quickly send messages, or tweets, to your user page where others can read it. One of the greatest things about Twitter is the ability to update from the internet, SMS, smartphones, and third party applications, making it the ultimate in on-the-go networking. Using Twitter is a great method of letting people know what you're up to, if you make updates to any projects you do, or just to keep in touch.
Since Twitter launched, it's become incredibly popular to link your Twitter updates in your web page. If you use Joomla as your CMS, you're in luck! Twitter extensions come in all styles, features, and levels of complexity - allowing you to match your extension to your site look.This article will spotlight Twitter extensions, so you can find your perfect Twitter extension for Joomla.
YOOTweet
YOOtweet by YOOtheme is an extremely popular extension for displaying your tweets inside a module. With two different styles and striking black and white color variations, the sleek little extension is sure to fit in with absolutely no problem. This also tops the charts as being one of the easiest to use and most reliable, requiring little setup to work right "out of the box" as it were. You can easily display tweets from a single account, or even feature tweets linked with a specific hash-tag.
RockTwittie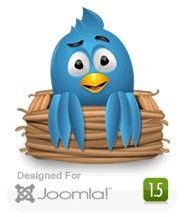 RokTwittie by RocketTheme is sleek. It's stylish. It's got a little more oomph than other Twitter Extensions available for Joomla. You can change the colors and fonts to fit your website. If you're using a RocketTheme Joomla template, it'll fit snugly in as it reads the template CSS to match your template flawlessly. Feel free to display tweets from a single account, or call upon hash-tags and trending topics for a trendy, modern alternative to the classic ShoutBoard. And people don't need to go to your Twitter profile to see your profile information, RokTwittie will display your profile bio, avatar, and name for everyone to see.
Twitter Feed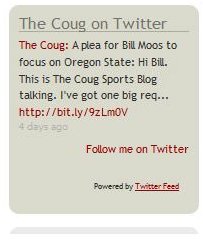 Twitter Feed by GammaBlue is the ultimate in simplicity. No extremely fancy extras means that it settles in naturally with your site. Great for those sexy-sleek sites that aren't looking for anything fussy hanging around in the sidebars. However, while it may look extremely basic, Twitter Feed provides you with all the best options, including the ability to display only items with links, the ability to apply CSS over the links, and the ability to filter out specific hash-tags.
JF Twitter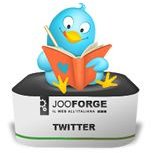 JF Twitter by JOOFORGE is a fantastic, extremely customizable Twitter extension for Joomla - allowing you to display multiple tweets and group them into multiple pages that flow with just a click of a control button. JF twitter also offers you the ability to show as much or as little as you want, with toggling on/of features for avatars, names, and links to your Twitter page. Very sleek, and very easy to use.
ENYy My Tweets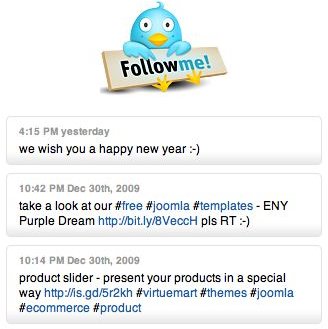 ENY My Tweets by ENYtheme is an attractive little Twitter extension for Joomla. It allows you to show your latest tweets, the number you would like to show is configurable in the options. It comes in three sleek, minimalistic styles, and has a great toggle option to provide links to your Twitter page or not.