Tips on How to Move Elements on a Blogger Page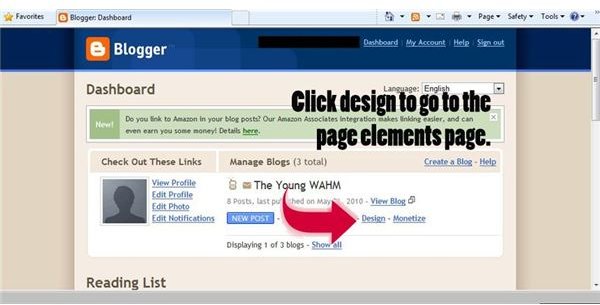 Moving Elements on a Blogger Page
Learning how to move elements on a Blogger page is a simple process that allows the user to customize their blogging page for easy access. Blogger is a free publishing tool owned by Google. This blog platform allows its users to share information through text, photo and video posts. Blogger makes it easy to add and arrange page elements with a simple click and drag of the mouse. Here you will learn how to move page elements to customize your blog.
Locate the Blogger Dashboard
Once you have signed into your blogger account, you will be directed to the  Dashboard. If you don't already have a Blogger account, click HERE to create one now in three easy steps. On the dashboard, you will see your e-mail address on the top, center of the page next to links that read "Dashboard", "My Account", "Help" and "Sing Out". In the center of the page, you will locate your blog under a bolded title that reads "Manage Blogs". If you have more than one blog, you will need to locate the blog that you would like to make changes to. Once you've located the blog, click the "Design" link to direct you to the Elements page.
Navigate the Elements Page
The top, left side of your screen should read "Add and Arrange Page Elements". On this page, you are able to learn how to move elements on a Blogger page. Before you begin to move any elements, make sure that you have all the elements you'd like for your customized blog. If there are elements that you'd like to add to your page, simply click on "Add a Gadget" and choose from the list of available elements.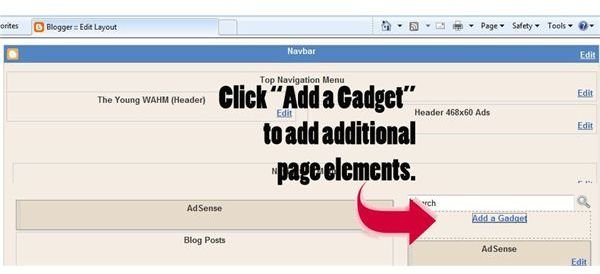 Arrange Blogger Page Elements
Once you've added each page element, you're ready to learn how to move elements on a page. Depending on your Blogger template, you will have pre-coded areas on your layout. Each area allows you to simply click and drag the elements to other areas of the page. To move an element, click on the box element that you'd like to move. Hold down the left click button on your mouse and drag the element to another area on your elements page.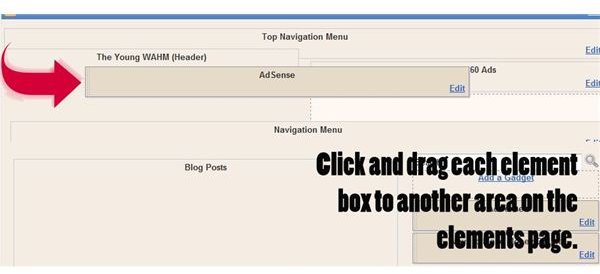 Create Valuable Content
Moving elements on your Blogger page is simple and can be completed within seconds with the directions posted above. Once you've completed your elements page, you're ready to add valuable and original content to your page to attract visitors. Update your page regularly to gather a large audience of interested viewers. Blogger makes it easier to share your thoughts, and make money through linked companies, such as Google Adsense and Amazon Affiliates. Whether it be text, audio, video, photographs, or a combination of all the above, your blog will be an outlet for creatively and shared knowledge.