Joomla Restaurant Templates: Six of the Best Cafe and Restaurant Themes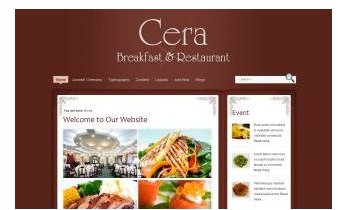 Spoiled for Choice
Winnowing down the masses of templates that exist for Joomla can be a daunting task. Its status as one of the most popular content management systems in existence means that the sheer range and variety of skins is overwhelming. Luckily you no longer have to go searching for your ideal template, because we've done it for you. Following on from our look at the five top automobile templates, here's our pick of the six best Joomla restaurant templates.
JV Cera
The lustrous red background of this free template gives it an understated elegance, which is nicely complimented by the menu-like layout. Perfect for displaying your dishes in an easily accessible format, JV Cera is Joomla 1.5 native and comes with the original .PSD files and fully commented PHP code, meaning minor modifications should be a breeze.
Cappuccino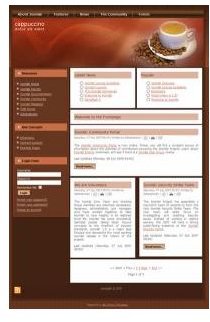 For coffee lovers, the Cappuccino template might be just what you've been looking for. The color scheme of rich, dark browns invokes the scent of a freshly brewed pot while managing to keep text readable. The theme is compliant with both CSS and XHTML standards, which is perfect for those who are sticklers for validation.
Tableware
Moving away from the darker styles, our third and final free Joomla template is Tableware, a light and airy template that might suit a restaurant or cafe that's shooting for inviting rather than elegant. The three column layout gives plenty of space to put content in without mashing everything together, and the spoon next to the menu items is a particularly nice touch.
YouBistro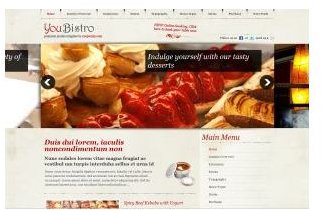 The guys at YouJoomla have a reputation for creating top quality Joomla themes, and their latest design certainly doesn't disappoint. YouBistro is a 100% tableless design with built-in SEO optimization, making it perfect for getting you to the top of your niche in the search engines. It also doesn't look half bad, and is guaranteed to appear the same in all major browsers. At only $35 for a single use license, this is certainly a competitor for the title of best Joomla restaurant template.
Winery
The Winery theme rouses memories of sitting outside a Tuscan villa on a dark summer's evening, sipping high class red wine. Perfect for an up-market restaurant with a reputation for quality wines, it includes comprehensive installation instructions to make it as painless as possible to use.
Restaurante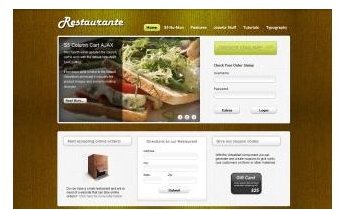 If you want a template which offers more than just a pretty face, then it's hard to go wrong with those offered by Shape5. One of their best is the Restaurante theme, available to all club members. It comes with a built-in VirtueMart theme which makes it astoundingly easy to create an online ordering system, delivery and carry-out, as well as integration with SuckerFish and S5 effects.
This post is part of the series: The Best in Joomla Templates
If you're looking for ways to spice up or customize your Joomla web site, you may want to try out some of these great themed templates. Best of all, many of them are free!