Five Great Joomla Automobile Templates: Showcase Your Car-Related Website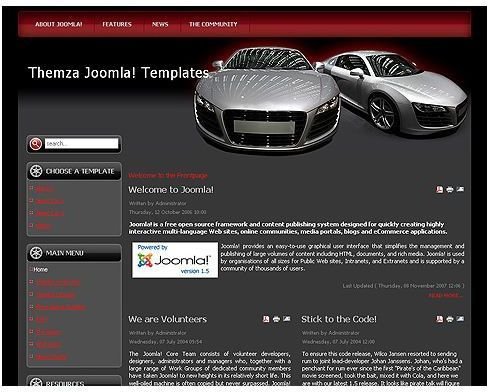 What a Man Wants
Cars, football and beer; three topics practically guaranteed to get any man talking. When planning a Joomla site, you need a tempting template to pull in the punters, and although we can't help with the last two we can offer you suggestions for the best automobile themed templates. Here, in no particular order, are our top five.
Auto Maina
Auto Mania is a slick, dark template with red highlights; perfect for the car enthusiast who likes them sleek, fast and sexy. Native to Joomla 1.5 it gives you all the standard options to improve community engagement including polls and, more importantly, support for third party extensions like forum bridges.
The hub-caps next to titles are an eye-catching addition but come at the cost of valid XHTML, despite the claims to the contrary on the theme itself. Aimed squarely at the younger generation of automobile owners who are looking for a hip and flashy site, this might come across as a little garish for more mature users.
Beauty in Design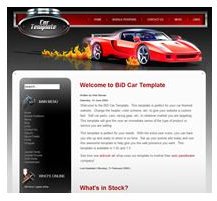 Beauty in Design has lots of experience designing templates for Joomla, but it's hard to find some of the older work. The "Cars" theme may be hidden away inside an old archive, but it's certainly worth taking out for a spin. The flaming sports car in the header is bound to get any enthusiast excited, but this template also ensures that text readability isn't sacrificed for a shiny background.
RT ShowCar

The RT ShowCar template is a more laid back, professional looking theme than the two already presented. Suitable perhaps for a car dealership or someone sellings parts and accessories, the smooth greys and blues provide a refined feel. This theme is Joomla 1.x native, although it will also run on Mambo 4.x and Joomla 1.5 in legacy mode. As such it would be perfect for a pre-existing website that might be getting a bit stale design wise.
Emma Smooth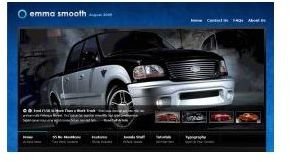 If you want the best you often have to pay for it, and that's never more true than when it comes to design. Emma Smooth is a superb effort by Shape5, ideal for high-class gallery and sales websites. Guaranteed to work with all major browsers it boasts full XHTML compatibility and 100% tableless CSS, as well as coming with a slew of pre-installed modules to make it easier to get your automobile website up and running.
Auto Portal
Sticking with paid-for templates the final option is Auto Portal, a bright and easy on the eye theme which can be used on both Joomla and Drupal. This theme could suit a more refined automobile enthusiast site, especially one which deals with classical cars.
This post is part of the series: The Best in Joomla Templates
If you're looking for ways to spice up or customize your Joomla web site, you may want to try out some of these great themed templates. Best of all, many of them are free!