Top 4 WordPress Traffic Monitoring Plugins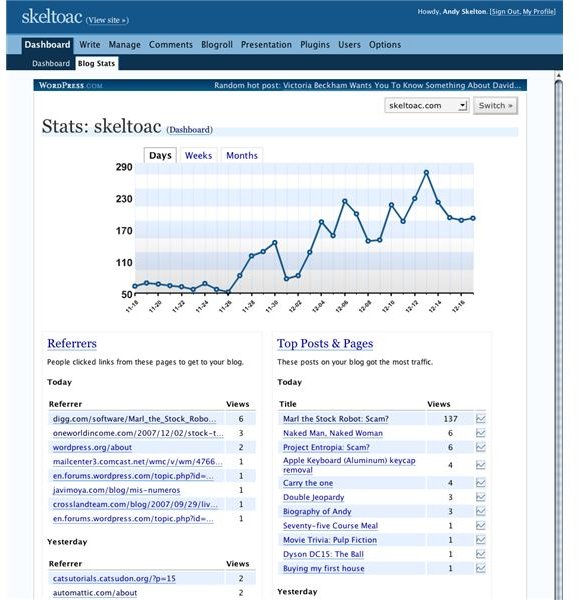 Monitoring WordPress Traffic
The best way to track who and how many people are coming to your blog is to use a WordPress traffic monitoring plugin. There are plugins to simplify the use of site monitoring tools like Google Analytics and LiveStats, and plugins that collect and display stats on their own. Some offer extra candy like widgets or offsite number-crunching; some are free and some cost a few bucks a month to use the service the plugin is for. Read on to discover the four very best plugins we found for monitoring WordPress traffic.
Google Analytics for WordPress Plugin
https://wordpress.org/extend/plugins/google-analytics-for-wordpress/
Written by WordPress plugin guru Joost de Valk, the Google Analytics for WordPress plugin simplifies using the premier free site analysis tool. Not only does this Analytics plugin simplify placing your tracking code, it also adds features to your stats, such as tracking outbound links within posts, blogroll links, links within comments, and downloads. In short, this WordPress traffic monitoring plugin spiffs up Google Analytics for you.
Wordpress.com Stats Plugin
https://wordpress.org/extend/plugins/stats/
Wordpress.com is the free-hosting way to get a WordPress blog. While most serious bloggers install WordPress on their own domain, Wordpress.com is a pretty full-featured solution for casual bloggers. One feature that even solo WordPress users have been jealous of is Wordpress.com's "Stats" system, which is a set of blogging-oriented traffic metrics. The Wordpress.com Stats plugin was written to extend this functionality to self-hosted WordPress blogs.
Wordpress.com Stats is one of the fastest stats systems around because everything is computed on Automattic's servers (those are the people who created WordPress). You might have noticed, if you're very observant, a little, teeny-tiny smiley face in the footer of some blogs you've visited. In fact, that smiley face is the Wordpress.com Stats plugin's way of counting visits, and blog administrators can hide it via CSS if they don't want people to see it.
For fast, free, real-time collection of popularity data, pageviews, traffic sources and more, Wordpress.com Stats comes highly recommended for a WordPress traffic monitoring plugin.
Image credit: Screenshot © Automattic.
Pay to Play WordPress Traffic Monitoring Plugins
We'll wrap up with two excellent paid-model WordPress traffic monitoring plugins.
Chartbeat (https://wordpress.org/extend/plugins/chartbeat/)
Like Wordpress.com Stats, Chartbeat offers real-time analytics for site owners to track traffic, popular pages, and more. As an added bonus, Chartbeat includes a sidebar widget you can use called Top Pages, which functions like a popular posts plugin. Chartbeat offers a 1-month free trial, and costs $9.95 per month afterwards.
GoSquared (https://wordpress.org/extend/plugins/gosquared-livestats/)
Like Google Analytics for WordPress, the GoSquared WordPress traffic monitoring plugin simplifies the task of inserting tracking code into source files by doing it for you. Intended for use with GoSquared's LiveStats real-time analytics service. LiveStats is a pretty darn fancy site analysis tool, free for sites with up to 5,000 pageviews per month, and with plans beginning at $5.99 per month for more popular websites.
As you can see, there aren't really a lot of choices for a WordPress traffic monitoring plugin…but that's not a problem at all, because every offering is from a respected source. From Google to well-supported pay service plugins to a plugin by the inventors of WordPress itself, at least 1 of these 4 traffic monitoring plugins ought to fulfill your site analysis needs.