Great Dreamweaver Horse Templates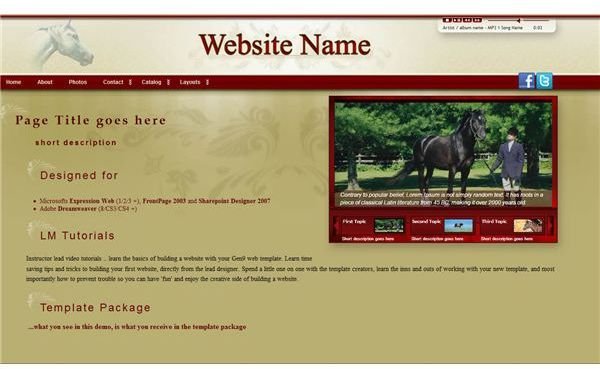 Fan of Horses?
There is something about the outside of a horse that is good for the inside of a man. - Winston Churchill.
There are thousands of different kinds of Dreamweaver templates available for download across the Internet, and one of the nicest things about that is that you'll easily find templates to cater to every club and hobby obsession. This includes several stunning horse-themed templates that are great for equestrian clubs, ranches, farms, ranches, 4H clubs, and horse enthusiasts the world around. Here is a collection of some great Dreamweaver horse templates available around the Internet.
Renaissance
Renaissance by i3dThemes is a tasteful, simple website with a clean two or three column layout. It comes in an array of beautiful colors, such as red and tan, royal blue and tan, teal and tan, and royal blue and red. It is perfect for equestrian clubs and horse enthusiasts, giving off an air of sophistication.
The template offers users the ability to showcase stunning slide shows, seamlessly stream audio, and is packed with several video tutorials to help everyone, beginners and advanced users alike, get the most out of this template. Renaissance is compatible with Internet Explorer 7+, Firefox 3, Chrome 2, and Safari 3, is W3C Validated (XHTML/CSS), and comes search engine optimized right out of the box.
Horse Club Website Template
Horse Club Website Template by Entheos Templates is a bright, catchy, yet very tasteful template that boasts a very clean two column layout and an attractive orange, brown, and tan color theme. The template offers integrated Flash with attractive rollover effects on the menu, but includes a full non-Flash version for users not ready to delve into editing Flash by themselves yet. Attractive, multi-browser compatible, and packed with several template pages such as Shows, Race, Foundation, and Contact pages. W3C Validated.
Keynote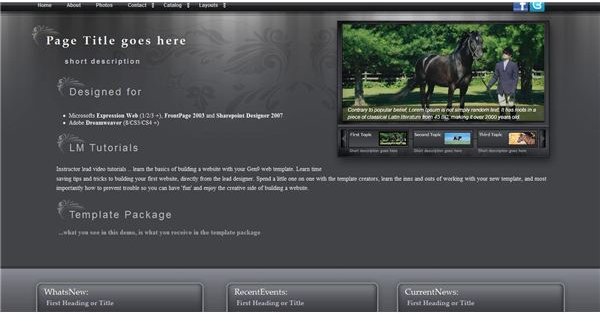 Keynote by i3dThemes offers a functional and eye-pleasing template, featuring a multi-column layout, rounded corners, and several color themes, some include grey, tan and forest green, forest green, and royal blue. Packed with video tutorials, this website is easy to set up and manage.
Keynote comes packed with a Flash portfolio and slide show, a built in contact page with form, a photo gallery, a streaming MP3 player, and several pre-designed pages and multiple layouts, as well as being search engine optimized straight from the start. It's compatible with Internet Explorer 7+, Firefox, Chrome, and Safari, and has been W3C XHTML/CSS verified.
Horse Riding Website Theme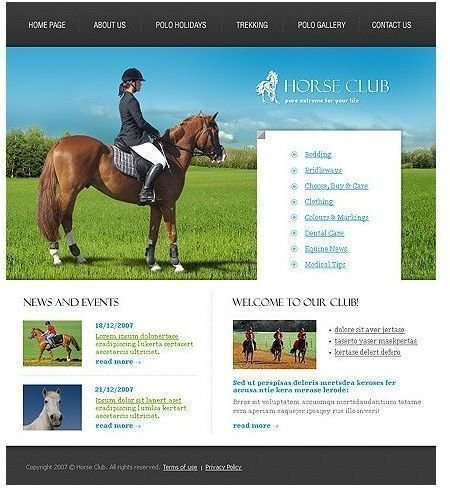 Horse Riding Website Theme by Entheos templates is an engaging template, featuring a large header image and stunning rollover effects. Packed with both a Flash version - which includes animation in the image and beautiful menu effects - and the pure HTML version - for a simpler, faster website - users will be able to pick what effects they wish to achieve.
Horse Riding Website includes preset template pages such as Polo Gallery, Contact Us, Polo Holidays, and more, and sports a catchy two column layout. The template includes all the source files so it can be fully customized.