Top Joomla Templates for Investment Sites: Financial Themes and More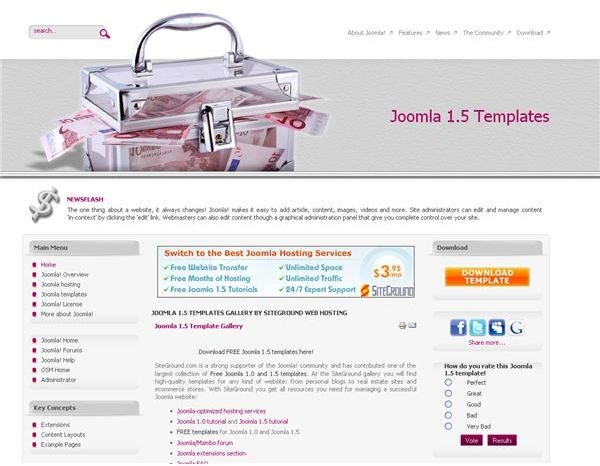 SiteGround Free Joomla Templates
SiteGround offers one of the best collections of free Joomla templates. Investment sites are available among several templates you can use for that purpose. For instance, the Treasure template is the closest match to an investment template.
Its colors are a bit brighter than what you will typically find on a business template, but still it is really stylish. Additionally, it is probably the only free Joomla template there that directly relates to investment.
In addition to the Treasure template, there are many other templates you can use for an investment site, though they aren't directly related to investment. Any of the business templates can be used as a Joomla template for an investment site but they still aren't an exact match.
SJT Financial Joomla Template
The SJT Financial Joomla template is one of the few free Joomla templates made especially for an investment site. The template isn't exactly a design masterpiece, as it can be seen from the screenshot below, but still it is stylish and serious: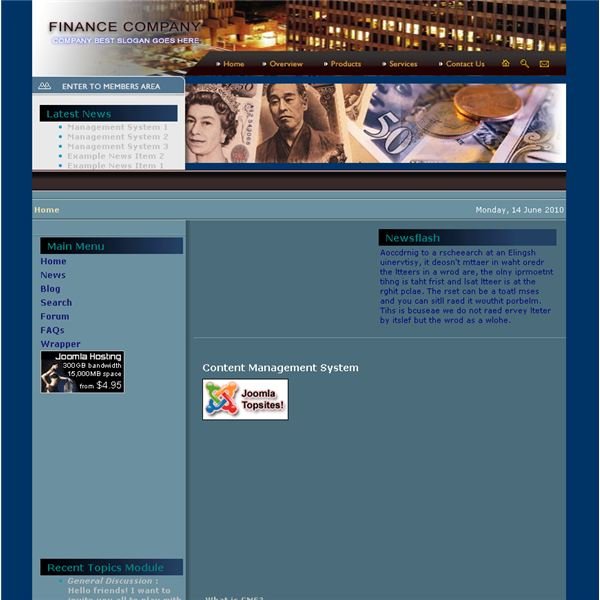 The template is a bit old and you might have problems deploying it on the latest version of Joomla but still this free Joomla template is one of the best you can find. It seems that this SJT financial Joomla template is not maintained anymore, which is yet another reason to be wary about using it.
Paid Joomla Investment Templates
For everybody who is familiar with the world of open source CMS and the abundance of templates and plugins, it might be a bit surprising that the choice of free Joomla templates for investment sites is that limited. Well, maybe before the recession hit the economy and the investment sector wasn't in dire straits, the choice was richer–but now it seems that there is no free lunch, i.e. Joomla templates, for investment companies.
I am not going to review all the paid Joomla templates for investment sites you can find because there are really many of them. The only site I will mention is Entheos. I don't claim they are the best and I am not endorsing them in any way but I was really impressed with their collection of over 400 investment templates.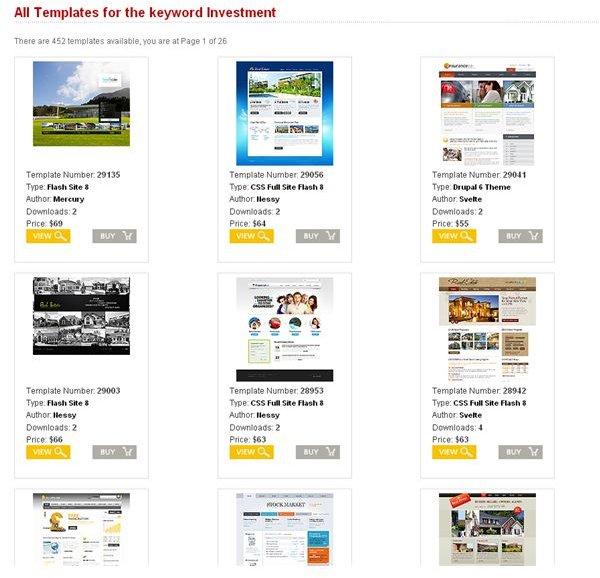 The templates themselves are really cute and there are templates for many sub-branches of the investment industry. If the numbers are correct (and I don't have reason to think otherwise), the templates are not purchased by millions of people. That means if you are afraid that when you pay $50-60 for a Joomla template for your investment site, everybody else in the industry will have the same Joomla template, this will hardly happen.
Free Joomla templates for investment sites aren't that many. Of course, you can always use a generic business template and adapt it to your very particular needs. Still, you can use the specifically made Joomla templates for investment sites and comfort yourself that the situation with Joomla templates for investment sites isn't worse than the situation in the investment industry itself.
Screenshot Credits:
SiteGround offers Joomla! Treasure Template
SJT Financials Joomla! Template from Joomla! Hacks
Templates presentation from Entheos