Best Artsy Templates for Joomla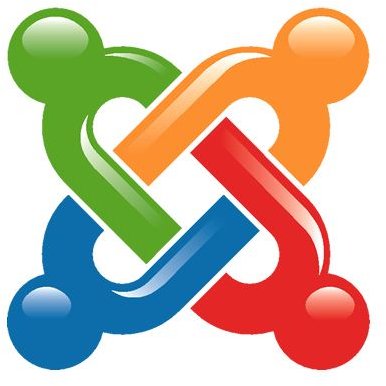 Joomla Templates: Easy, Artsy, & Functional
The great thing about Content Management Systems like Joomla and Wordpress is that they're quick to use and with the addition of templates, you can find thousands of beautiful themes that will make your website look both professional and artistic. Joomla templates are frequently heralded. Unfortunately, finding these templates isn't always the easiest task if you're new to finding and installing Joomla. In this article, you will find some great artsy templates for Joomla, including those from industry giants such as RocketTheme and YOOtheme.
Infuse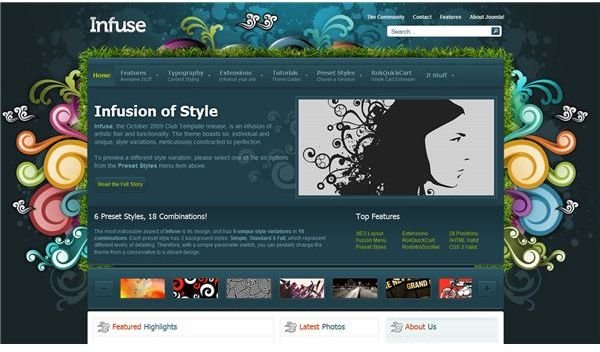 Infuse by RocketTheme is a an eye-catching theme that boasts an SEO-friendly layout as well as six beautiful preset styles with a total of eighteen different template combination. Infuse also boasts the ability to use popular extensions like RokCart, a Joomla compatible shopping cart plug-in and RockIntroScroller which will scroll previews of your entries across a news header. It comes equipped with 28 different module positions, and is XHTML valid, CSS 3 valid, and compatible with hundreds of the most popular Joomla extensions.
Portfolia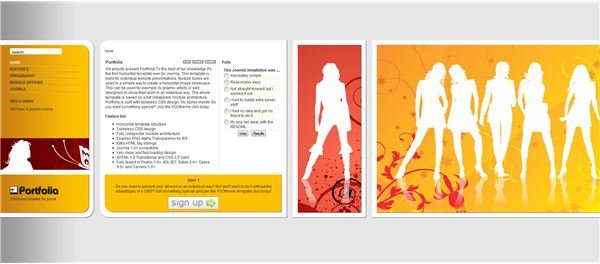 Portfolia by YOOtheme is one of the first fully horizontal Joomla layouts, making for a very unique look. It's boasting a very simplistic design for those who believe that less truly is more. With a tableless CSS design and record speed loading times, Portfolia has an eye-catching design that will draw you in from the start. Joomla 1.0+compatible, XHTML valid, and fully tested in Firefox 1.0+, IE6 and IE7, Safari, and Opera.
Devire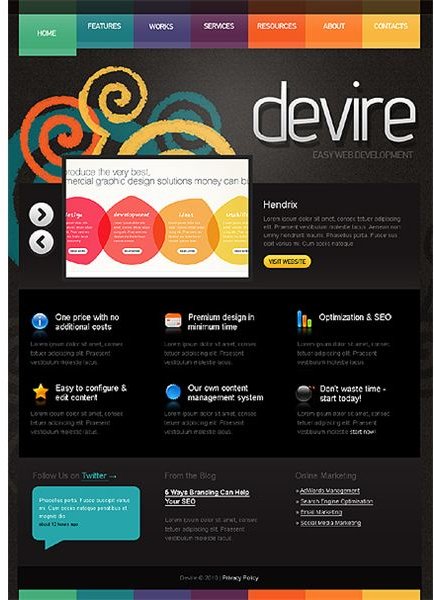 Devier by Joomla-Template does an outstanding job of marrying form and function to prove that you can do a lot with a small amount of space. A beautiful straight forward layout coupled with bold colors and great textured background. Devire is a successful experiment in minimalism, great for those who don't need a lot of extra features but still want to catch the attention of their viewers.
Refraction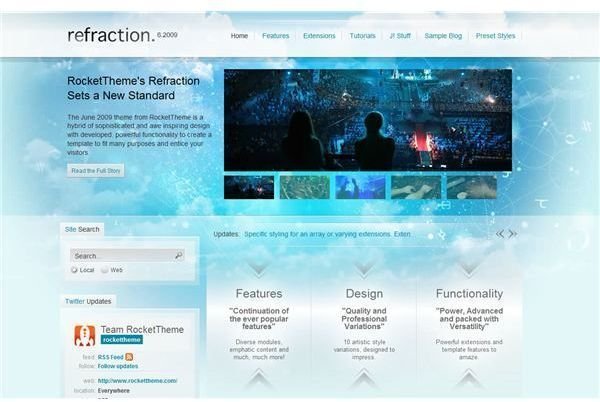 Refraction by RocketTheme is a seriously stylish template with a lot to offer. A very straightforward 2 or 3-column layout with an optional news header and ten stunning preset styles in a variety of colors. Refraction works with hundreds of popular Joomla plugins, and is specifically designed to work well with RocketTheme plugins like RokCart, RokTwittie, and RokCandy which is a popular typography editing plugin to help with further customization. XHTML valid, and fully tested in Firefox 1.0+, IE7, Safari, and Opera.
Surface
Surface by YOOtheme combines extreme simplistic thee column layout with mind-blowing backgrounds and accents. If you're looking for something grungy and urban, this template has it. What about something a little more subtle and abstract? Don't worry, this template has that too. Just simple enough to maximize compatibility with all your favorite Joomla plug-ins. Joomla 1.5 compatible, fully slices Fireworks .PNG source files,
This post is part of the series: The Best in Joomla Templates
If you're looking for ways to spice up or customize your Joomla web site, you may want to try out some of these great themed templates. Best of all, many of them are free!