Use a WordPress "Add Video to Blog Content" Plugin for Interactive Blog Content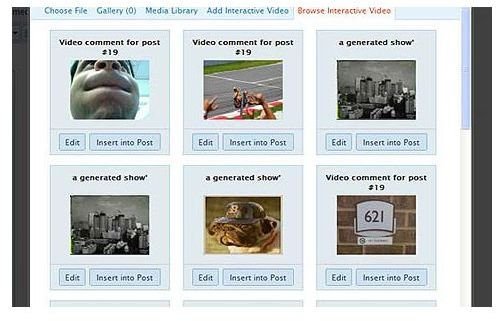 WordPress Plugins that Add Video to Blog Content
What is WordPress?
WordPress is considered one of the leading open-source blogging platforms, and since it's open source there are numerous plugins and widgets that would help enhance your blog functionality and performance.
One that would save you a lot of time is one of the WordPress Add Video to Blog Content plugins. Instead of having to copy and paste the embed code from sites like YouTube to include videos on your blog, which you'll need to do in the HTML view, now you can just click a button and enter a URL – it's that easy!
Here are some great video plugins available for free online:
Viper's Video Quicktags – This WordPress Add Video to Blog Content plugin inserts new buttons to the rich text editor (RTE) on your WordPress. In order to embed a video, you'll just need to paste the video URL into the prompt box. With this you can also fully configure the colors, alignment, width, and height on the page.

Smart YouTube – The core function of this is to correctly embed YouTube videos into your blog post. It's compact and fast with customizable options for colors, border, full screen, etc.

Interactive Video Plugin – Aside from video embed, this also includes the ability to upload, record, and import directly to your post; also, you can edit your videos using the built-in video editor.

Embedded Video – With this WordPress Add Video to Blog Content plugin you can integrate videos from external sites.

Video Widget—You can add more than 20 types of video in your sidebar. Only the video ID is required and no HTML code to paste.

Flash Video Player—This plugin allows the integration of videos into WordPress by using a menu with overrides for customization of size, background color, etc. It records your styling once and remembers it, so you can repeatedly use it.

Video Embedder - To integrate a video using this plugin, all you need is the ID of the video. With this you can manage the settings for all of your embedded movies. The properties for all the movies will be updated instantly as soon as you save the settings.

EasyTube - This allows you to easily embed YouTube and Google Videos using one simple tag and it even places a preview image of the YouTube videos in your RSS feed linked to the video. This is especially compatible when you're using videos from Google.

Youtuber - This plugin lets you include YouTube videos in your posts very easily by using simple tags. It also includes an option to set the width and height of the videos.

FLV Embed - This WordPress Add Video to Blog Content plugin supports video sitemap generation, and it includes options such as auto start and menu control bar. It also supports text-only output for the RSS feed that prompts readers to visit the original post for Flash content.