Top World of Warcraft Joomla Templates: Six Great WoW Themes for Building Your Own Site
Why Use Joomla and a WoW Template?
If you're the leader of an active guild on World of Warcraft, you might have thought about building your own guild website. You might even have your own guild website, but have been looking to upgrade to something that is a little more eye catching. Using Joomla! to create a website is extremely easy, and it shouldn't be surprising that there are several World of Warcraft themed templates available for download. In addition to these great themes, several plug-ins that help you keep your guildies in touch have popped up, including World of Warcraft themed forums and even plug-ins that track guild progression. This article will discuss a few of the top World of Warcraft Joomla! templates.
RocketTheme: WoWTrooper
RocketTheme's WoWTrooper combines an eye-catching three column layout with a subtle World of Warcraft influence. It's a timeless template that can easily last throughout all current and future expansions, no need to worry about it becoming too dated when World of Warcraft changes expansions. It also offers a fantastic amount of customization and works seamlessly with thousands of Joomla plugins.
WoWInstaller: Cataclysm Template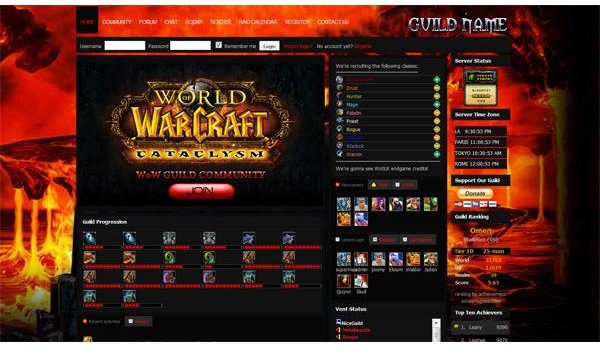 WoWinstaller has provided players with a template that captures the feel of Cataclysm. A theme based around Azeroth being torn asunder by Deathwing, it makes a strong impact on your guildies, prospective guild members, and everyone who stumbles across your website. Draw them in with the added downloadable plugins that can show guild progression by dungeon, member, and individual achievement points, WoWinstaller's themes take the cake when it comes to looking professional.
RocketTheme: Dimensions WoW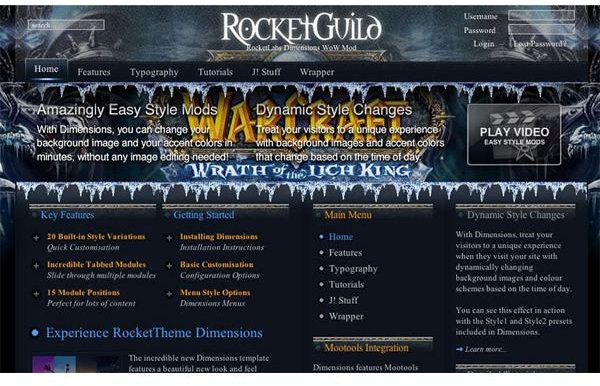 RocketTheme has provided a very inclusive Wrath of the Litch King theme giving you a very professional feel peppered with offical WoW artwork. With a lot of customization offered by RocketTheme templates, the template is beautiful and functional, offering you the ability to make your website stand out.
RocketTheme: Outland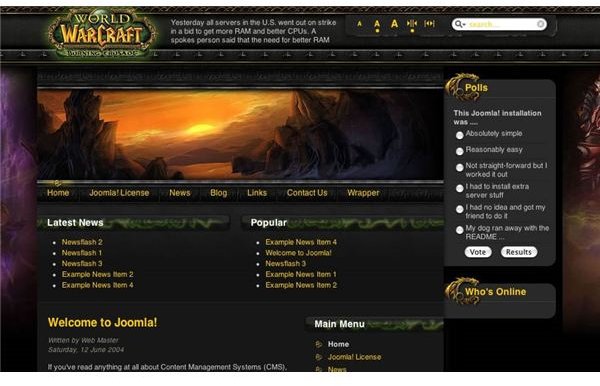 While it is slightly dated, Outland by RocketTheme is still a stunning World of Warcraft theme. Much more minimalistic than other World of Warcraft themes, it remains uncluttered and loads quickly, something appreciated by everyone who wants to quickly check the website for updates and changes.
WoWInstaller: Wrath of the Lich King Template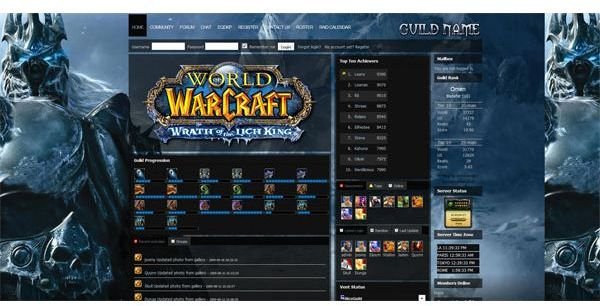 WoWInstaller provides a fantastic Wrath of the Lich King theme that looks great and is highly functional for any World of Warcraft themed website. Like their Cataclysm theme, this template allows deeper customization through exclusive guild and guild member tracking plug ins. These show the progress of your players as well as your over-all progression as a guild.
Best of Joomla - World of Warcraft Template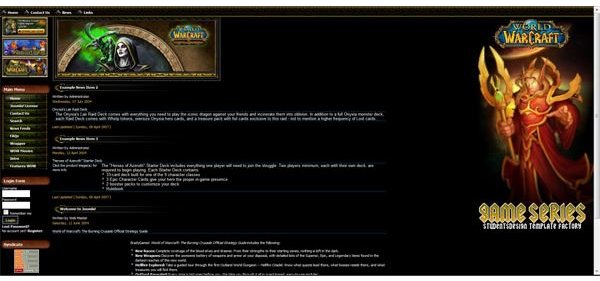 Best of Joomla provides one of the best minimalistic themes out there. It has a very basic look, but it has a classic World of Warcraft feel to it. People who are new to Joomla and are not looking for anything overly complicated will appreciate the ease and style of this basic layout.
This post is part of the series: The Best in Joomla Templates
If you're looking for ways to spice up or customize your Joomla web site, you may want to try out some of these great themed templates. Best of all, many of them are free!