Hostmonster Review: Webmail, Email, Coupons, and Nameservers

Hostmonster Review (3 out of 5)
Hostmonster only offers one main hosting plan – meaning, they do not offer multiple level plans with different prices, such as other web hosts such as Go Daddy, Media Temple (MT), and Hostgator. To some, this lack of selection may be a downfall, but it does have some advantages as well; mainly, the one plan that Hostmonster does offer has everything that most people would need to run a website. Here is a Hostmonster review of the flagship plan.
Unlimited Hosting Space
Unlimited Bandwidth
Unlimited Domains
Unlimited Email Accounts
99.9% Guaranteed Uptime
$5.95 a month
Now, although Hostmonster only offers the one hosting plan, it's quite clear that the plan has a lot of building room to it. Notably, unlimited hosting space, bandwidth, domains, and email accounts. $5.95 is a great price for a hosting plan with those features. Hostmonster is a better overall bargain than Go Daddy and Hostgator, perhaps the two most popular web hosts on the market. However, that doesn't necessarily make Hostmonster a better web host, which we will get to later in the review.
The companies Bluehost and Yahoo Web Hosting offer a similar one plan business structure, which is much the same as Hostmonster.
Hostmonster Cpanel and Nameservers (3 out of 5)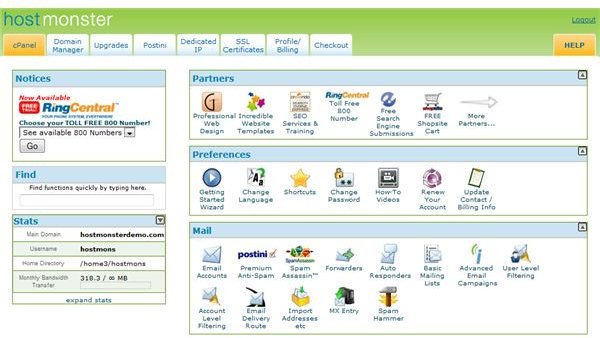 Hostmonster does not offer a completely unique hosting platform like some hosts such as Go Daddy and Media Temple. Rather, it uses the popular Cpanel control panel, which is a common hosting software used by most web hosts like Bluehost and Hostgator. In fact, Hostmonster is very similar to Bluehost in appearance and hosting navigation. Even so, Hostmonster Cpanel is a good website hosting management tool. Cpanel is popular for a reason, and that reason is it's simple to use, efficient, and effective.
Hostmonster nameservers are equally easy to setup, as Hostmonster offers an industry standard, generic domain name controller. Nothing special or very unique, but works great for most people.
Hostmonster Webmail (5 out of 5)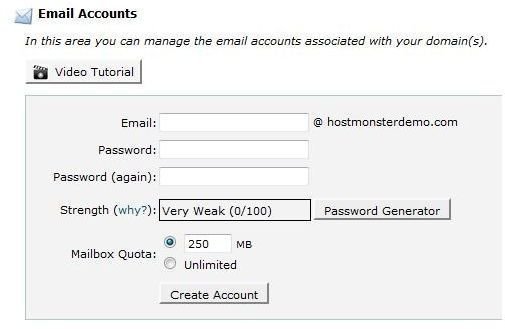 One notable feature of Hostmonster is the unlimited webmail provided in their one and only plan. Hostmonster webmail is easy enough to setup using the Cpanel. Be sure to check out the screen shot for an example of Hostmonster email accounts for site administrators.
Aside from this, unlimited webmail means that you can assign your site visitors email addresses, should your website support such a feature. Some other sites will offer a tremendous amount of email accounts. For example, 1000 email accounts with a plan. The heavy majority of the time, you will not need 1000 email addresses. Still, Hostmonters goes over many other hosts, and gives you unlimited email accounts for only $5.95 a month.
Hostmonster Coupons (3 out of 5)
The majority of Hostmonster coupons offer solid discounts. No percentage off of so many months or anything like that. Instead, you may find a coupon that gives you $10.00 off of a 3 month plan, $20.00 off of a year plan, etc… Keep into consideration, the plan can always flex to the life of your website. Here are some good websites for finding Hostmonster coupons and promo codes:
Hostmonster Review Conclusion (3 out of 5)
Out of all of the web hosts reviewed thus far, Hostmonster is one of the best as far as bang for buck. For only $5.95 a month, unlimited everything is a decent bargain. Hostmonster is not the perfect web host, and may not be capable nor suitable for running some more complex websites such as social networks, heavy ecommerce websites, and database video websites. However, for a basic WordPress blog, Hostmonster is fully capable. The Cpanel interface is an industry standard for most web hosting companies, and Hostmonster does a good job at integrating and customizing Cpanel for their customers.
Website speed may be a tad slower than other webhosts, which may draw some people away from Hostmonster. 99.9% Guaranteed Uptime simply means that the website will not be down or offline. However, it may be wise to consider a better host for high traffic sites that demand speed and optimal page loading times.