Four Free Web Color Matching Tools - Finding Hex Color Codes and Color Schemes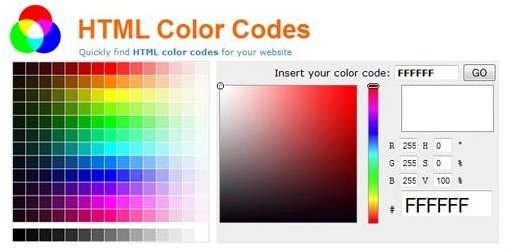 Web Color Matching Tools
When you start designing a web site, single web page, or even something as simple as your social networking page, it is very important for you to think about what colors will look good together. After all, this is your chance to express yourself, or in the case of a web designer, your client's wishes. Even graphics designers and artists can find some of these programs useful when creating eye-catching designs. Fortunately there are over 16,000,000 different colors you can from the standard hexadecimal spectrum, so your options are many! There are a plethora of free web color matching tools available online for you to utilize that will help you pick the perfect color combination to look as stylish as you are.
Hex Codes for Colors
First thing first, though. Here's a quick lesson about web colors and how they work. Web colors are written in a hexadecimal format, which consists of six numbers or letters usually preceded by a pound sign (#). For example, the hexadecimal code ("Hex code" for short) for the color black is #000000. When entered into HTML code or into a settings page of a website, this tells your browser how to display the colors of the website that you are looking at. Using a web color matching tool will provide you with a hexadecimal code for you to insert where ever you need to define your own color. When you have more than one color in a set, they are frequently called "palettes" or "schemes."
HTML Color Codes
HTML Color Codes is a great website if all you're looking for is a single hex code. The website provides both the traditional 216 "web safe" colors, which means that the colors will show the same on every browser – though today all browsers have made great strides in providing true-to-code representations of colors – as well as a color slider similar to what is included with programs like Adobe Photoshop and Dreamweaver. It won't help you pick out a whole scheme, but if you're looking for a fast option, this website is one of the quickest.
ColorSchemer
ColorSchemer offers a free online color matching tool. It is a step up from a basic website like HTML Color Codes. This one offers you a multi-spectrum scheme of colors that fall into either coordinating or contrasting colors and hues.The interface is extremely straight forward and very quick to learn if you've never dealt with any web color matching tools. However, there is no color slider option in the free version, so the choice of scrolling through your color options isn't there. Overall, the program is a a bit lackluster, but its simple layout and straightforward approach is sure to welcome beginners.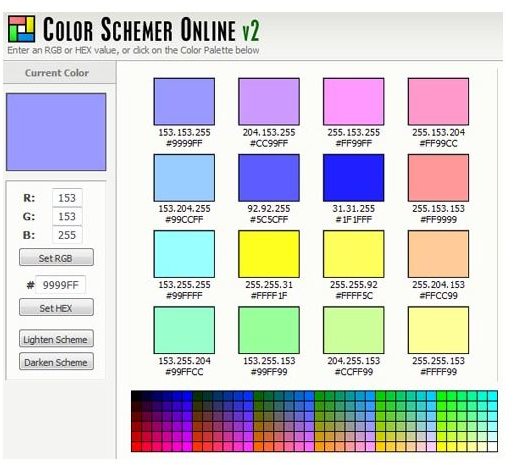 Kuler
Kuler is a free feature provided by one of the giants of the design world: Adobe. Catering to graphics designers, web designers, and artists, Kuler uses a new kind of color wheel which allows you to drag and spin points inside a color wheel to design a myriad of beautiful color schemes in a variety of color combinations. There is the option of creating a user profile and saving your color schemes for later reference, and a community feature that allows you to comment on others color schemes. They have recently added the ability to upload images and have Kuler build a color scheme based off of images within it. A great tool to use whether you're designing a web page, a logo, or trying to pick the perfect colors for your latest piece of art. The only problem is that like most Adobe programs, beginners may stumble through the options and the layout of both the site and the program which feel a bit more complicated than they need to be.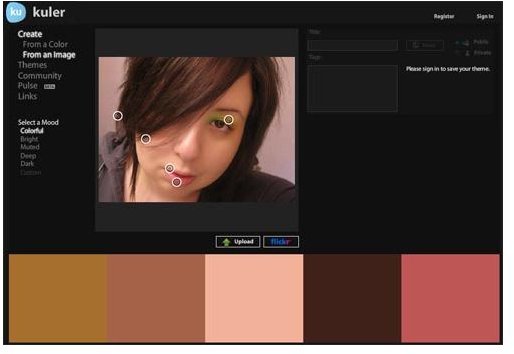 Color Scheme Designer
Color Scheme Designer is an invaluable tool that provides an auto-generator for stunning schemes. All you have to do is pick your base color and select your theme, either monotone, complementary, triad-tone, tetrad, analogic, or accented analogic. This gives you a great ability to find a scheme that looks good no matter what. However, the best feature of this tool is your ability to preview your scheme on both a light and dark based page. This website provides both design power with ease of usage to make it one of the best tools out there for beginners, experts, and everyone in between.