How to Create HTML Emails with Microsoft Office 2007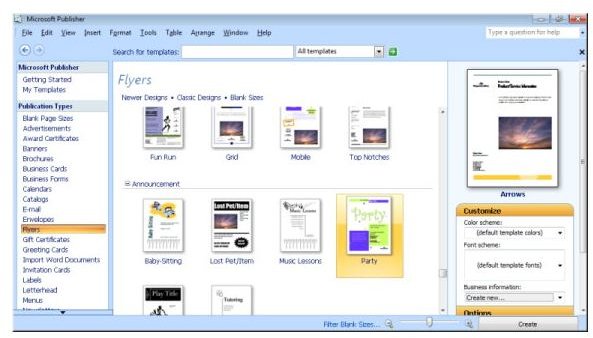 HTML E-mail
HTML (HyperText Markup Language) is a script popularly known for making webpages. Nowadays, HTML script is not only popular directly when you open a website but it is now used for sending emails. HTML e-mail allows you to create customized emails with images, colorful backgrounds, clickable menu buttons and information. It presents more than just the basic text format because it is like sending a page of your HTML website via email. It is now broadly used in email marketing campaigns because it contains more and better response rates. The advantages are that HTML emails are visually engaging, interactive, and can be a powerful tool in advertising. Most companies are now using this approach as a replacement for traditional old-school emails. However there are downsides to using HTML emails:
They can be prone to viruses
They are slower to download
Not all e-mail services and personal computers support them
Before, it was kind of hopeless to try and create an HTML website without knowing the HTML codes, but now, there are programs developed with an auto-generated HTML that even beginners can get to grips. You can start with a template and organize the design using the program's available tools.
At one point in your career you might be asked to put an HTML email together for a client but there is nothing to worry about. Here is the most simple way to create HTML email.
Using Microsoft Office Publisher 2007
In this article, I will be using Microsoft Office Publisher 2007 but any version of Microsoft Office Publisher will do because the features needed are available in each version.
Use the following steps:
Open your Microsoft Office Publisher.
In the "Publication Types" sidebar, choose your desired project. In this tutorial, I will use the "Party" flyer template.
Zoom in to 66% or 75% for a better view of the template.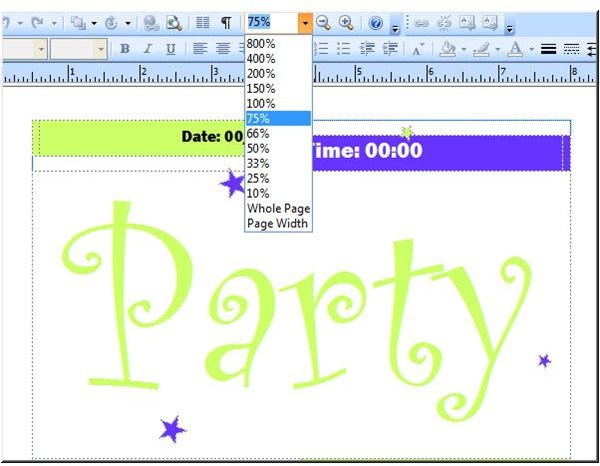 By clicking on the available text in your chosen template, you can type in and change the information presented.
You can insert as much text as you want and you can also choose from different additional designs in the Design Gallery under the Insert drop-down menu.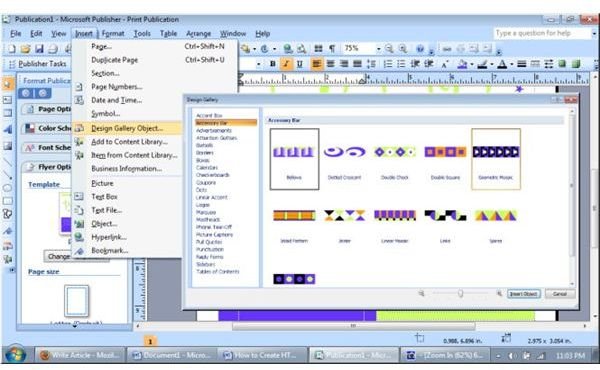 You can also add images from your computer or choose from the available clipart which is also located under the Insert drop-down menu. You can also add links for a clickable and more interactive email.
As soon as you finish changing all the information and adding your designs, it is time to send a sample email to yourself just to check if your HTML email is presented as it should be.
Now, go to the File menu and choose "Send Email" and click "Send as Message" from the sub menu.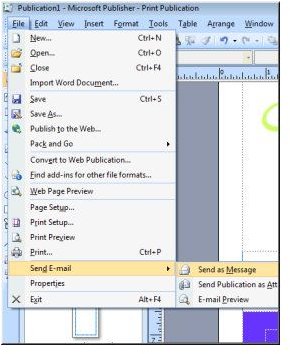 An email heading will appear directly just above your working area in MS Publisher.
Fill in the needed information specifically, your email address and Subject.
Click Send and check your email.
You will receive an email in HTML format without needing to know the HTML codes.
After which, you can forward your HTML email to anyone you like.
Microsoft Frontpage and Microsoft Outlook
You can also use Microsoft Office Frontpage, an HTML editor used by beginner and expert web developers in making websites. If you are well-versed with HTML scripts, you can make more advanced features with your HTML email and with the use of photo editing software, you can make your designs more sophisticated. However, using a large image format as the background is not advisable because it can make loading very slow. In making HTML emails, the content of your newsletters, brochures or flyers must be prioritized over the design. It is recommended you use only tables and plain color backgrounds instead of image backgrounds.
Insert only images that are relevant to your message, especially if you are endorsing a product. All images used in your HTML email must be uploaded to public online storage to prevent broken links. For example, if you are advertising a "house for sale" and you inserted that image from your "my documents" into your flyer template created in MS Frontpage, then you will surely have a broken link once you send it as an email. HTML does not directly copy the image as part of its whole body, instead it still follows the location where you browsed it. To do this correctly, you should store all your needed images in your public online storage and make sure to use the absolute URL of the image.
Wrong: https://www.flickr.com/kristina/mygallery.htm
Correct: https://www.flickr.com/kristina/mygallery/myhouse4sale.jpg
Sending through Microsoft Outlook
You can use Microsoft Outlook to send your created HTML project as soon as you finish your design. Now, you can open your Outlook or email software and go to compose mail-insert-text and presto! You can now send your HTML email.
It is important to remember that testing what you created is a surefire guarantee that it is definitely working before you send it to your clients. It is also important to make sure that your client's email service or computer can support this set-up otherwise it will just appear as the code instead of the original text. Another helpful hint is for you to provide options for clients if they want to receive a plain text email or HTML email.
You may also want to read how to create HTML email using Dreamweaver.