Review of Syntext Serna Free WYSIWYG XML Editor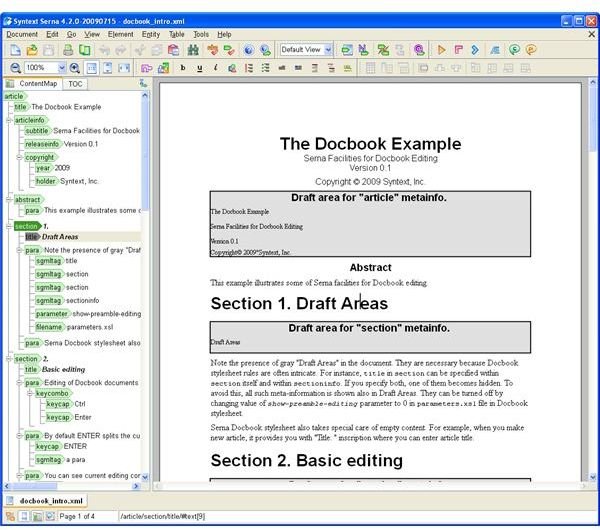 Good Free WISYWIG XML Editors Are Not That Many
Syntext Serna is a free XML editor with a visual editor where you can edit XML code and the text it contains in a much easier way than if you use a plain old XML editor or Notepad. If you have a large XML project with a lot of text – i.e. if you are writing documentation in XML/DocBook format, you will certainly appreciate the convenience a WISYWIG XML editor gives.
Syntext Serna is hardly the only free WISYWIG XML editor but certainly it is one you can rely on. Some of the other WISYWIG XML editors (both free and paid) are barely usable – their idea of WISYWIG seems kind of funny, not to mention that some of them mess XML code in such a way that it might take you hours to fix it. In that aspect even Notepad is a better alternative because even though it is hardly the most productive XML tool, at least it doesn't damage your XML code.
Features of Syntext Serna Free XML Editor
Only the fact that Syntext Serna is a WYSIWYG and free XML editor is enough to make it a top selection for anybody, who authors XML. Well, maybe it is a bit of an exaggeration to say that Syntext Serna is as convenient as a word processing program but I can say for sure that it is really a convenient program and it can boost your productivity a lot.
Syntext Serna free XML editor is open source and it is available for many platforms – i.e. Windows, Linux, Mac, Solaris. The list of its features is pretty impressive and basically it has everything you will need from a WYSIWYG XML editor. For even more features, you could try their paid Enterprise version but if you need just a simple WYSIWYG XML editor, the free version is just fine.
As you can see in the next screenshot, the interface of Syntext Serna is not cluttered, yet it has everything you need to author XML files.
If you need to access the code, F6 is the easiest way to switch to code view (shown in the next screenshot).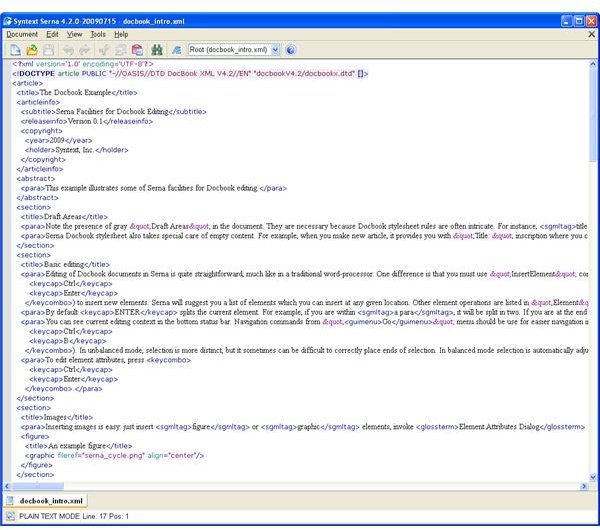 Syntext Serna free XML editor is easy to use but still it does require some idea of XML. If you hope that you can download it and start typing great documentation right away, this is unlikely to happen. As my experience with Syntext Serna XML editor shows, there are minor glitches in the WYSIWYG interpretation of some XML files but since the files themselves were not 100% valid, I don't think that any other editor would have done a better job. Oxygen XML Author isn't bad either but since it isn't free, it can't compare with Syntext Serna.