Create Animated Web Ads Using Templates with Flash Ad Creator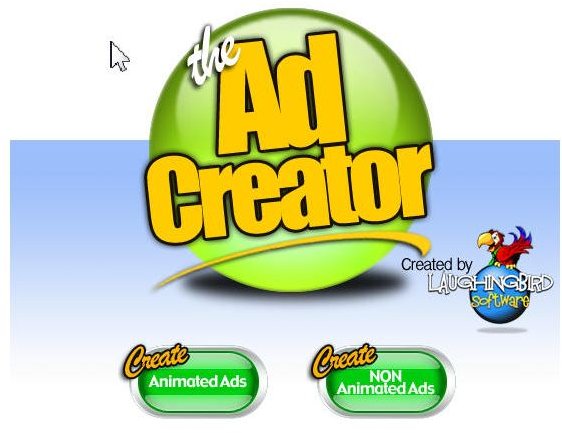 How It Works
Flash Ad Creator comes with 100 animated and 50 non-animated templates. Each template is modifiable using your own text and graphics. There is a short tutorial, but it is almost redundant because the application is very easy to use. There is a four-step process consisting of:
Selecting an Ad Template
Altering the Text
Importing your own images
Exporting the Ad.
When you finish by exporting the animated web ad, the software creates a file with a ".swf" (Flash Animation) extension. You do need to know enough about HTML to insert a ".swf" file on the page, but the designers of this software even provide an example of doing this. As an added help, when you create the file, it includes a URL field to provide a link that you would like your users to visit after reading the ad.
Selecting an Ad Template
When the program first launches there is an option to create animated web ads or non-animated ads. Select the animated choice, and the next screen offers two choices: "Start Creating Ads" or "Short Tutorial." The first choice brings up a work space with template choices on the top left, a design screen on the top right, an ad preview area on the bottom left, and a place to enter text on the bottom right.
Although the templates are identified only with numbers, that is, "Template1, Template2, Template3" etc., it is easy to pick a template from the list because each one is previewed in the small window on the bottom left. The best way to approach design is to ignore the graphic images and text because you replace these with your own images and text. Concentrate on how the animation and background colors appear and select one that fits whatever you intend to advertise.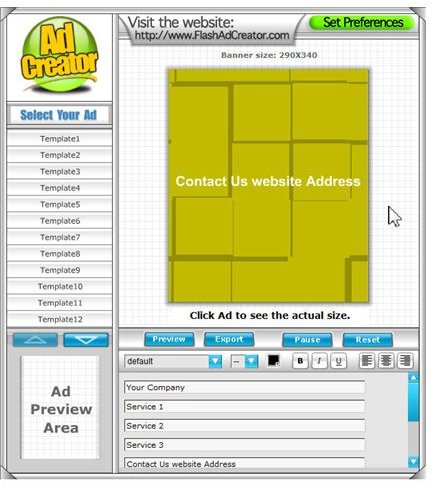 Export the Ad File
When finished with the design, click on the "Export" button above the content you just entered. Save it with a name of your choice. Do not change the default extension of ".swf." Once saved, there is an option to preview it in a browser. If everything looks good, then the ad is ready to insert on a Web page and upload to your Web host. If using an HTML editing program like Dreamweaver, check the link to Adobe instructions on inserting Flash files, shown on the preview of the final ad. Since it is not possible to show an animated page in this article, the image displays a non-animated one setup up for a non-advertising purpose.
Flash Ad Creator is available from laughingbirdsoftware.com. This article used version 2.5, which cost $29.95, but check for updates and/or revised prices.