Is Bricolage CMS a Good Solution for your Business? A Look at an Interesting Perl Designed Web Contact Management System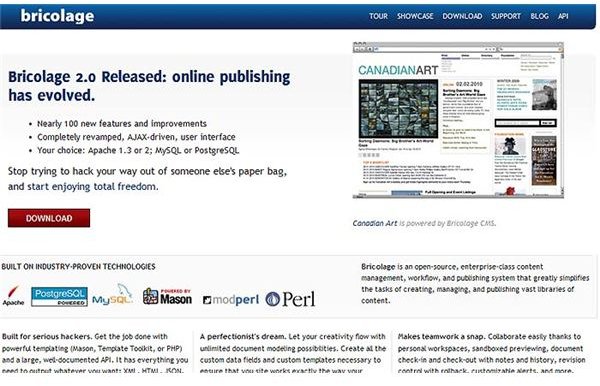 What is Bricolage?
Bricolage is a web content management system (CMS) with a browser based interface. It is a template based system is capable of simplifying, creating and managing libraries of content and data for a business or organization with multiple websites.
Bricolage CMS is an enterprise class software system that is written in the Perl programming language. It works with the Apache web server in the Linux, Mac OSX and Solaris platforms. The design keeps all web content and the presentation layer (look and feel) separate. This allows writers, programmers and designers to work on their portion of the project without interfering or slowing down the progress of another's work.
What can Bricolage CMS do for you?
Bricolage simplifies the process of updating websites. All authorized users can be set up to make changes and publish items directly to live website(s). This gives website owners the ability to release material faster and more efficiently. However, if more editorial control is needed, Bricolage also gives managers the option of restricting user privileges or reviewing material before being published.
Users working with Bricolage do not have to be knowledgeable of HTML , XML for web design or text layout purposes. The templates allow you to simply type in or point and click items needed on a page. They are also useful for keeping a consistent "look and feel" to all web pages (if desired).For those that would like to implement HTML/XML coding, a WYSIWYG text editing option is available.
Bricolage Features
The flexibility of Bricolage CMS is that it can work with any type of browser without adding any special updates or plug-ins. For security, it uses secure socket layer (SSL) encryption to protect data.
It has configurable workflows that are customizable for different types of content including media files, text and utility functions. A centralized repository is included for all assets and document versioning.
Bricolage can work with multiple interfaces including SOAP and REST.
The Bricolage features three types of templates including Element (for documents), Category (directory handler) and Utility (for common functions used with documents). They are also customized for use with HTML, PHP and Mason.
Should you use Bricolage?
The Bricolage contact management system is currently being used with some large companies including the World Health Organization (WHO), MacWorld, The Register and Rand Corporation. It may be worth looking into due to the simplicity of its separation of content and presentation layer. Others may see this as disadvantage since the application does not include a hosting server and is created with a less popular programming language (Perl). But when you are making a serious decision about deciding on a CMS, it all comes down to preference, cost and type of business.
Resources
Image Credit: Screenshot of Bricolage website taken by Sheila Robinson