The 4 Best Twitter Clients for Mac OS X - All Updated to Support OAuth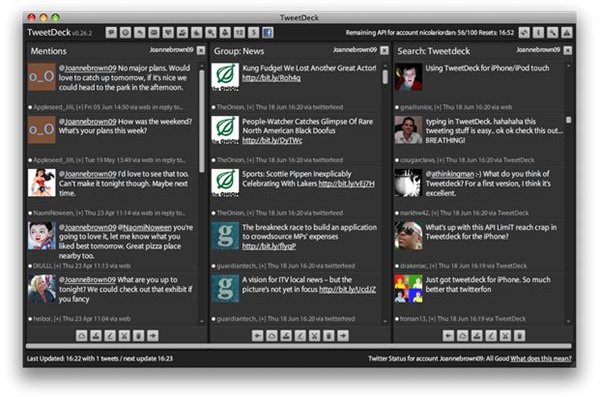 12/24/10 Twitter Client News Update
In August 2010, Twitter switched 3rd party login protocols from "Basic Auth" to "OAuth." In a nutshell, this is a more secure remote login system. What does this mean for you and your Twitter client?
NatsuLion has been removed from this list. NatsuLion doesn't support OAuth. When I checked the NatsuLion page recently, it looked like it hadn't been updated in over year. At this point, I'd consider NatsuLion to be simply non-functioning as it's no longer under development and will not interface with Twitter.
All of the clients listed here have been updated to support OAuth. If you haven't updated yet, you won't be able to log in to Twitter at all from your client. Simply follow the link to your client in this article and update.
If you're still using Tiger (10.4), consider Buzzbird, an open-source Twitter client that is basically the bizarro Twitterrific, only with more features and no ads. I've been using Buzzbird for months and find it an excellent client, and it replaces NatsuLion as our fourth OS X Twitter app in this list.
Mac Twitter Clients
There comes a time for every Twitter user when then web interface just doesn't cut it anymore. That time really ought to be "the second after you created your Twitter account," because it's nearly impossible to utilize this social networking tool without some way to manage tweets that's more advanced than "log in to the Twitter website."
For Mac users, there's a rash of OS X clients for managing your Twitter account. Unfortunately, none of them has yet achieved perfection. Twitter clients are often RAM hogs, un-Mac-like, lack features like URL shorteners and support for multiple accounts, or are way too light on organizational features.
TweetDeck
TweetDeck is the granddaddy of OS X Twitter apps. Besides working on Macs, it's truly cross-platform, developed using Adobe AIR technology and available for Windows and Linux as well.
TweetDeck is by no means a small-footprint Twitter client. It's the most robust of all the apps here, and that shows in its app-size browser interface. With size comes features though, and TweetDeck is packed with them.
• Groups allow you to organize your Twitter contacts by interest, topic, or whatever you choose
• Multiple Twitter account support. Have one Twitter account for personal use and one for work? TweetDeck can manage both of those.
• Sync with iPhone and other computers
Cons: TweetDeck's biggest negative is that it's a RAM hog. Blame Adobe AIR for that. Its interface isn't entirely Mac-like.
Syrinx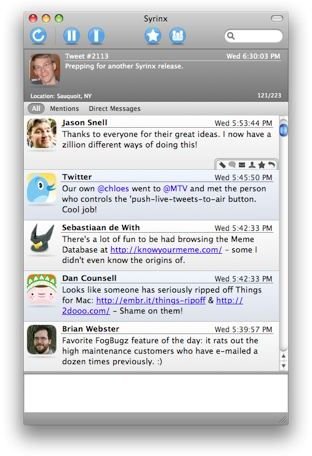 Syrinx is another OS X Twitter client that looks bare bones, but has a lot going on beneath the hood. Similar in feel to NatsuLion — Leopard 10.5 only, Growl integration, same lightweight timeline display — it offers several unique features.
When several of your Twitter friends get a conversation going with @replies flying about, you can click the "Conversation" button to sweep together all the Tweets related to that reply, which is helpful if the original post is hard to find.
The "Pause" button stops updating Tweets without shutting down Syrinx, useful for when you need uninterrupted time.
Cons: the shortest refresh is 3 minutes, doesn't support simultaneous multiple account management.
Twitterific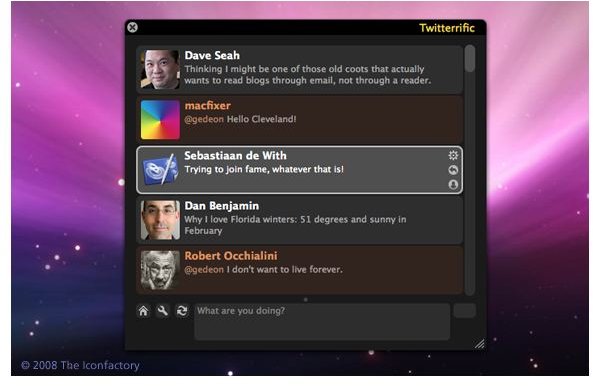 The only client besides TweetDeck in this list compatible with 10.4, Twitterific offers versions for the iPhone and iPod Touch as well. Twitterific offers a small footprint, creating a menubar icon and only appearing when you want it, either by clicking the icon or using a hotkey combination.
Twitterific is fairly lightweight, lacking the ability to group contacts or to refresh any quicker than a 3-minute interval. What it lacks in features, however, it makes up for in usability: Growl integration, fine control over display, optional audio notification for Tweets, comprehensive keyboard shortcuts, and AppleScript support.
Cons: While interface is attractive, it's not Mac-like. Displays an ad every hour for the free version; ad-free version is $14.95