How to Create a Professional Looking Site in 24 Hours or Less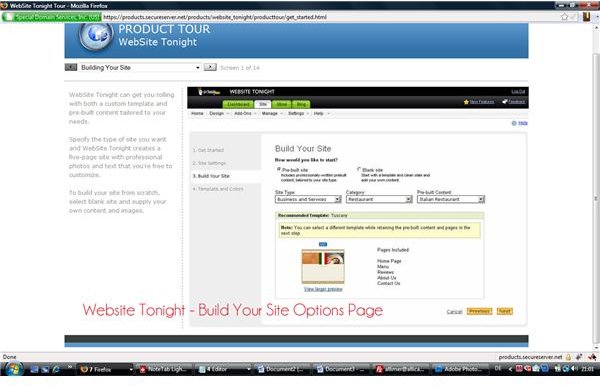 Before You Start to Build Your Website in 24 Hours
1. Get a domain name. You can generally register it through your chosen web hosting company. You can see whether a domain name is available or not and who domains are registered to at Whois.net .
2. Determine what kind of web site you want to have - an "image" site, a shopping site, an information site. This will have an impact on what type of program you choose to implement your website in. Right now, though, we will focus on getting your website up and running with a few good pages that should be in every website.
3. Write out what you want to include in your website and select a few photos or graphics to add your personal touch - a few things to consider, depending on your type of business :
Home - Important! This is the introduction to your site, make it interesting and keep it simple. Use some graphics, perhaps some video, tell the world about your company.
About Us - Who you are, a summary of the company, its' history, goals, mission, employees and owners
Products & Services - Highlights of products and or services - you can always add pages later as you add new products or services or create a page for each product and service.
Contact & Policies
Photos - Include a few good photos or graphics to add interest to your site. There are several sites online where you can download royalty-free photos and graphics to use on your website.
News - Are you in the press, do you have press releases? If so, a News or Press page is a good idea.
Testimonials
Portfolio
4. Choose the program you want to use and find a good template for that program.
Resources for Creating a Website in 24 Hours With Little or No HTML Expertise
You can choose between using a site design program hosted by a web hosting company, build your website with a program that is already on your computer, or download free easy-to-use software for web design from the Internet. The key is finding the program that you feel comfortable with and that fits within your budget. If you are in a time crunch, check out the options listed here and choose the option that appeals to you the most. Creating something on your own can be a rewarding experience, but if you find yourself frustrated by the process, there are plenty of web designers that can assist you in putting together a professional looking website quickly.
Using Website Design Packages Offered by Web Hosting Providers
You can generally register your domain name and get started building your website with a wide variety of web hosting companies.
Many web hosting companies provide free templates and packages so you can get your website up and running quickly. I highly recommend finding a provider that has Website Tonight - you can easily search for Website Tonight providers and have a site up and running based on one of the many templates available. You need no programming skills and the number of pages varies from provider to provider. I personally use Godaddy.com and have had great success with them over the years but there are a lot of other providers out there. Choose the provider that best fits your needs but definitely consider using a provider that has
Website Tonight and offers the basic features you should have for any website regardless of size. WebsiteTonight offers a wide array of point and click options and well over 1,000 templates for sites ranging from 5 pages to over 900 pages. The costs, of course, are higher than if you design your website yourself but you can see your results quickly and have a small site up and running in less than 24 hours easily.
No HTML or CSS Skill? Create Your Website Quickly With NVU, KompoZer, WordPress or MS Publisher
If you want to create your website yourself and are a novice or beginner, consider using NVU or KompoZer - KompoZer is the latest generation of NVU and both are freeware. The interface is graphical and you don't need to have any HTML or CSS skills to create a site easily and quickly.
Find a template you like (there are hundreds of free templates on the Internet), import it into NVU or KompoZer and start building your site without having to be online or tied to any one web hosting company. Selecting a template may be the most time-consuming task you have.
Wordpress is popular the world over and you can either download the program to your own computer or use one provided by a web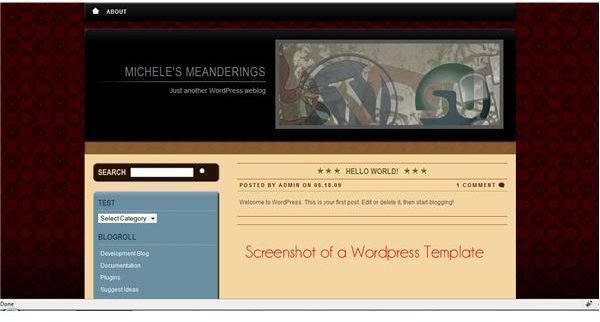 hosting site. Wordpress is fairly intuitive and easy and you can add to it endlessly, thus providing a lot of flexibility. The templates are easy to install and with a little reading, you can design your website with a minimal time investment.
If you have Microsoft Office, consider using Publisher which is extremely easy to use and has a lot of features so you can quickly build a site then publish it to the web. Everything is built in so the templates are easy to understand and with a little knowledge of Microsoft Office products, you can customize the templates to meet your specific needs.
Can You Create a Website in 24 Hours?
Yes, you can! If you are prepared. You need to have a plan and know what you want to say. You should also have at least a basic understanding of the program you are using to create the website in. The ability to create something in a short period of time depends largely on your comfort level with the program you are working with and learning curves and workstyle are different for everyone.
For raw, basic beginners that want to create something in something close to 24 hours, the best bet is a program like Website Tonight hosted by a reputable service-oriented web hosting company. This is a relative no-brainer as so much of the work is done for you and you don't need to know any programming languages to create a professional looking website painlessly and quickly.
OK, now to brass tacks. Is it possible to create a website in 24 hours? Yes. Do I recommend it? No. Your website presents your image to the world and rushing it may not be the best option. The nice thing is that you can always modify, change, and grow your website once you have the basic framework up and running. Having a credible website is a key element in marketing products and services. If you have a small business, a website can be a lifesaver - no need to send out expensive flyers or promotional materials - you can simply point people to your website.
Have fun with it, take the challenge - using the tools mentioned in this article, you can be up and running in no time at all with your own website, even your own online shop.