How to Design a Zen Cart Website: Learn How to Build a Zen Cart Store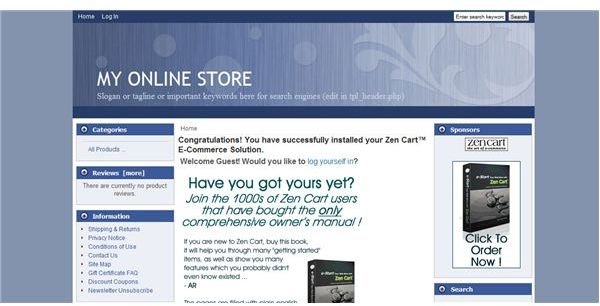 Getting Started With Zen Cart
I really like Zen Cart, it is easy to install, configure and use. What's more, it is a free Open Source program and is offered by many web hosting companies that offer shopping cart services. You can download it and install it locally, have your web hosting company install it for you, or install it on your website yourself. I recommend finding a web hosting company that will install it for you or checking to see if it is one of the packages offered by your current host. There are also several Zen Cart certified web hosting companies to choose from if you are starting a site from scratch.
Zen Cart is feature-rich and may be intimidating at first because of all the options, but after a short time of playing around with it, you will be able to understand it - you don't need to have all the bells and whistles but they are there if you need them.
Easy Steps to Install and Set Up Your Zen Cart Online Shop
Go to the Zen Cart Website and read the documentation and view some of the sample sites.

Install Zen Cart or better yet, have it installed on your site by your web hosting company. If you have CPanel and Fantastico you can easily install it following these simple directions for installation with Fantastico.

Once you have installed it, if you have installed it to your root directory, simply go to yoursite.com and you will see the default Zen Cart layout and template, populated with categories, menus and samples, thus making it easy to see what you want to work with and to change. If it is installed to a subdirectory, you can view it by going to yoursite.com/subdirectoryname.

Access your administration panel by going to yoursite.com/admin/index.php, enter your user name and password and you will be taken to the administration page. Don't let the many options intimidate you. Most of them are pretty easy to understand and if you have a good template, you don't have to muck about too much.

The first thing I did was to change the template, I downloaded a free template from Zen Flavor which gave my shopping cart a fresh modern look. Zen Flavor also has some great add-ons for Zen Cart as well as great tips and easy to understand documentation. Alternatively, you can check out all the free templates on the Zen Cart site.

Once you have a template you like, you can configure the cart in the admin center - first by configuring your store, then adding products and categories and payment methods.

When you get stuck, simply click on the information icons for more information on a feature or you can click on the Support Site Tab and be taken directly to the Zen Cart Support pages.
Installing Zen Cart Modules and Add-Ons to Customize Your Online Shop
If you are looking for marketing tools, payment modules, new graphics, admin tools or other special features, you can "go shopping" for free add-ons and free modules at Zen Cart Addons and Contributed Modules. This is particularly helpful if you have need a payment system other than those loaded in the default, if you want to add more eye candy to your site, or find a template that suits you.
Installation of modules and add-ons on Zen Cart is a simple matter of unzipping the files and using your ftp manager to transfer them to the right file location on your server. Instructions are generally included in the module or add-on files you download. Basically, unzip the downloaded file and check the readme.txt files for instructions.
Using Zen Cart With Other Programs - Integrating Zen Cart Into Your Existing Site
You can use Dreamweaver with Zen Cart, although, with all the modules available, I have not needed to use it and I like to keep things as simple as possible.
There are several integration packages available for a wide variety of CMS systems if you want to integrate it with your chosen CMS. The problem is that several of these integration packages seem to be a little buggy or in some cases, outdated.
I recommend that if you already have a site and are adding Zen Cart to it, simply set up a new file, load Zen Cart to the new file on your server and direct users to your shop. (Zen Cart file). I created a sub-domain on my main site so I have shop.mymainsite.com which works well for me.
Zen Cart - Powerful, Easy to Use and Free
I find Zen Cart a very intuitive program - it has all the bells and whistles and setting up your shop takes very little time. In fact, I enjoy playing with it so much, I wish I had more products to sell. If you take the time to set up your shop correctly and read the documentation, Zen Cart can be a very effective and powerful tool.
I have to say I didn't like it so much when I tried to integrate it with a few of my CMS systems - template conflicts and formatting problems seemed to make the process a lot more difficult than simply installing a stand-alone version of Zen Cart.
Especially attractive are the Zen Cart templates and modules available to enhance and customize your site and promote your business. Why spend money on an E-Commerce package when you can get all the features that Zen Cart offers for free?