Guide to Using a Social Bookmarking Site

Basic Functions
There are dozens of social bookmarking sites out there, each emphasizing their own twist on the experience of organizing your Internet experience (See Which Social Bookmarking Site is Best for You?). But every social bookmarking site has the same basic functions. To use your social bookmarking site to its fullest potential you'll need to understand these functions and how to use them.
Bookmarking: Obviously this is the core of the experience. However it isn't always called "bookmarking." Depending on the site it might be a "digg it" or "buzz up" or a simple "like it!" Regardless, there is a way to add it to your list of favorite content that you can access any time and anywhere using your profile.
Tags: Tags are words the describe and organize content. Every bookmarking site allows you to provide your own tags which act as filters for your favorite stuff. Also, you can use tags to find similar content that other people like.
Top Content: With all those people out there bookmarking good sites it would be a waste to not provide a list of the most popular content. This top content normally is high quality or interesting since it has been bookmarked so often. You can then filter this top content using tags to see the most popular items with that tag.
Friends and Profile: Of course its not social without the ability to have friends and create a profile.
Personalized Content: Most social bookmarking sites employ some sort of algorithmn to find cool stuff that you'll like. If you are using Mixx then you can personalize through a variety of options.
Comments, Reviews, and Ratings: One of the most social things about these sites is the ability to carry on a discussion about the site. Some bookmarking sites emphasize discussion while others emphasize user reviews and ratings.
Toolbar and/or Plug-in: The best social bookmarking sites have a toolbar or plugin for Internet Explorer and Firefox to let you get the most out of your bookmarking experience. Not only does it provide an easy access toolbar but can also add in some cool features. For example, StumbleUpon's plugin provides ratings and reviews right in the browser and Digg's plugin will provide you little popups with the latest big stories. I would definitely recommend that, to get the full use of your social bookmarking site that you download the toolbar or plugin. It will allow you to submit, bookmark, and review links in just a few easy clicks.
RSS Feeds: RSS feeds are simply an easy way to view a group of entries as they are submitted. Many social bookmarking sites allow you to subscribe to the rising links using RSS Feeds. In Internet Explorer and Firefox this allows for you to view the latest popular links by simply clicking on the RSS feed symbol (on the right)
The Buttons
The most important thing for using social bookmarking sites is being able to recognize the symbol of your bookmarking site. You have probably noticed the bars at the end of articles around the web that look like this:

This is what is a social bookmarking bar containing the symbols of a variety of social bookmarking sites. On this one, from left to right, is digg, delicious, stumbleUpon, technorati, facebook, newsvine, and reddit. These buttons will allow you to instantly bookmark and share the article you are reading or the website you are viewing on the selected site. Most sites nowadays have these and they make it a lot easier to use your social bookmarking site. Keep an eye out for them. Chances are if you are using one of the most common bookmarking sites like Digg, Delicious, or StumbleUpon, you'll see them everywhere.
Share This! Button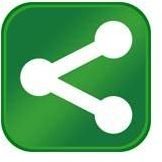 If you find that you like more than one social bookmarking site or love to simulatenously bookmark, facebook, and twitter every cool website you find, you may want to consider signing up for ShareThis! and downloading their ShareThis! button. You'll also find this button around on some websites (it is the symbol on the right). Clicking on this button will bring up a little window that will let you easily share the site in any way you want, using any of the dozens of existing services, including Facebook, MySpace, Twitter, and any social bookmarking site you may be using. This will let you get the most out of using the internet and make it into a wonderful dynamic social activity.