What is Blogging: A Beginners Guide For Understanding Blogs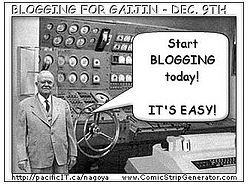 Millions of people are blogging every day. Even though it's one of the fasting growing things to do on the Internet, you may be one of the few that are still wondering, "What is blogging?" Here's our simple answer via our guide to understanding blogging. We'll keep it simple and just provide the basics so you can begin to spot blogs and maybe even think of creating your own blog.
Wonder No More – Understanding Blogging
Understanding why people blog will help you understand blogging. Blogging is the act of sharing information with others on the Internet. Blogging is the action of writing a blog. A blog is an article that is friendly and personable. Someone who visits a blog is expecting to read something light and gain some sort of knowledge or entertainment from what he/she is reading. Blogging is fun for the blogger and reader.
How to Pick a Topic for Blogging
When you start blogging, you may want to talk about many different topics. You may want to just discuss what's on your mind and hope that others find it interesting. As you grow into an experienced blogger you may even want to focus on a particular topic or niche. Online business owners who care to drive traffic to the business website by providing information about their services or products usually use niche blogging.
The way to choose a topic to blog about is to list things you are interested in writing about. Then start writing blog posts only in that area. If you are having trouble finding one topic to write about, you may want to find out what others are reading about on the Internet by searching for popular keyword searches on the WordTracker site.
Start Your Blog
Now that you've read what blogging is, you may be excited about getting started. You can open free blog accounts on Blogger.com and Wordpress.com. You can also find many other free blogging sites by doing a search on your favorite search engine.
Make Money Blogging
Now that you have a general idea of what is blogging, you may be interested in knowing that you can make money with it. Many bloggers will put ads on their blog and make money when someone clicks on an ad. Google Adsense is a great place to start when looking to make money blogging.
To recap, blogging is essentially a platform for expressing ideas, sharing your companies products and essentially communicating with others in a light, informative or even serious manner. Take a look at Gizmodo.com or Everyjoe.com they are run on blog platforms yet they look like websites you visit everyday. A blog can be many things, but in general terms its a portal to sharing thoughts and interactive via commenting systems to others.
(Photo Credit: https://www.flickr.com/photos/pacificit/311187605/)
pacificit from Flickr
References