Should You Use the Feed Demon RSS Reader? Information on Important Features and Uses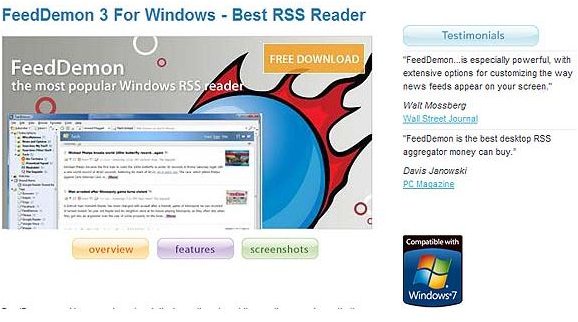 Why Use RSS Readers?
While tons of podcasting information is easily available on the Internet on a daily basis, it can be difficult to cipher through what is important. The process can be time consuming, which is a not always a luxury for busy people. A tool that organized these feeds seemed appropriate. In 2003, Nick Bradbury created and developed the Feed Demon RSS Reader through Borland Delphi. Its popularity grew and the software was later purchased by NewsGator in 2005.
Downloads and Finding Information
The Feed Demon RSS Reader software allows you to automatically download podcasts to your iPod or Windows Media Player with out the use of the paid subscriber services of iTunes. To make it easy to find information you want, custom "watches" can be set that allow you to find specific subjects based on keywords. A search feed can be set up to alert you when any of your keywords appear, regardless if you are subscribed to the RSS feed website or not. Real time watches can also be set up for live blogging events. As new stories arrive through your subscribed feeds, desktop alerts can let you know when they become available to view.
To help get you started with news feeds, the software is preconfigured to access dozens of popular RSS sources. For those who use NewsGator and Blogline, Feed Demon synchronizes them with the software for easy access. It also works directly with Windows Live Writer for publishing your blogs.
Organizing and Reading Articles
The interface in the Feed Demon RSS Reader allows you to sort content into folders by date, time or subject. For easier reading, it has a browser with the option of displaying articles and embedded video in a "newspaper" view. A "news bin" feature allows you to store specific items in a central location for quick access.
When there are lots of unread articles, a "panic button" is available to allow you to mark them as being read (or not). For use offline, you can set up Feed Demon to save all RSS links/images you previously downloaded for access without an Internet connection.
Other Features
Feed Demon 3 offers a few other features to help you with RSS feeds. For more flexibility, you can use the Google Reader Sync feature that will allow you to use the software on any computer. There is also an option to delete and unsubscribe to RSS feeds that are not regularly updated. The visual style of your subscriptions can be customized into an HTML or plain text format. For sharing purposes, you can email articles to friends directly through the program.
Will You Feed or Famish?
Feed Demon 3 is a good solution for individuals who subscribe to a lot of RSS feeds and podcasts. It could be a good tool to help with research or just keeping up to date with current events. The easy to use interface streamlines the process of downloading, finding and organizing the information into a more digestible format.