Is AT&T Yahoo Web Hosting a Good Option for Ecommerce?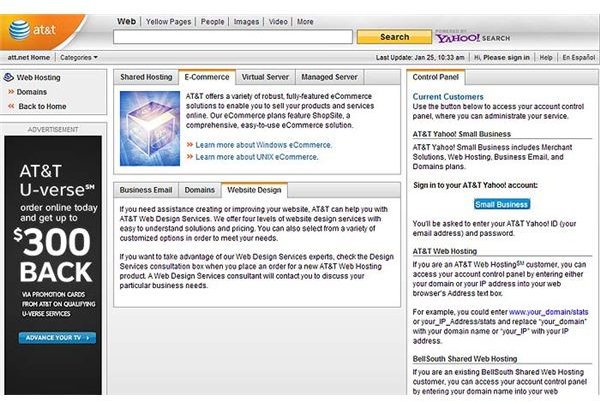 Getting Started with AT&T Yahoo! Web Hosting
AT&T Yahoo! has easy to use tools and services for customer's web hosting needs. No downloads are needed to get started and a free domain name is included (extra domains have an annual cost of $9.95 each). For those that are not web savvy, a checklist can walk you through the creation of your website. It provides simple ways to format text and images on your pages. FTP can be used for uploading and downloading files. Selections of pre-designed templates are also available for use.
Their web hosting package also includes multiple Yahoo email addresses with a large amount of storage space. For data and inventory purposes, there is an unlimited amount of database space. To help with marketing purposes, Yahoo gives you a $50 Google AdWords credit and a $100 Yahoo marketing credit. If you need assistance, Yahoo! customer service is available twenty-four hours a day.
Security
Anti-spam and virus protection software is included for the protection of your website and email boxes. Yahoo! constantly monitors the system with extensive physical and electronic security measures to protect customer data. All customer accounts are also password protected. For additional security, shared SSL certificates are available.
Features
Several features are available that can make your site more dynamic and helpful to your website visitors. They include: the Yahoo! Map feature (that can be integrated for directions), customer information forms (for mailing lists), photo gallery, PayPal shopping cart, Guestbook and a tool that will allow MP3 audio tracks to be played or downloaded on your website.
For more advanced users, there are additional web design options available. Yahoo! Web hosting supports PHP 4.3.11, MySQL 4.1, Front Page 2000/2002, Dreamweaver, Adobe Flash and Shockwave software applications. For bloggers, WordPress and Movable Type are supported.
Boosting Website Traffic and Advertising
AT&T Yahoo allows you to advertise with Google AdWords and other affiliate websites to help generate more traffic and income to your website. Submit your website URL to Yahoo! and Google search engines to help improve your site's visibility in search results.
Pricing
A basic Yahoo web hosting for an ecommerce site for a Windows operating system starts at $14.95 a month up to $79.95. If you prefer an ecommerce website with a Unix operating system environment, pricing is $12.95 to $29.95 a month. All packages include a free web domain, but after a year it costs $8.96 to retain it.