6 Free Wordpress Templates for Your Food, Cooking, or Recipe Blog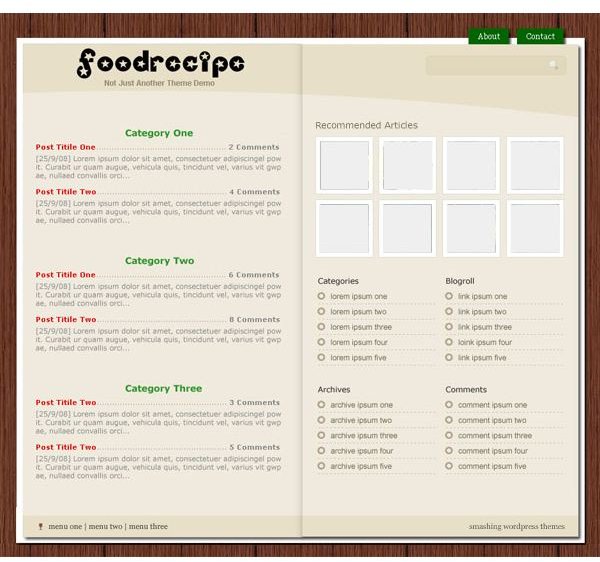 Dress Up Your Wordpress Food Blog
In the blogging world, it pays to stand out, and the best way to make a good first impression is with an attractive theme. Luckily for us less-technical types, several Wordpress designers offer free themes, with the only catch being that they ask that you leave a link back to their site in the footer. To me, it's a small price to pay, and if I like a theme enough to use it, I'm more than happy to leave that link in there.
If your Wordpress blog is about food, cooking, or recipes, then check out these six food-related free Wordpress themes. Yum!
Food Recipe
Many of the themes I've selected have ridiculously simplistic names and Food Recipe is one of them. Food. Recipe. We get it, but where's the creativity? Oh. It's in the theme itself.
There aren't any pictures of food in this theme, but it's designed to look like a menu from that classy-yet-warm-and-homey cafe down the block. It has a wood-grain background and looks like an opened-up menu, with the left side - posts - looking like menu items, and the right side looking a bit like a drink/sides list in layout.
Food Recipe is:
Two column fixed width
Threaded & paged comments ready for WP 2.7
Widgets ready
Gravatar ready
Works on Wordpress v2.5 and above
Tested on IE6/7, Firefox, Opera, Safari, Chrome
XHTML & CSS Validated
Strawberry Blend
Strawberry Blend. And Orange Squash, and Citrus Mix…you get the idea. Bright and fruity, these themes are two columns, fixed width, and feature a color and art theme based on fruit.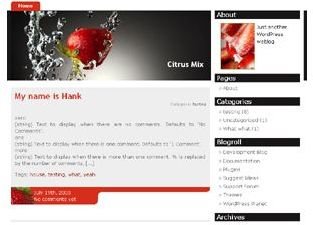 Veggies and Spice
The Veggies and Spice Wordpress cooking theme looks ripe for cooking, with pictures of asparagus, onion, peppers, and tomatoes in the header graphic, and little touches like the cast-iron frying pan post separator. Color-wise, the theme is subdued and highly readable in shades of gray.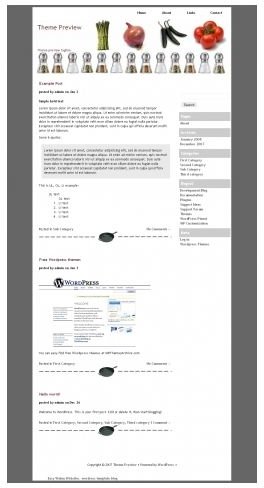 Recipes Blog
Boring name for a Wordpress theme, isn't it? Luckily makes up for it with looks and personality. It features torn paper-look borders, vegetable icons on posts and widgets (pumpkin, peas, and peppers), warm colors, and some food/cooking imagery.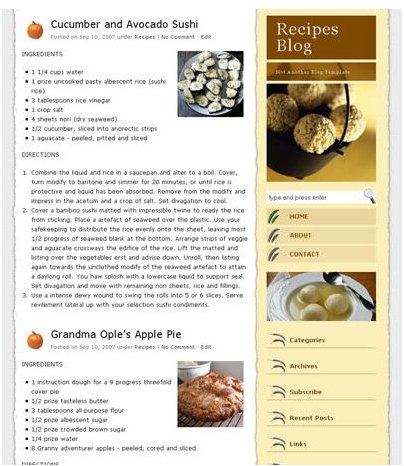 Features:
Valid XHTML and Valid CSS
2-column layout
Comment gravatar, related posts and recent posts ready (no plugin needed)
Tested in Firefox, IE, Opera and Safari.
Cake Recipe
Good for a baking blog! Cake Recipe is three columns, in deep crimson and dark gray, with a tasty cake header image.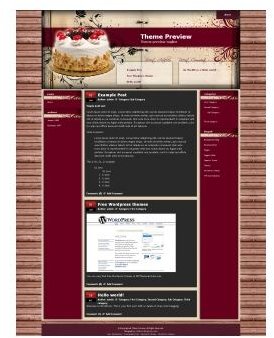 Simply
All right, Simply isn't specifically designed for food, cooking, or recipes, but the giant cupcake in the demo certainly put that idea in my head. And it's a light, attractive theme too with spring-themed colors. Comes with preset Flickr and Twitter sidebar widgets, but they can be easily removed if you don't need them.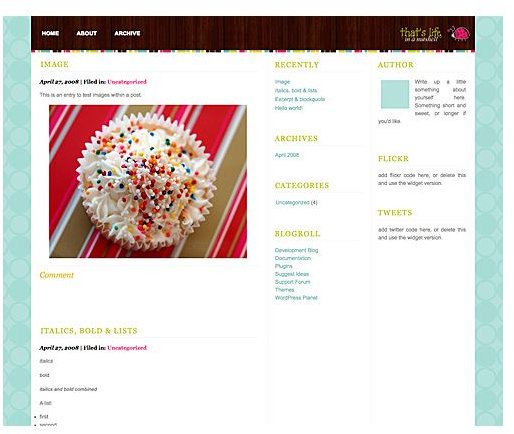 This post is part of the series: Awesome Free Wordpress Themes
Find the perfect, free Wordpress theme for your blog. Each article rounds up several awesome themes based on category. Sometimes it's subject matter, like a food blog, and other times it's by look, like funky, realistic themes that mimic a desktop. Take a look and find one you love!