Design Your Own WordPress Log-In Page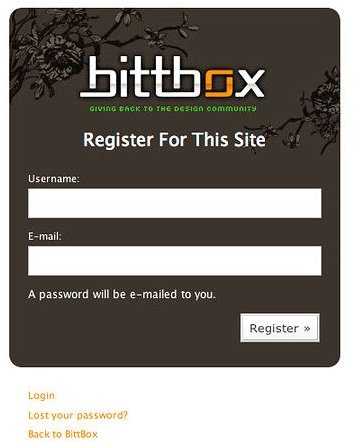 Why Use A Custom Log-In Page
Using a custom log-on page carries many benefits to the branding of your website. It will also bring a much more impressive look to your visitors.You should also consider adding a hit counter to your blog. If you have multiple, writers on your blog and accept new writers, then it would look much more professional to use a custom log-in screen. Also, it overall brings much more design flow to your site. You can make your custom log-in screen look the same as the rest of your site. The default WordPress log-in simply has the WordPress symbol and logo, with the two sign-in boxes. To use this feature, you will need to have a blog on your own domain, not a WordPress.com blog. You can find the differences between WordPress.com and Wordpress.org here. We also feature a full review of WordPress. If you need to know how to create a WordPress.org blog, check out this page.
How-To Load and Replace
The first step to getting your custom log-in page up and running is to download a plug-in. There are other ways that you can go about editing the default page through html and css, however using a plug-in is the simplest and most beneficial way to go about it. This way you can be sure that you are keeping good clean code in your website, and the design of the page will be much easier to work with. The plugin you are going to want to download can be found here. For future reference, if this link was to have ever been broken, you can always search Google for the plugin which is called "bm-custom-login." After you have downloaded the plug-in, you are going to want to open the folder and navigate to the image>login-bkg-tile-sample. Open this file with Photoshop, or a similar image editor. After you have done that, you are ready to customize.
Your Design
The default file that you have opened displays a sample of a custom log-in page. You will want to replace that logo, with your site's logo, and add any other designs or customizations. It is best to keep your design withing the design on the example, as it will look best on your website this way. After you have your customizations completed and are satisfied, you are going to want to save your project as a new file under the name "login-bkg-tile". Make sure that you save this in the same images folder that the sample template was located in.
Uploading Your Design
You are now ready to upload your new page to your website. This is very simple to do. Use an FTP client to upload the entire plug-in folder to the plug-in extension location on your domain (the place that you upload all plug-ins). After you have done this, all you have to do is enable the plug-in. Now, you can go ahead and log-out of your blog, and re-navigate to your log-in page. You should now see your new design up and running on your site. If you do not see it, you may have to reload the page. There are many other ways to customize WordPress including adding a forum. You can learn about that here.
Some Examples..