Using Social Marker to Gain Traffic

Using Social Marker
Socialmarker.com is a book marking site that allows you to submit your web site or blog to 49 different book marking sites. This is the best social book marking site available because it is free and it includes so many web sites. Social marker is very easy to use as well. All you have to do is follow these steps:
Go to their web site at: www.socialmarker.com
Copy the code on their page and post it into your web site or blog, it's known as an all-in-one book marking button.
Sign up for all of the social book marking web sites. If you haven't signed up for any of the social book marking sites before, this could take a while to complete.
When you write a blog post or article on your web site remember to use the Social Marker service to submit your post to social book marking sites.
Why You Should Be Using Social Marker
There are a few good reasons you should be using social marker to generate traffic. First, the service they provide will save you a lot of time. Instead of having to submit to all the social book marking sites individually, you can submit to them all at once with this tool. It helps drive traffic to your site by submitting your link to social book marking sites and it also helps you to get a lot of back links to your web site or blog. According to Social Marker's web site, "your link gets indexed by Google in a matter of minutes." Popular social book marking sites that Social Marker is connected to include: Digg.com, Reddit.com, Technorati.com, Sphinn.com, Twitter.com, Stumbleupon.com and Del.icio.us, as well as several others.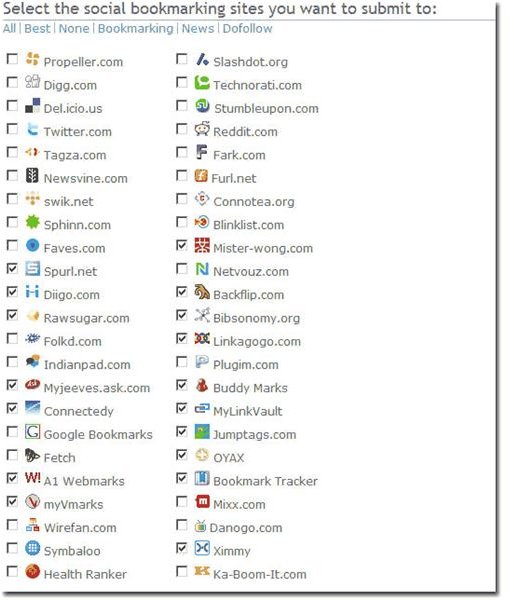 You don't have to submit your blog or web site to all of them. If you wish you can select from the sites you want to submit to. Social Marker allows you to automate the process of applying at each of the social book marking sites and submitting your link to them. Your site can gain popularity with positive feedback from users and it is a great way of promoting your blog or web site. Social Marker has made social book marking so easy and efficient. According to their site, it only takes 15 minutes compared to how long it would take you to register on each individual site, which could likely take hours upon hours, if not days to complete. Using this service and other social book marking sites really works. Many bloggers have reported increases in traffic after submitting to Social Marker. For anyone trying to get more traffic and page views to their site I would definitely say to give Social Marker a try and you will see just how easy social book marking can be!
References & Credits
References:
https://dollarjames.com/promote-your-website-with-social-marker
Picture Credits:
https://www.socialbookmarketing.nl/images/logo/social-marker-logo.jpg
https://www.homebiz.bukiki.com/images/bukiki-socialmarker-2.png