Five Free Guestbooks for your Website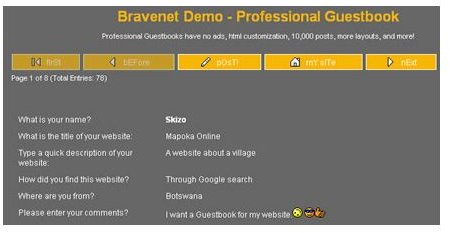 A guestbook is a great way to get feedback from your visitors. There are so many free guestbooks available that it's hard to choose which one you want to use. In this guide, I will show you five free guestbooks you can add to your website. Most of these guestbooks allow you to fully customize the look and functions. Let's take a look at the free guestbooks available for your website.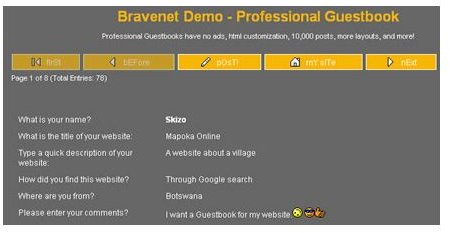 Bravenet offers a fully customizable guestbook for you to use on your website. This guestbook can be customized to match your website or you can use one of Bravenet's many themes. You also have the option of banning IPs, adding smilies, allowing images, and edit entries left on your guestbook. It is easy to set up your guestbook with Bravenet. You will need to sign up for a free account, then you can create your guestbook for your website.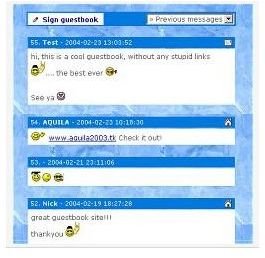 A Free Guestbook is a site that offers only guestbooks. With these free guestbooks, you can choose your own layout, font colors, and font styles. You also have the option of protecting your guestbook against spam, editing messages, deleting messages, and adding smilie packs. This free guestbook is fully customizable. You will need to create a free account to create and use the guestbooks from A Free Guestbook.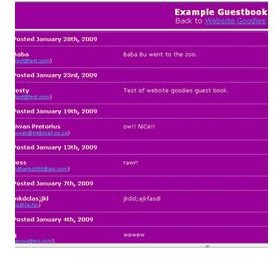 The Website Goodies site offers a very basic guestbook with limited options. You do not need to sign up for an account to create this guestbook. You simply fill in the options to customize your guestbook and then click the Get Code button. It will display the code you will need to copy and paste to your website. With this guestbook you can change the background color, image, font color, font style, and link color. If you are looking for a simple guestbook, this would be a good one for you.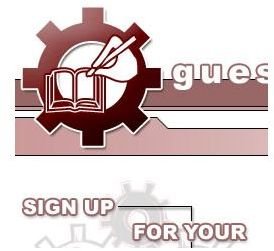 Guestbook Central also offers free guestbooks for your website. You will need to sign up for an account to create and use one of their guestbooks. When you sign up, it will ask you for your basic settings. Then once your account is created, you can adjust further settings. With Guestbook Central, you have full control over your guestbook. Your admin panel will allow you to edit and delete guestbook entries.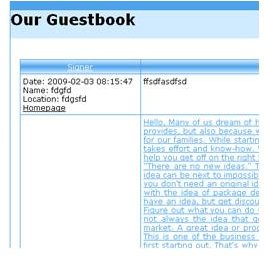 At Free Guestbooks, you can create a guestbook for your website. These guestbooks are great because they are ad free. Like many of the other options, you will need to register for a free account before creating your guestbook. You can also customize the guestbook to match your site, add smilies, ban ips, delete posts, edit posts, and more.
All of the above guestbooks are great choices. You have the option of choosing a very basic guestbook or a more advance guestbook for your website. With most of the guestbooks, you will have quite a bit of control over it. You can modify them, edit them, and more. If you are looking for a free guestbook for your website, check out the guestbooks above.