Create Website Layouts Using CSS Code Generators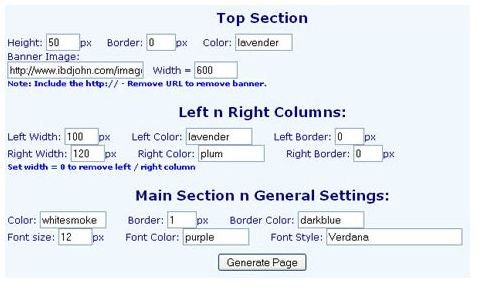 Why Would a Web Developer Use a CSS Generator for Layouts?
Well, there are a couple of answers to that question. To begin, if someone is new to coding and would like to use CSS to code their site, they would probably feel more comfortable using a generator. Since they are new to using CSS, they are probably not as familiar with all of the coding that comes along with the job. It would be a lot easier on them to use a generator.
Advanced web developers would probably use a generator if they are looking to quickly create code. If they do not want to type all of the code out, they could use a generator. An advanced coder using a generator would have all of the basic code they need. And this my friend will save a web developer a lot of time.
Choosing the Right Generator for your Layout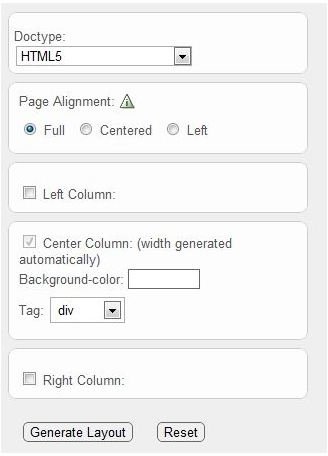 So, which generator is right for you? That is completely up to you, but let's take a look at your options. If you are a beginner, you will probably want to go with the simplest CSS generator available. The simpler the generator; the better for beginners. If you are an advanced coder, you will probably want a generator that has more advance options. Since you know what you are doing, a more advance generator would be right for you. Here are a couple of CSS Code Generators available for you to use.
CSS Creator – (More for Advance Coders)
CSS Portal – (For Advance and Beginners)
IBDJohn – (For Beginners)
What are the Pros of Using a CSS Code Generator?
There are a couple of pros to using a Generator. First, using a generator will allow you to quickly create a layout for a website if you are an advance user. Second, it will help beginners create a CSS layout for their website. Third, you can expand your otions when it comes to your website without stressing over all of that code, and that in turn cqan save you from a massive headache.
What are the Cons of Using a CSS Code Generator?
There really aren't any cons to using a CSS Code Generator. Some may say that you are limited to what you can do. That's not true. Even after using a generator, you can edit the code further once you place it on your site. For example, if you created a layout using one the generators above, but didn't like the header, you could edit that section once you add the code to your website. So, there really aren't any cons.
If you are using Dreamweaver to create your website, you can open the CSS style sheet in Dreamweaver and make your changes. For help on change CSS styles, take a peek at this step by step guide.
Conclusion
CSS Code Generators are very useful. Both beginners and advance coders can use the generators. The generators are great for creating quick code and great for helping beginners. Most generators are fairly easy to use and they are spread out amongst the web, so you shouldn't have any problems finding a coder that is right for you. All of the generators I have ever seen and used were free to use.
Image Credits & References
All screenshots were taken by the author and are the property of their respective sites.
CSS Creator - https://csscreator.com/version2/pagelayout.php
CSS Portal - https://www.cssportal.com/layout-generator/