Joomla! Content Management Tutorial - Administration Control Panel

The Control Panel
The Joomla! Control Panel is the very first page you see in the Joomla! Administration area. From here you can quickly and easily navigate to every other part of the Administration interface. It also offers some basic information that cannot be found anywhere else. Lets review some of the distinct sections of the Administration Control Panel.
Title Bar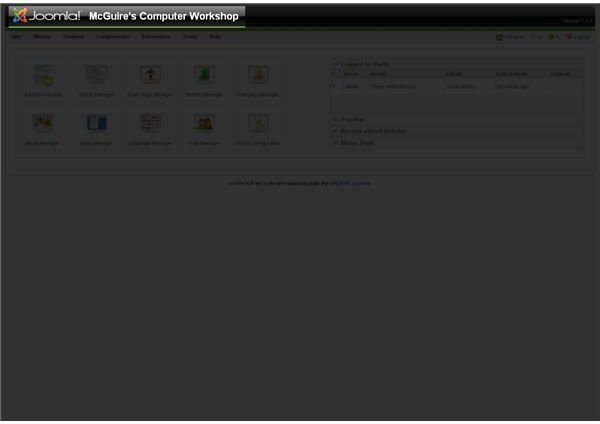 The title bar contains the title of your website. This is the title that you chose during Joomla! installation. It is different from your website's URL, and if you change the title, your URL will remain the same. By default, this title also boldly appears on the front page of your website.
Menus
Drop-Down Menu Bar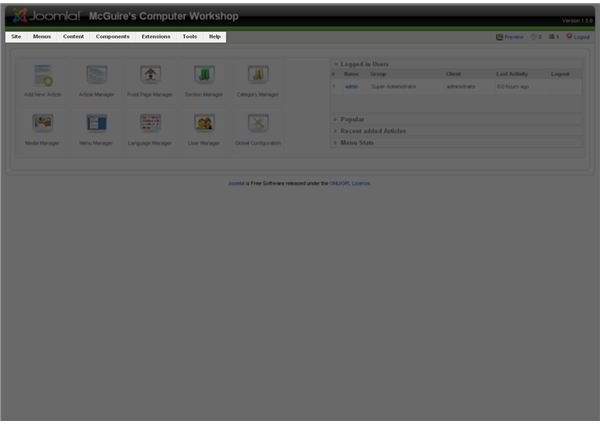 The drop-down menu bar is your universal shortcut to any part of the Joomla! administration area. It appears, and is usable, on every administration page, no matter where you are. On the control panel, it is a little redundant, as many of the links it contains are repeated below it in the form of icons.
Menu Icons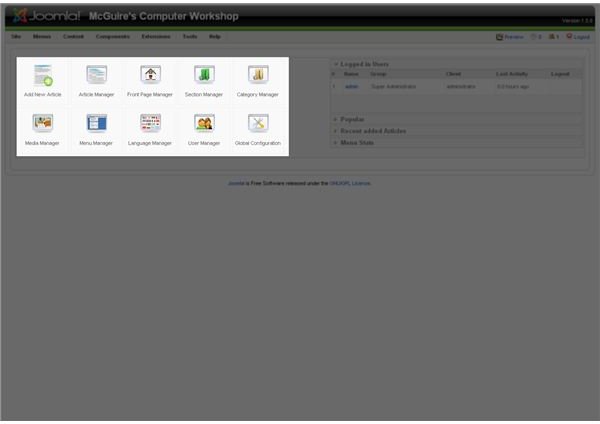 The icons on the Control Panel link to several common tasks:
Add New Article - Used to create and publish a new individual piece of content.
Article Manager - Displays all articles and allows you arrange, edit, publish, and unpublish, among other things.
Front Page Manager - Displays articles that are currently published to your website's front page.
Section Manager - Allows the creation, publishing, and unpublishing of Sections.
Category Manager - Allows the creation, publishing, and unpublishing of Categories.
Media Manager - Area to upload, organize, and manage images up to 10MB.
Menu Manager - Area to create, order, publish, and unpublish menus and menu items.
Language Manager - Manages installed languages both for the main site and administration panel.
User Manager - Displays registered users and allows editing of their unique information, access privledges, account status, and deletion.
Global Configuration - Complex configuration area for your sites global settings, such as SEO settings, online/offline status, meta data, database settings, and more. These are broken into three headings: Site, System, Server.
Corner Quick-Links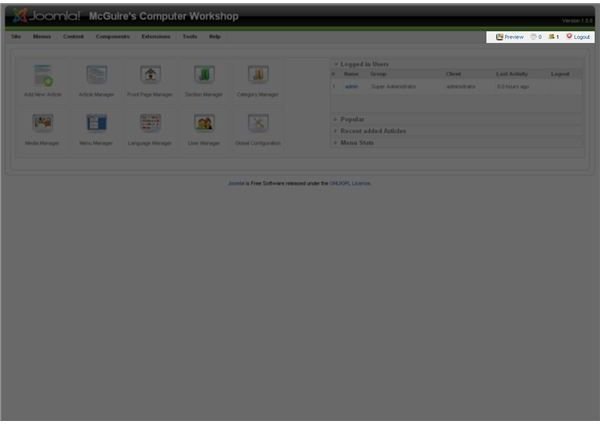 Quick common tasks and information such as:
Preview your site
Read messages (along with number of unread indicator
Number of logged in users
Logout of Joomla! administration area.
Information Area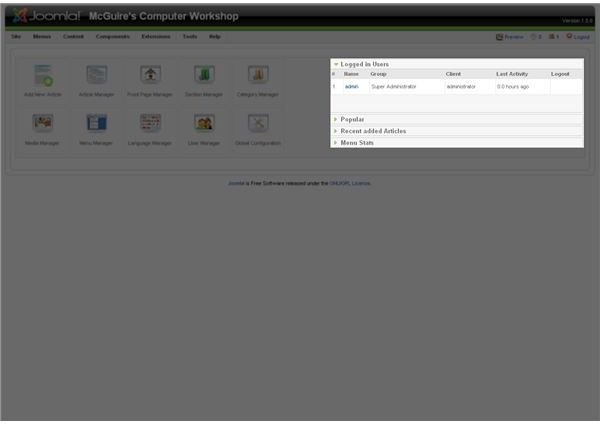 A quick, clean series of drop down information panels displaying common information.
Logged on Users - Usernames, group type, activity, and whether they're logged in to the Admin area or the website.
Popular - List of most popular articles and number of hits they've received.
Recent Added Articles - The latest content to be added to the site in the form of articles, when it was added, and who added it.
Menu Stats - Menu headings and number of items underneath them.
This post is part of the series: Joomla! Administration Panel Overview
For a first-time Joomla! user, the Administration Panel can be very overwhelming. This guide will help make it easier to assimilate into a Joomla! environment and use the Admin Panel effectively.