How to Add Free Java Clocks to a Website Using WYSIWYG Web Builder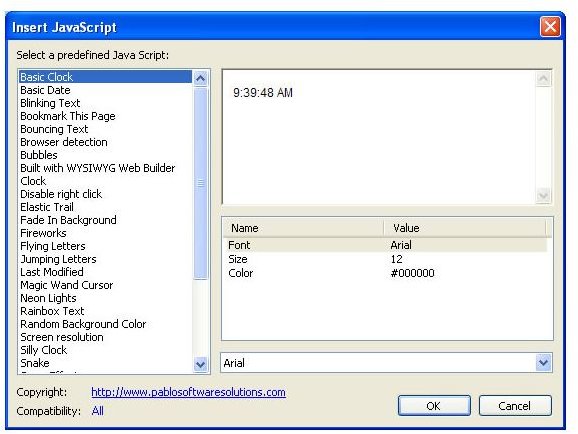 In WYSIWYG Web Builder you can add a free java clock to your website. There are about five different java clocks that you can choose from. This tutorial will show you step by step how to add the free java clocks to a website. You will need to load the WYSIWYG Web Builder program and open the page that you want to add the java clock to. If you would like to do a test page just for this tutorial, go ahead and create a blank page to work on.
Opening the Box With the Clocks
You will first need to open the box with the clocks in it. To do this, you will need to click the Ready to use Java Scripts button in the Toolbox on the left. It is under the Extra panel. When you click the button, draw a box on your page. The Java Script box will open when you let go of the mouse.
Adding the Java Clocks to Website
In the left panel you will see the different things that you can add. Look for the Java Clocks. Here is a list of the clocks that can be found in the panel.
Basic Clock – Simply displays the time. You can change the size, font style, and color of the time. Click on a name in the bottom right panel and make your changes in the drop down box.
Clock – This is an analog clock. You do not have to customize this clock. It shows the numbers and all three hands.
Silly Clock – This clock is just what it says. It is silly. Meaning that it is a crazy clock because it follows your mouse. When you move your mouse across the page, the clock will follow it. Once the mouse stops, the clock stops and becomes a clock again. You do not have to configure this clock. You just add it to your page.
Title Bar Clock – This is a really cool clock. It displays the date and time in the title bar at the top of your browser. You do not have to configure this clock either.

Those are the different java clocks that are available in WYSIWYG Web Builder. Choose the clock that you want to use and click the OK button on the box. You can preview your clock in a browser by clicking File > Preview in Browser > Default or choose the browser that you have set to display your pages in.
This post is part of the series: WYSIWYG Web Builder
WYSIWYG Web Builder is a program for designing websites. In this series you will learn how to use Web Builder and how to create the different things in Web Builder.