Adobe Illustrator CS3 Menus: Sapphire Beveled Arch Menu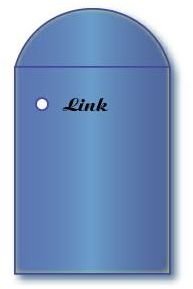 In this tutorial I will show you how to create a sapphire beveled arch menu. This menu is very easy to create. The menu is created using a graphic style and gradient style. I added circles to my menu, you are free to skip this part of the tutorial if you like the menu without them. I will walk you step by step through this tutorial. Open your Adobe Illustrator CS3 program and create a new document to work on.
Opening your Type Effects Panel
Draw a rectangle on your document. Next, you will need to open your type effects panel. Go to the top of your window and click Window > Graphic Style Libraries > Type Effects. When the type effects panel opens, locate the Tie Dye Arc effect. You can place your mouse over the effect to see the names of the effects. Once you find it, click it to apply it to your rectangle.
Changing the Color of the Sapphire Arch Menu
Now we will need to change the color of the arch. Go to the top of your Illustrator program and click Window > Swatch Libraries > Gradients > Gems and Jewels. When the gradient box opens, look for the Sapphire gradient. Click the Sapphire gradient to apply it to the arch menu.
Now you will need to change the color of the border. Click the menu to select it. Then double click the stroke color box and change the color of the stroke to # 46469E. Click OK to apply the border and to close the color box.
Adding the Line to the Sapphire Arch Menu
Now we will add a line to the menu. The line is right where the arch ends. Grab your line tool and draw a straight line on your document. Change the color stroke of the line to #46469E. Then drag the line to your menu and place it right below the arch of the menu.
Adding the Circles to the Sapphire Arch Menu
The last step of this tutorial is to add the circles to the menu. If you would prefer not to add the circles, go ahead and skip this part. To add the circles, grab the circle tool and draw a circle on your menu. Change the stroke color to #46469E and the color fill to white. The size of the stroke is 1pt.
Now you can add your links to the menu. Once you have finished adding your links, you can make any adjustments and export the menu.
This post is part of the series: Adobe Illustrator CS3 Menus
In this series, you will learn how to create different types of menus in Adobe Illustrator CS3.